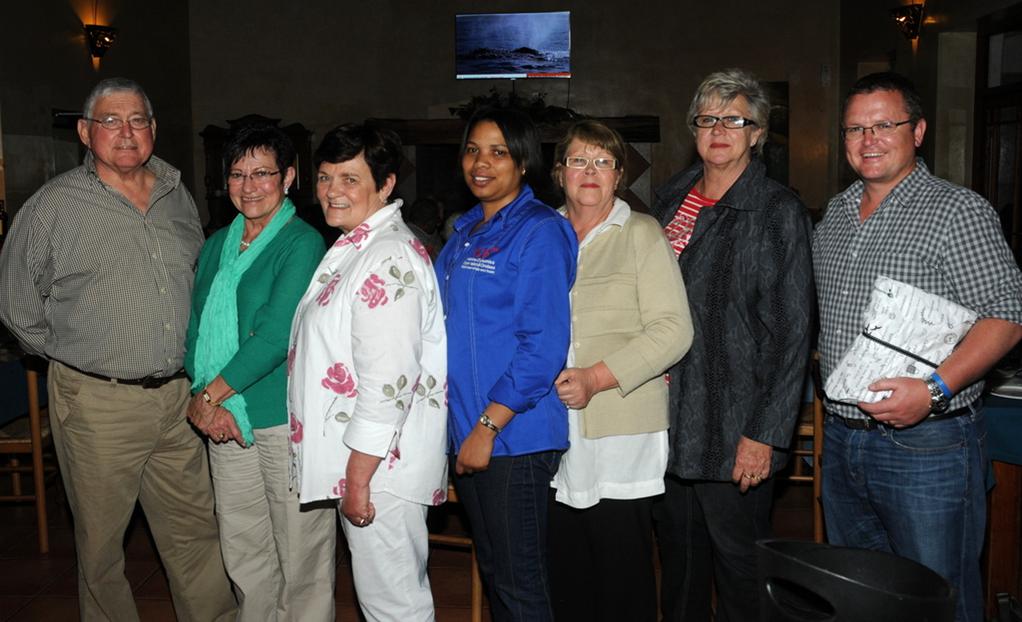 Vlnr is Helmie de Vries, Ansie Serbon, Rensa Stemmet, Nika Fredericks, Helena Swart, Louise de Villiers en Abrie Beeslaar. Foto: Jane Bailey
Om met Kanonkop Wynlandgoed se rooiwyne kennis te maak, is 'n belewenis - per slot van rekening is dit hulle spesialiteit en ook hulle fokuspunt oor vele jare heen.

Abrie Beeslaar, befaamde wynmaker, was die aanbieder van Gansbaai Wynproegilde se onlangse wynproebyeenkoms in die Great White House. "Persoonlik beskou ek vir Abrie as 'n ikoon in die wynbedryf," het Helmie de Vries, voorsitter, gesê. Kanonkop is een van Suid-Afrika se bekendste wynlandgoedere naby Stellenbosch en was die eerste wynkelder ter wêreld om op die Internasionale Wyn-en-spiritualieë-kompetisie (IWSK) in London die trofee vir die beste rooi versnitwyn vir die vierde keer te wen.

Kanonkop het die trofee vir die beste rooi versnitwyn, wat tot onlangs toe as die Château Pinchon Longueville Comtesse de Lalande-trofee bekend gestaan het, met hulle Paul Sauer 2009 gewen. Dit is 'n versnit van cabernet sauvignon, merlot en cabernet franc. "Ons probeer nie op Kanonkop om die wiel te herontwerp nie. Die Paul Sauer word soos al ons wyne nog op tradisionele wyse gemaak. Gisting vind in oop kuipe plaas, waar die druiwe met die hand tydens gisting deurgedruk word," het Abrie gesê. Hy kan by 084-255-8686 gekontak word, of stuur 'n epos aan hom by abrie@kanonkop.co.za.

Die rooi versnitwyne wat geproe is, is Kadette 2011, Kadette 2012 Pinotache, Kanonkop 2003 Pinotache, Kanonkop 2011 Pinotache, Kanonkop 1994 Carberet Sauvignon, Kanonkop 2010 Carberet Sauvignon, Kanonkop 2003 Paul Sauer versnit en Kanonkop 2010 Paul Sauer versnit. Slegs 3 sterk silwers is deur die gaste toegeken, met die res van die wyne wat almal met goud bekroon is. Rensa Stemmet van die Great White House se bypassende spyskaart van kerrievis, hoendergereg, bykosse en asyn-nagereg, was net die regte kombinasie saam met die uitstekende rooi versnitwyne.

Vir navrae rakende Gansbaai Wynproegilde kan voorsitter Helmie de Vries by 028-388-0708 of 082-577-6920 geskakel word, of stuur 'n e-pos aan hom by info@franskraalbandb.co.za.
Hardus Botha