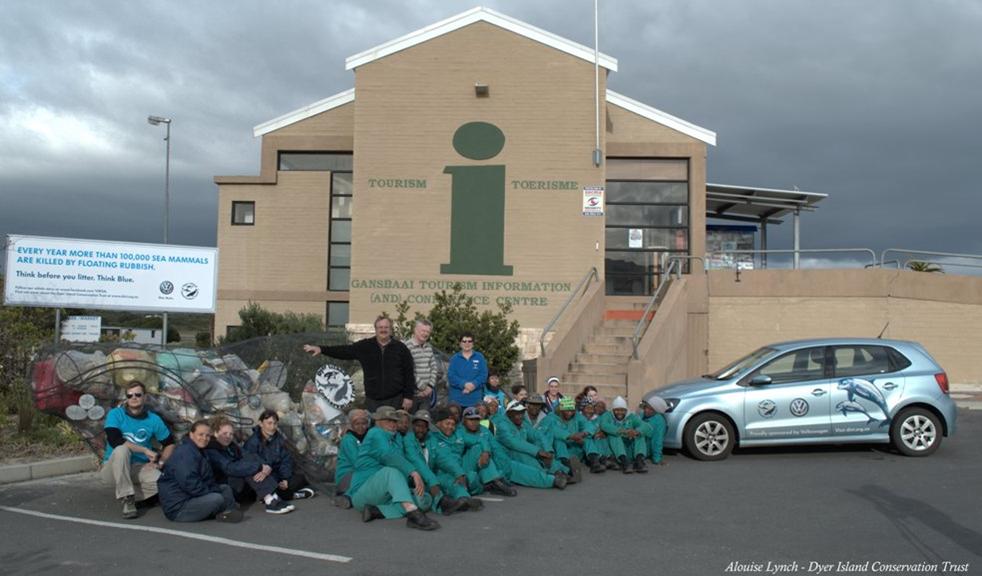 Life sized Wire Whale from Volkswagen South Africa, with Kat Myburgh, Pieter Scholtz, Glenda Kitley, Working for the Coast, Cape Nature, DICT en die Marine Volunteers
"If we don't save ouer planet, who will?" - Dyer Island Conservation Trust (DICT). The statistics for ocean pollution makes for very grim reading - a study done in 2006 by the United Nations Environmental Programme (UNEP) estimates that every square mile of ocean is infested with around 46,000 pieces of plastic - today we expect this figure to be up to 27 times higher. Every year we lose over a million seabirds, and more than 100,000 ocean mammals - killed by pollutants in our oceans. We want to lay the blame for this on ocean-going vessels dumping their rubbish out at sea, but the truth is that in excess of 80% of ocean garbage comes from land, from you and I.

On the 16th September 2013 the Dyer Island Conservation Trust received a life sized Wire Whale from Volkswagen South Africa - our mission? To fill it with plastic pollutants from the beaches around Gansbaai from the 16th September - calling it Whale Week - aptly ending on the 21st September, on International Coastal Cleanup Day. The whale was housed outside the Gansbaai Tourism office in the Gateway Centre parking area in Gansbaai.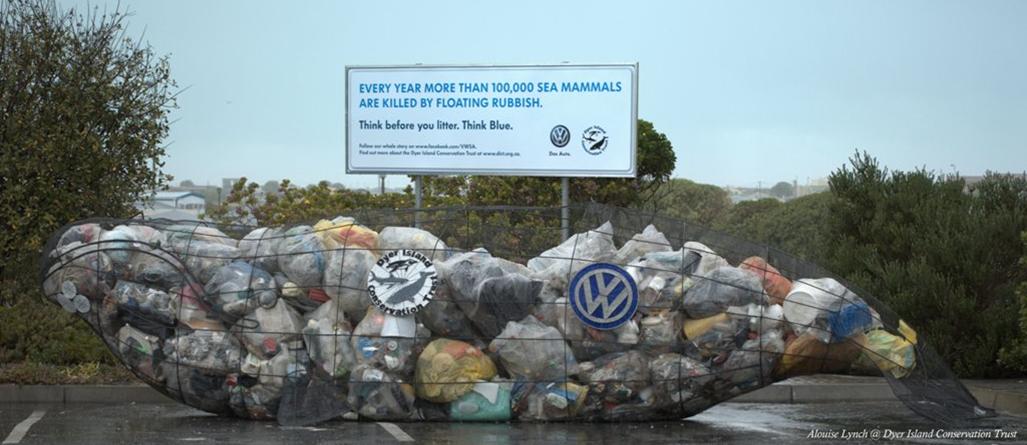 "The response from the public, and support from businesses such as the Overstrand Municipality was overwhelming," says Wilfred Chivell. Together with the Overstrand Municipality, the Working for the Coast team, Marine Dynamics, Dyer Island Cruises, International Marine Volunteers, Cape Nature, I&J Danger Point, Eco Schools, Flower Valley Pre-primary, Camphill School Hermanus and Masakhane Primary School, as well as DPI and Plastics SA who supplies us with materials for cleanups, we reached our goal of filling our whale by the end of this week.

A grand total of 1,008kg's of garbage was removed from "Die Plaat" inside the Walker Bay reserve, to the Uilkraals Estuary mouth - of which 534kg's were plastics that was used to fill up the whale. The whale will be on display in front of the Overstrand Municipality for the festive season. Thanks to Volkswagen South Africa, and all the participants and supporters of this wonderful initiative. For more information on the activities and projects of the DICT please visit our website at www.dict.org.za.
Alouise Lynch: DICT Operations Manager