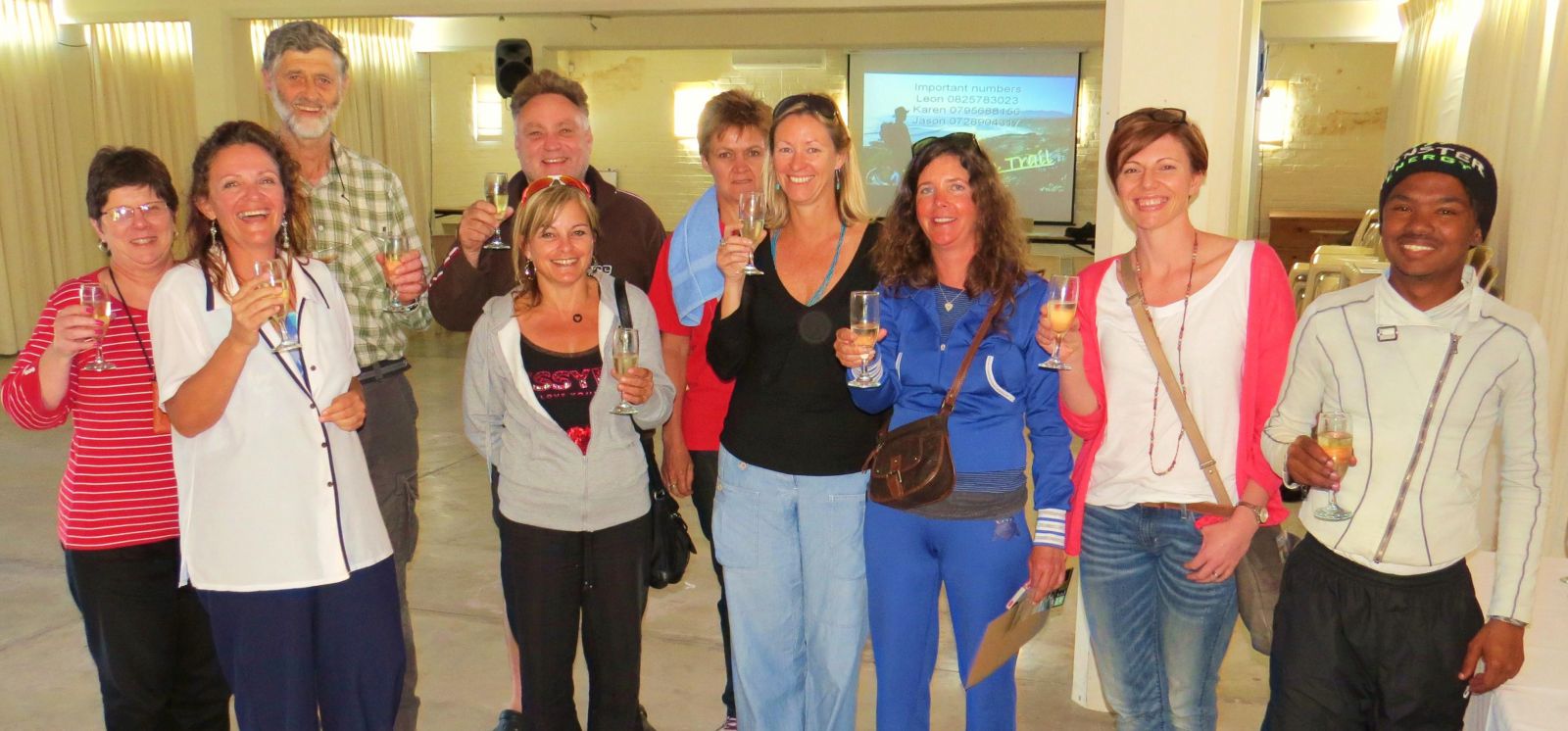 Wat begin het as 'n poging deur "'n verstrooide ou professor" van Franskraal om te voldoen aan sy vrou se eis dat hy kan aftree ... "so lank as wat hy uit haar kombuis bly" ... het ontwikkel tot 'n hoogs suksesvolle besigheid in die Strandveld.

Op 30 Oktober 2013 het die stapgroep van Michele Cawcutt en haar 9 vriende van Kaapstad, die 30ste groep sedert die ontstaan, tesame met Perlemoen en Gansbaai Toerisme personeel, 'n glasie gelig, 2 jaar nadat die eerste groep op 1 November 2011 begelei is saam met die bekende Fiona McIntosh, vooraanstaande internasionale kenner en rubriek-skrywer van staproetes wat die Perlemoen staproete beskryf het as "one of the best trails in die world!"

Die roete het begin met net Prof Leon en Ricardo Plaatjes, die eerste gids, met die samewerking van die plaaslike toerisme-ghoeroes soos Gina en Otto van Haus Giotto, Roelof Diener van Aire del Mar, Suzette van Pearly Shells B & B, Steve (Die Ark), die altyd entoesiastiese David Liguster, Kloeks van die Drupkelders, Oom Jan Pyp en SD Fourie van die Strandveld Museum, Barry van Coffee-on-the-Rocks,en met die steun van die Toerisme kantoor van die Munisipaliteit (Kat Myburgh en Glenda Kitley). Jason Stonehewer, 'n hoogs opgeleide marine ekoloog en gids, Karen Anderson met haar uitsonderlike bestuursvaardighede en kwalifikasies sowel as verskeie leerling gidse het nou ook by die Perlemoenspan aangesluit.

Op die oomblik is daar ongeveer 23 individue wat voordeel trek uit hierdie toerisme-inisiatief. Dit het 'n noemenswaardige uitwerking op die ekonomie van Gansbaai en Pearly Beach gehad met 'n omset van meer as 'n halfmiljoen rand en 250 stappers wat die laaste 2 jaar besoek gebring het aan die Gansbaai area, van regoor Suid-Afrika sowel as toeriste uit die buiteland.

Die roete word ten volle begelei deur opgeleide gidse en die stappers dra slegs hul eie water saam, want hulle bly in B & B's, kry middagetes en verversings van plaaslike entrepreneurs, eet aandete by die plaaslike restaurante, en ervaar so die atmosfeer en die lewenstyl van die Strandveld.

Die terugvoer wat ontvang word is van so 'n positiewe aard van beide stappers sowel as plaaslike besighede dat ons die pakkette moes uitbrei, want Perlemoen poog om toeriste aan al die Gansbaai area se besienswaardighede en aktiwiteite soos haaiduik, perdry en ander bloot te stel. Plaaslike mense kan gerus kom saamstap en hul familie en vriende buite ons streek aanmoedig om ons omgewing te besoek en die staptoere mee te maak.Die roete is uitnemend geskik vir beginners sowel as ervare stappers.

Verdere informasie is beskikbaar op ons webwerf www.perle moentrail.com of epos enquiries@perlemoentrail.com.