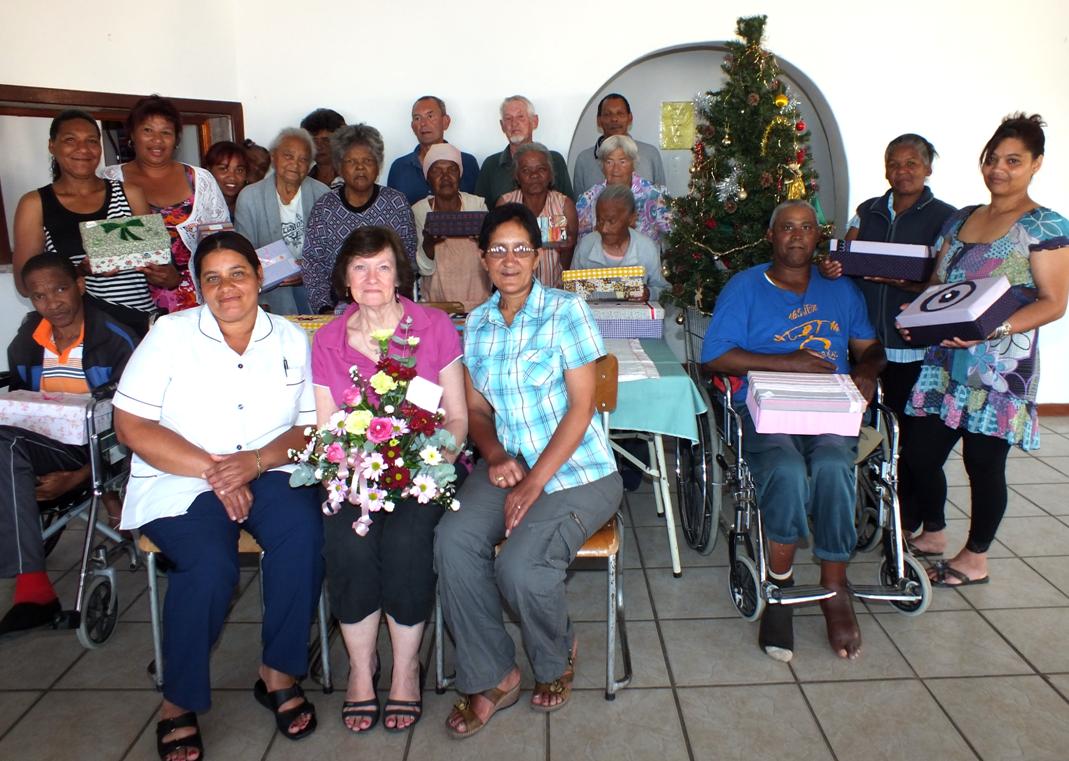 Die groep bejaardes van Silwerjare Dienssentrum en Oak Grove Nasorgsentrum wat met Kersgeskenke en verversings bederf is, met voor vlnr Ursula Natal, Liefie Oosthuizen en Jacoba Europa

Die bejaardes van Silwerjare Dienssentrum en Oak Grove Nasorgsentrum het geen rede om oor bederf-aksies te kla nie - dit raak al algemeen. Die dankbaarheid daarvoor bly egter steeds groot. Onlangs is hulle weer deur Liefie Oosthuizen, 'n lid van Grace Community Fellowship en in samewerking met Dudley en Shirley Coetzee bederf.

"Liefie en Lida Oosthuizen, tweeling susters, van Grace Community Fellowship is sedert vroeg verlede jaar by Oak Grove Nasorgsentrum en Silwerjare Diensentrum betrokke," vertel Shirley. "Woensdag het hulle 'n Jaareindfunksie vir die bejaardes gereël en daar was vele pret en plesier." Liefie het gesorg dat daar meer as genoeg koek en koeldrank bedien word, terwyl elkeen ook 'n geskenkpakkie ontvang het. "Grace Community Fellowship is privileged to be associated with the work at Silwerjare and Oak Grove. During the course of this year, some of our members provided weekend meals for the residents. Under the guidance and inspiration of Liefie, we would also like to express our sincere and heartfelt thanks to everyone who has donated their time, talents and money to this worthy cause. May we continue to be the Lord's hands as we reach out to those less privileged than ourselves in our community," lui Shirley se boodskap. Jacoba het haar dank en waardering teenoor Liefie se gereelde betrokkenheid uitgespreek.

"Liefie sorg gereeld vir verversings en bring ook verjaardaggeskenkies aan die bejaardes," sê Jacoba. Al wat Liefie te sê het, is dat dit wat sy doen, diep uit haar hart kom en sy is dankbaarheid teenoor diegene wat haar ondersteun, help en ook vir donasies sorg. As blyk van waardering vir wat sy doen, het Ursula Natal pragtige blomme namens die Bestuur aan haar oorhandig. "Die blomme dien as blyk van opregte waardering en ons wens jou net die beste toe vir die tydjie wat jy gaan weg wees," het Jacoba gesê.
Hardus Botha