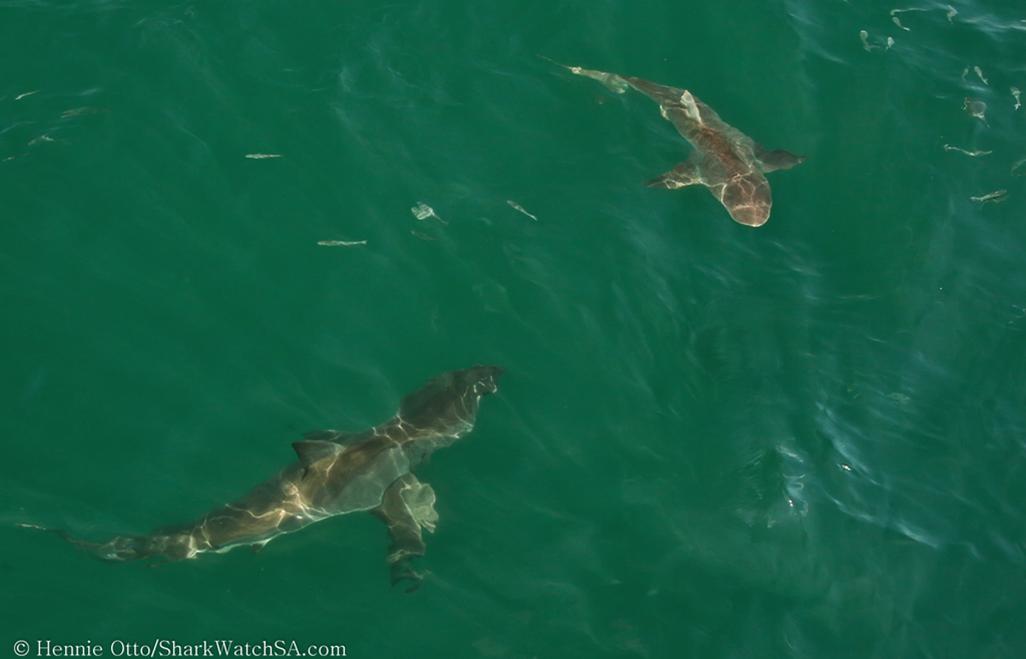 Bronze Whaler and a Great White Shark Swimming alongside each other
On the 12th and 13th November 2013 first time sightings of Bronze Whaler and Great White Sharks was documented swimming alongside each other around Marine Dynamics Shark Tours cage diving vessel.

Skipper Hennie Otto explained the significance of this sighting,"Crewmember Pieter Du Toit was the first to spot something was different with an incoming shark circling just far enough to make it almost impossible to identify by species. He shouted at me that he thinks it is a Bronze Whaler Shark. Minutes later the shark appeared again, the coppery colour, blunt noses and slender build of this shark was a dead give-away that we were dealing with a different shark species, definitely a Bronze Whaler Shark" says Otto "I have in the past observed small Hammerhead Sharks and Skates approach our boat, but they rarely engaged with the bait or decoy. This is the first sighting of Bronze Whalers I have witnessed around our shark cage diving vessel since 2005 and even more intriguing is the fact that at times we were seeing both Bronze Whalers and Great White Sharks of equal size swimming alongside each other."

Over a period of two days numerous Bronze Whalers were sighted by Marine Dynamics patrons from their cage diving vessel Slashfin.

"It is amazing to be able to share this unique phenomenon with our local and international tourists" says Wilfred Chivell, owner of Marine Dynamics, "it provides us with a platform to expand our conservation message, shared with every guest that visits our establishment, to include this enigmatic species."

Although Bronze Whaler Sharks are considered a species of least concern along the Southern African, New Zealand and Australian coastlines, they are classified as Near Threatened by the IUCN, as their life history traits renders this species susceptible to depletion by fisheries.

Visit www.sharkwatchsa.com for more details, or contact Sanchia Chivell at sanchia@sharkwatchsa.com or 0725963230.