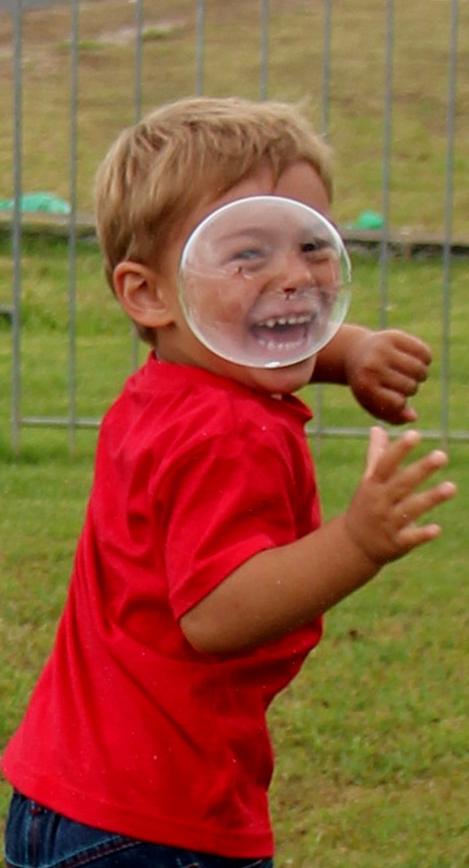 'n Uitsonderlike foto deur klublid Vera Swart van haar kleinseun, David Kapp, wie se gesiggie presies agter 'n lugborrel (bubble) was wat hy geblaas het toe die foto geneem is
Gansbaai Fotografieklub is weer vuur en flitsend in 2014 aan die gang. Die eerste byeenkoms op 20 Januarie was gesellig en is goed bygewoon. Nadat die voorsitter, Christo Wessels, almal verwelkom het, is klubaktiwiteite en projekte vir die eerste 6 maande bespreek en goedgekeur. Hy het Linda Kloppers spesiaal bedank vir die netjiese, kleurvolle en gelamineerde Jaarprogram vir die eerste 6 maande wat sy vir elke klublid gereed gekry het.

"Gansbaai Courant, maar veral e-posse wat uitgestuur word, moet dopgehou word vir moontlike wysigings, datumverskuiwings, en dies meer," het Christo gesê.

Enkele opwindende items op die program is die volgende: 2 klub-fotokompetisies met bepaalde tema's; interessante sprekers wat vooraf aangekondig sal word; opwindende uitstappies en besoeke, ingesluit 'n fotografie-skattejag; praktiese opleiding; leersame werkswinkels; genoeg tyd vir sosiale samesyn.

Ledegelde beloop 'n skrale R10 per maand en is betaalbaar by Veronica du Plessis (084-826-8781). Lede het 3 van hulle beste vakansiefoto's saamgebring, waarna rustig gekyk kon word. Soos gewoonlik is uitstekende foto's vertoon, maar hierdie keer is dit nie beoordeel of bespreek nie - dit kon net as 'n gesellige afskop vir 2014 geniet word.

Die volgende byeenkoms is op 3 Februarie 2014, waartydens 'n inleidende inligtingsessie oor die teorie (hoe dit werk) van AV's (audio visual) deur Clive Bailey en Marc du Plessis aangebied sal word. Tydens die daaropvolgende byeenkoms, 17 Februarie 2014, kan lede hulle AV's saambring wat in groepe bespreek sal word. Gansbaai Fotografieklub vergader elke 1ste en 3de Maandag van elke maand om 18:30 te Kerkstraat 30, oorkant Gansbaai Laerskool se agterste hek. Beginners is altyd welkom en niemand sal "uit" voel nie.

Vir navrae kan Christo Wessels by 082-920-9738 of Linda Kloppers by 082-550-7313 geskakel word.
Hardus Botha