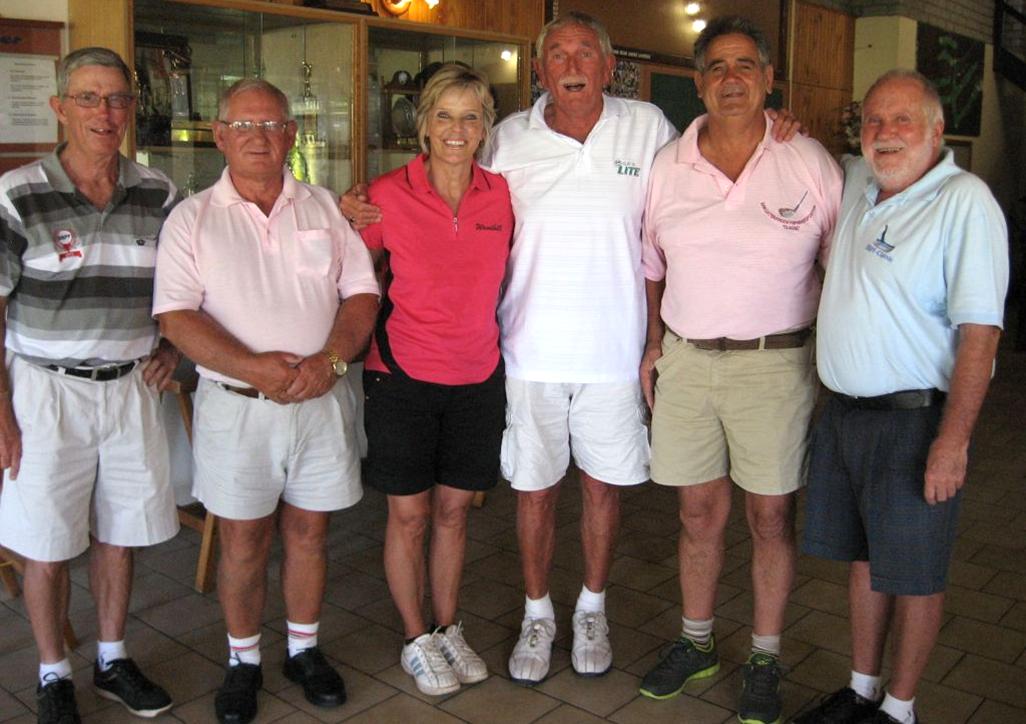 Daan Victor (vise-kaptein), Solly Wessels, Rene Myburgh (borg), George Hunt, Kosie Myburgh (borg) en Rob Jerrard
Die gholflede van Gansbaai Gholfklub voel saam met Eric Haxton wat sy vader verlede week verloor het. Ons goeie wense vergesel jou en jou familie.
Woensdag 15 Januarie
Die kompetisie is op 'n windlose dag gespeel maar of dít die rede was vir die buitensporige hoë tellings of net die goeie toestand van die setperke sal ons maar net moet raai.
Die Sloegters is deur Frikkie van Eeden(47) gewen. Hoe's daai? Tweede was Tony Sauter (44) gevolg deur Paul Dippenaar en Daan Victor (albei 43 punte). AL Matthee, DawieViljoen en Sextus Neethling het nog almal bo 40 punte gehad. Geluk aan Tony Putzi met sy bruto van 75 en Daniël van der merwe met sy uitstekende 71 bruto. Sextus behaal 'n arend op no. 16. Naaste aan die penne was Paul Dippenaar (2&11) Sextus Neethling (8&17) en Rob Jerrard (15).
Vrydag 17 Januarie
Die hoenderkompetisie is deur Andre Gouws met 19 punte gewen. Hy het ook naaste aan die pen gewen. Tweede was George Hunt (19) en derde Jannie Brandt met 18 punte.
Saterdag 18 Januarie
Weer eens baie dankie aan Kosie en Rene Myburgh wat die Bakgatbrandewynparadysfontein Kompetisie aange-bied en geborg het.
Hierdie dag word al jare deur die twee geborg. Kosie is nog 'n vol lid hier by ons en Rene 'n buitelid. Dit was 'n baie suksesvolle dag met weer eens baie goeie resultate.
Die uitslae as volg: Solly Wessels 43 (bruto 80) en naaste aan pen (2 & 11), George Hunt 42 (bruto 80), Rob Jerrard 41, Tony Putzi 40. Jan Le Roux en DawieViljoen het gevolg met 39 punte elk.