"Dit was 'n groot voorreg en vreugde om die emosionele, maar terselfdertyd vreugdevolle huldeblyk-afskeid van Joan Brickhill in Kaapstad te kon bywoon," vertel Lynette van Wyk van Gansbaai, 'n voormalige en professionele balletdanseres.
"Vriende, bewonderaars en voormalige kollegas van Joan het met rose, sang en dans van haar afskeid geneem." Joan Brickhill is op 15 Januarie 2014 in Johannesburg in die ouderdom van 89 jaar oorlede.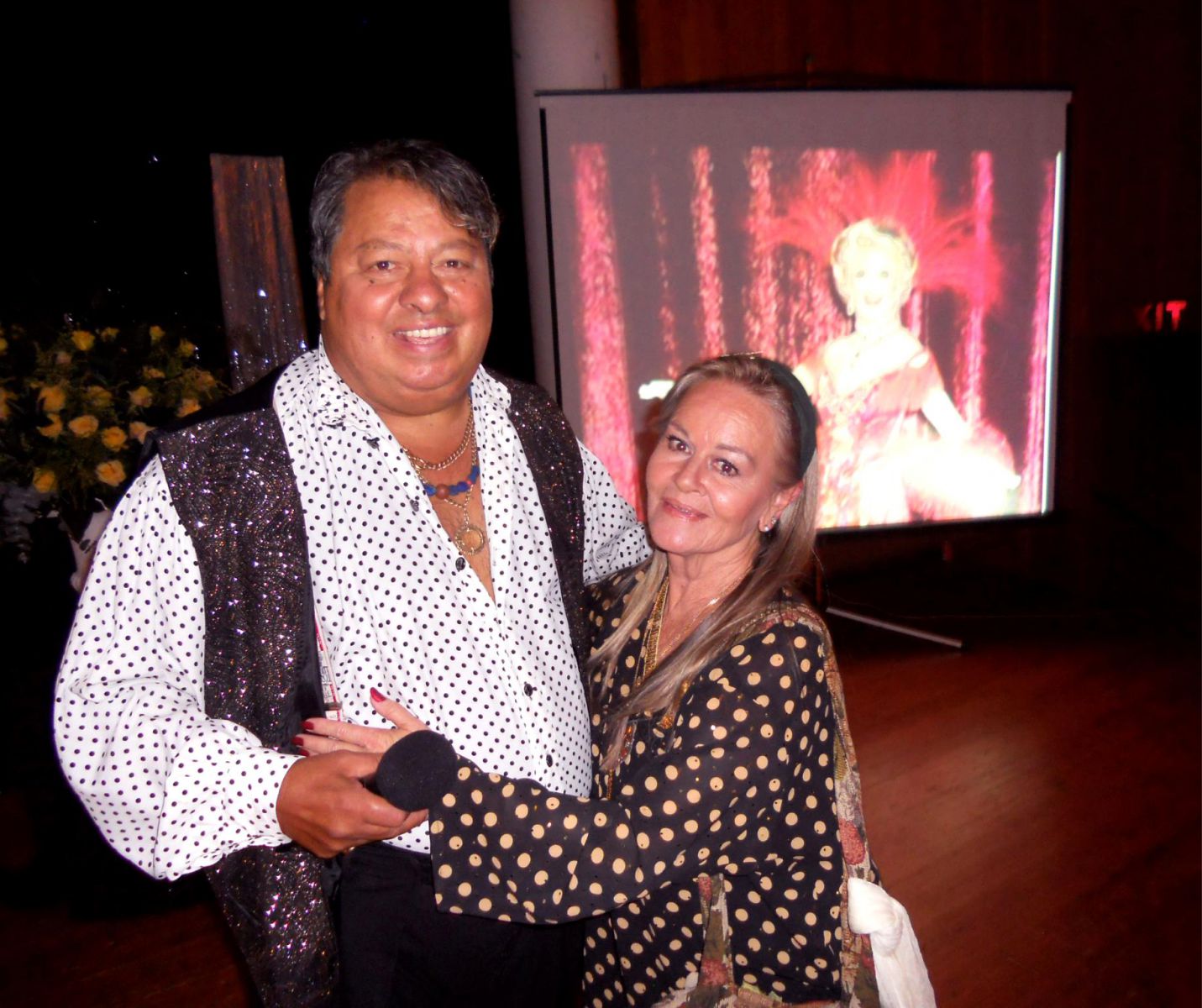 'n Trotse Lynette van Wyk saam met die bekende Alvon Collison tydens 'n huldeblyk-optrede ter nagedagtenis aan wyle Joan Brickhill
Sy was 'n wêreldbekende persoonlikheid in die vermaaklikheidswêreld en het ook vele jong kunstenaars gehelp om op die been te kom. Die Baxter Teater Konsertsaal in Kaapstad was tydens die huldeblyk-afskeid volgepak, met sowat 18 "groot name" in die vermaaklikheidswêreld wat aan 'n spesiale huldeblyk-vertoning deelgeneem. Op die middel-verhoog was 'n enorme rangskikking van geel rose - 'n roos wat as die "Joan Brickhill Rose" bekendstaan. Die bekende Brickhill-Burke Productions is deur haar en haar eggenoot, Louis Burke gestig. Joan was ook die eerste persoon wat "extravaganza" na die Suid-Afrikaanse verhoog gebring het. 'n Goeie vriend van Lynette, die bekende sanger en TV-persoonlikheid, Alvon Collison, was een van die organiseerders en het spesiaal vervoerreëlings getref sodat Lynette die verrigtinge kon bywoon. Hy het ook as seremoniemeester opgetree. "Alvon was een van dié saam met wie ek jare gelede in opvoerings opgetree het en hy is ook die een wat 'Joseph and the Amazing Technicolour Dreamcoat' vervolmaak het.
Hy staan nie verniet vir meer as 35 jaar as Suid-Afrika se Mr Showbiz bekend nie," vertel 'n trotse Lynette. Sy kon na vele jare weer met hom en vele van haar voormalige vriende en kollegas in die vermaaklikheidswêreld gesels en kuier, "al was dit tydens 'n hartseer oomblik van finale afskeid." Alvon het spesiaal die foto van hom en Lynette aan Gansbaai Courant vir publikasie gestuur. "Berge en dale ontmoet mekaar nooit, maar mense wel!" was Lynette se laaste woorde tydens die onderhoud met haar.
Hardus Botha