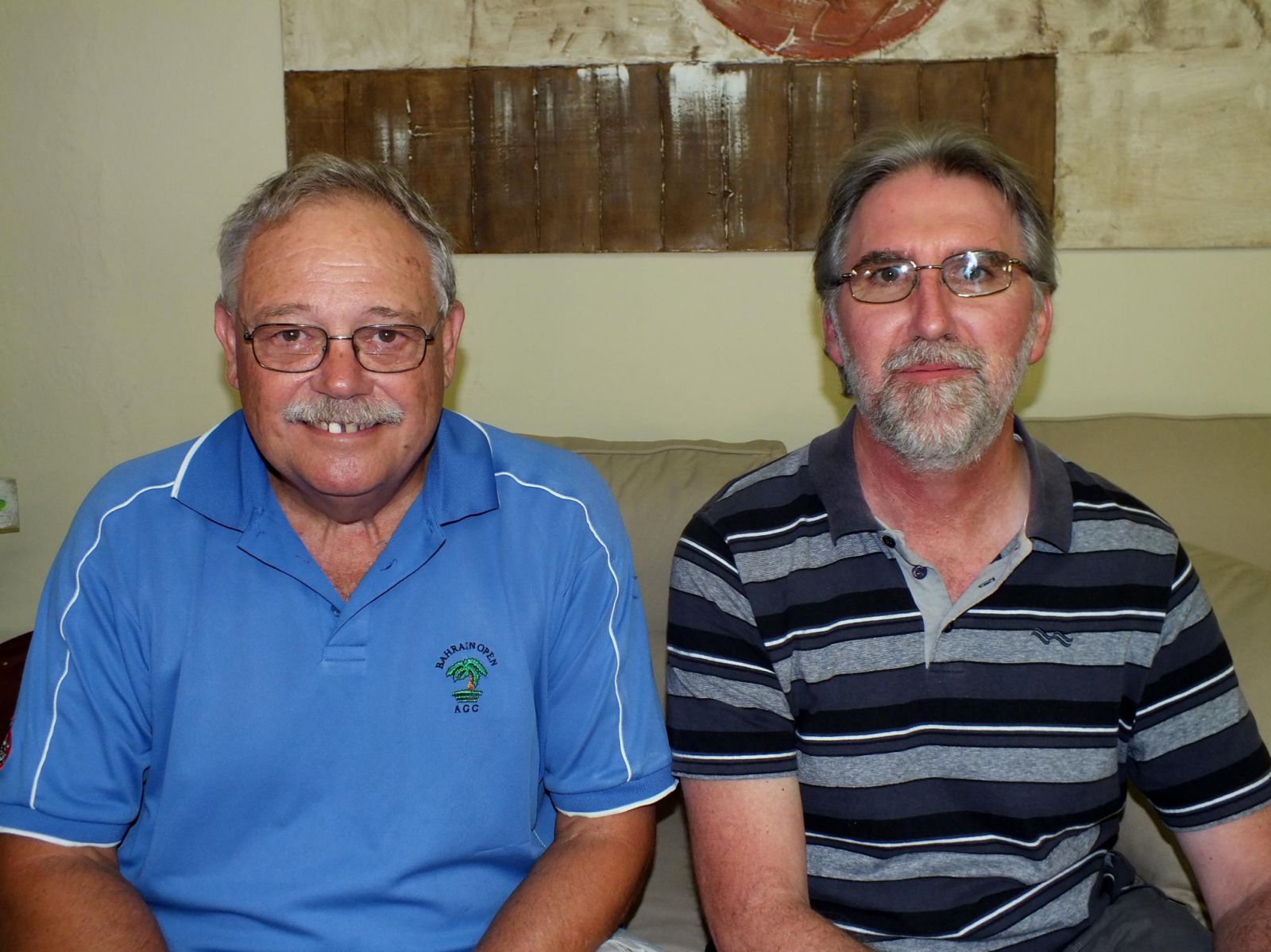 Links is Clive Bailey (aanbieder) saam met Marc du Plessis wat hom tydens die aanbieding van die maak van AV's (audio visual) bygestaan het
"AV's is 'n aspek 'in 'n ander klas'", het Christo Wessels, voorsitter van Gansbaai Fotografieklub tydens sy verwelkomingsrede gesê. Hierdie stelling het duidelik geblyk uit klublid Clive Bailey se aanbieding op die gebied van die maak van AV's (audio-visual / oudiovisueel) vir beginners.

"Die doel van AV's is om jou foto's op 'n netjiese en interessante wyse aan familie of vriende te vertoon," het Clive begin. Deur hierdie tegniek te bemeester, kan jy jou eie skyfie-vertoning of selfs kort film maak, ingesluit uitgesoekte musiek of selfs stemme daarmee saam. In kort beteken dit dus die bymekaarbring van foto's, agtergrondmusiek en/of vertellinge in die vorm van 'n skyfievertoning of film (video clip) - beslis 'n unieke idee vir 'n "foto-album".
Verskillende programme is beskikbaar, maar Clive het van Windows Move Maker 2.6 gebruik gemaak. Dié program kan gratis afgelaai word van http://windows.microsoft.com/en-za/windows-live/movie-maker#t1=overview.
Sagte ware is ook bespreek, met Clive wat http://www.wnsoft.com/ verkies. Clive het eers die klub se ander kundige, Marc du Plessis, geleentheid gebied om een van sy AV's te vertoon om die lede 'n goeie idee van die eindresultaat te gee. Daarna het Clive die onderskeie stappe volledig en met voorbeelde verduidelik, wat deur klublede op hul eie skootrekenaars gevolg is. Dit sou egter nie sinvol wees om dit in woorde te probeer omskryf nie.
"Wat belangrik is, is om 'n lêer (folder) te skep om alle materiaal wat gebruik gaan word, asook die gefinaliseerde AV, in te stoor," het Clive gesê. Hy het ook na enkele nuttige idees verwys wat aangewend kan word. Belangstellende lede kan hul eie AV's intussen maak, wat tydens die volgende byeenkoms op Maandag, 17 Februarie vertoon en bespreek sal word.
Gansbaai Fotografieklub vergader elke 1ste en 3de Maandag van elke maand om 18:30 te Kerkstraat 30, oorkant Gansbaai Laerskool se agterste hek.
Vir navrae kan Christo Wessels by 082-920-9738 of Linda Kloppers by 082-550-7313 geskakel word.
Hardus Botha