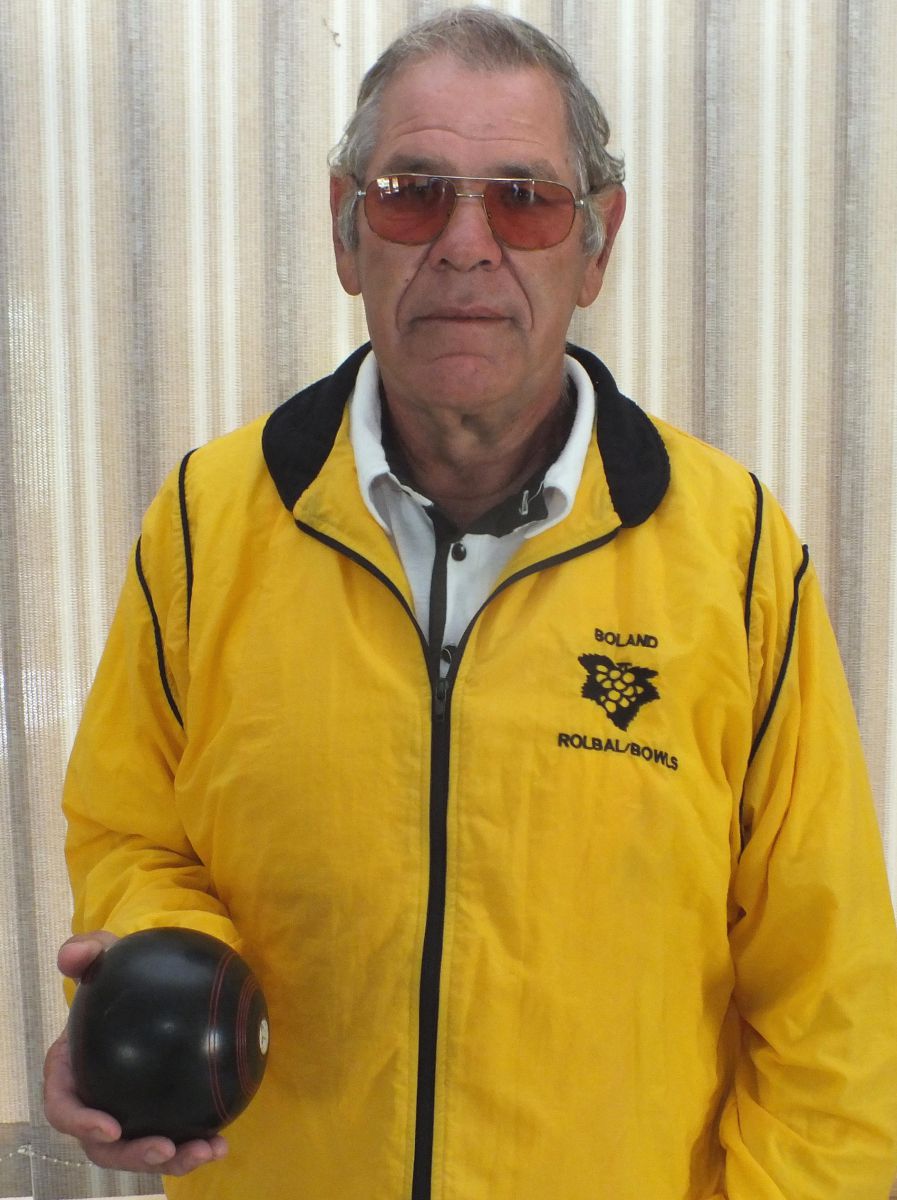 Franskraal Rolbalklub se Baanopsigter ("Green Keeper"), Tommie van Niekerk (regs), is nie sommernet 'n baanopsigter nie. Hierdie sport-entoesias spog met etlike silwer- en goue medaljes, asook ander prestasies vir rolbal, ondanks sy pos as Baanopsigter.
Tommie is op 16 Maart 1950 in Carnarvon gebore, maar het in Beaufort-Wes grootgeword en matrikuleer in 1988. Na sy verpligte militêre diens, het hy met 'n brandweer-beroepslewe begin waar hy, ná 32 diensjare, in 1998 in Stellenbosch as 'n Onder-offisier in die Brandvoorkomingsafdeling met long-probleme afgetree het.

In 1972 tree hy met Janetta in die huwelik en die egpaar het 'n seun en 'n dogter, met 5 kleinkinders. Na sy aftrede verhuis die egpaar na Uilenkraalsmond, waar hulle vir die afgelope 14 jaar woon. "Ek het nog altyd geglo dat 'n mens iets voluit moet doen, of niks nie," vertel Tommie.

So was dit ook met sport, waar hy onder andere vir 3 jaar vir Goodwood se eerste rugbyspan gespeel het en met sy gholf-voorgee op 12 gestaan het. Die egpaar het kort ná hul aankoms te Uilenkraalsmond in 2000 met Franskraal Rolbalklub tydens 'n opedag onder leiding van die destydse president, Boetie Bruwer, kennis gemaak.

Sommer heel aan die begin wen hy die Beginners Boland Kampioenskappe. Daarna volg 'n hele reeks oorwinnings: Klubkampioen vir 2004, 2005, 2007, 2011 en 2014; 2005 gekies vir Boland Ontwikkeling; 2006 goud in Boland Ontwikkelingsmeesters; 2006 Kampioen van Kampioene; 2008 plaat vir Boland Ope Mans Enkels; 2011 gekies vir Boland Seniorspan vir Interdistrikte; 2011 wen Boland Viere saam met penmaats; 2012 goud vir Interdistrikte Seniors Mans met penmaats; 2013 goud met Boland Seniors Mans Enkelspel; 2014 goud met Boland Ope Enkelspel.

Hy is ook nou weer een van 3 gekose spelers wat gedurende Maart vanjaar aan die Interprovinsiale Kampioenskappe (19 streke) in Pretoria gaan deelneem. Dan het Tommie ook pas 'n afrigtingskursus voltooi wat hy, saam met sy ervaring, vir die opleiding en afrigting van jongmense wil benut. "Ek wil die stigma van rolbal as 'oumens marbles' die nek inslaan," sê hy. Ondanks al sy rolbalprestasies, is hy reeds vanaf 2000 ook die baanopsigter, wat sy "voltydse stokperdjie" is. Van vroeg tot laat daagliks is hy met die onderhoud van die bane bedrywig. 'n Mens wonder of hy 'n gelyke het - tegelykertyd baanopsigter en kampioen onder die kampioene! "My droom is om goud in die Meesters-, asook die Ope Kampioenskappe te verwerf," sê Tommie.
Hardus Botha