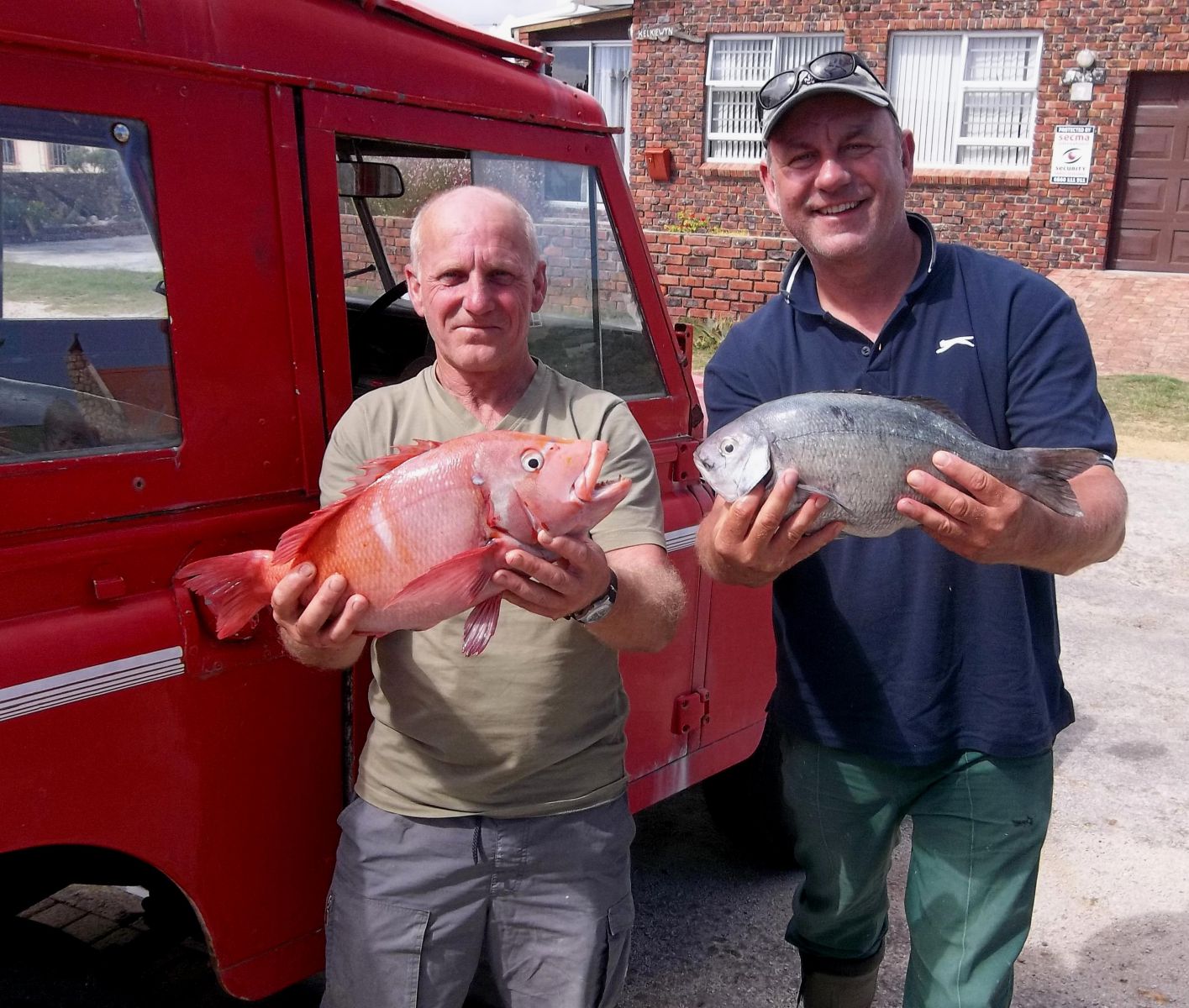 Alan Harvey (links) en Andy Stephney, besoekers vars uit Engeland, wat hulle dag op die boot deeglik geniet het, en boonop kon spog met 'n paar braaivisse, self gevang!
Die groot genoegdoening met hengel is die satisfaksie wat dit jou bied wanneer jy sorg dat iemand sy eerste vis uittrek. Soveel keer het dit gebeur al dat (veral as skipper) 'n kranige aspiranthengelaar saamgaan en juis op daardie tog, hy sy eerste ordentlike vis vang. Dis nou daardie eerste geelbek, kabeljou of snoek. Die gepaardgaande vreugde sê ook sommer dankie vir jou bydrae -- maar dis nie waaroor dit gaan nie. Daardie eerste roman, of eerste geelstert, of in sommige gevalle sommer sy heel eerste vis, ai, net om te deel daarin is mos die moeite werd! Dan word daardie foto juis geneem om vir die nageslag te bewaar. Terselfderyd laat dit my terugdink aan baie jare terug toe ek self maar nat agter die ore was en ook gespog het met een of ander vangs. So onthou ek toe 'n vriend van my pa my saamgenooi het om vanaf Kalkbaai met die Ianjerry uit te gaan. My heel eerste tog met 'n "propperse" visboot. Ons het die aand vroeg daar aangekom en moes onder in die boot oornag en eers vroegoggend kon ons na die dek gaan om ons plek in te neem vir die vangery. Ons het ons rooiaas uit 'n groot drom geskep en dié moes ons saam met ons karwy en dit is langs ons staan gemaak met die slapery. Ons het 'n nat lewensgordel gekry as 'n kussing. Resep vir 'n katastrofe.
So het ons die aand deurgebring en ek was nog springlewendig toe ons ons plekke in die laaitjies inneem. Sommer van die beginslag af, toe ons die hawe uitvaar was vir my baie opwindend, en ek het gehoor van seesiek, maar dit het nie gelyk asof dit my gaan beiinvloed nie. Dis nou totdat ek die rooiaas wou aansit. Saam met die aas wat ek sommer so heel aan die hoek gehang het het ek oor die kant van die boot gegly en toe eers het ek geweet wat met seesiek bedoel word! Ek het later plat op my alie gesit en die lyn so losserig oor die kant laat hang en so elke dan en wan het ek die lyn 'n pluk gegee. Ek was ordentlik siek maar het geweier om bes te gee. So het ek wel daarin geslaag om my eerste groot vis te vang en dit sal my altyd bybly. Lekker!
Dis nou nie die Engelsmanne se eerste vis nie maar hulle is saam see toe en die genot wat hulle geput het uit die dag se vangs (meestal hotties) het die dag iets besonders gemaak. Kyk gerus wat die meegaande foto sê.

Groete, Seemeeu