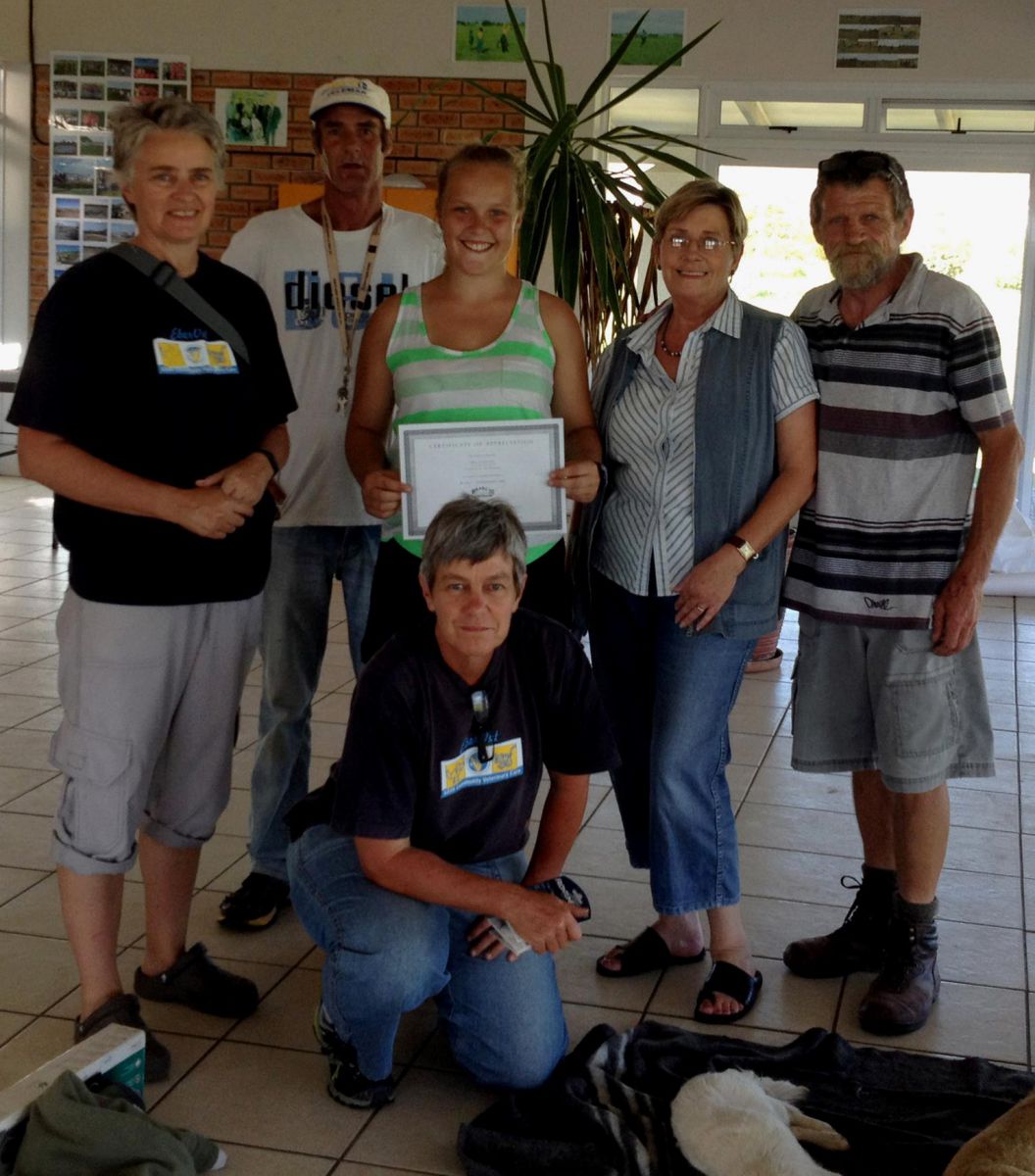 'n Deel van die span betrokke by BARC se gratis sterilisasiedag, met Hilda Mills voor en agter vlnr Hilldinge Beer (veearts), Gavin Hughes, Bea Coetzee, Annalie Jonker en Antonie Jordaan
"Dit was 'n baie suksesvolle twee dae en daar is 60 diere (honde en katte) gesteriliseer," sê Annalie Jonker van BARC. Sy verwys na BARC se jaarlikse gratis sterilisasiedag op 11 en 12 Februarie vanjaar op Gansbaai Gemeenskaplike Sportgronde. "Daar het soveel mense met hul diere opgedaag dat die veearts nie almal kon help nie - die twee dae was net te min." Annalie sê sy sou baie graag hierdie geleentheid meer male wou reël, maar fondse is beperk. Mense wat weggewys is, se name is op 'n lys vir 'n volgende keer geplaas, terwyl andere hul name by BARC se winkel kan opgee.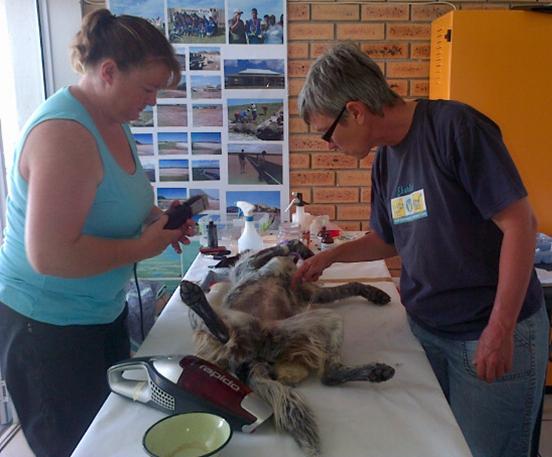 Twee spanlede tydens BARC se sterilisasiedag, met Karin de Wet links en Hilda Mills regs
" Sy beklemtoon net weer dat dit slegs vir persone is met 'n huishoudelike inkomste van R4,500/maand en minder bedoel is. Die veearts was Hilldige Beer van Helderbergkom, verbonde aan Community Veterinary Clinics (CVC), en haar assistent was Hilda Mills. Karen de Wet van Gansbaai Hondesalon het ook 'n reuse bydrae gelewer met die 2-dae se vrywillige en gratis skeer van die diere. Nog vrywillige helpers was Bea Coetzee, Elsjerie Jooste en Sanna Erasmus. Die rekening vir die veearts beloop R14,700 (reiskostes ingesluit), wat deur BARC betaal word sodat die gemeenskap 'n gratis diens kan ontvang.

"Baie dankie aan mnr Kat Myburgh vir die gratis beskikbaarstelling van die Sportgronde wat opreg waardeer word," sê Annalie. "Die belangrikste is om die gemeenskap vir hul finansiële bydraes te bedank, asook vir donasies aan BARC se winkel, wat gehelp het met die betaling van die veearts se rekening." Sy sê BARC se Winkel het tans baie min voorraad en doen 'n beroep op diereliefhebbers om enige ou klere, linneware, kombuisware, skoene, gordyne, handdoeke, ornamentjies, ou meubels of wat ookal aan die winkel te skenk. Die winkel is op die hoeke van Hoof- en Korporasiestrate geleë en hulle besigheidsure is Maandae tot Vrydae vanaf 08:30-17:00 en Saterdae vanaf 08:30-13:00. Finansiële bydraes kan direk in die volgende bankrekening inbetaal word (meld net die donateur se naam, of "anoniem" indien so verkies): BARC - Nedbank Gansbaai - Takkode 196 005 - Rekeningnommer 149 810 3006 - Spaarrekening. BARC se Facebook-blad, "BARC Gansbaai Animal Welfare", kan ook gerus besoek word.

Vir navrae en/of skenkings/donasies kan Annalie by 082-826-0631 geskakel word, of stuur 'n e-pos aan haar by maynestay@axxess.co.za.

Vir diere-probleme en/of die aanneem van diere, kan Antonie Jordaan (Veldwerker) by 083-742-3903 geskakel word.
Hardus Botha