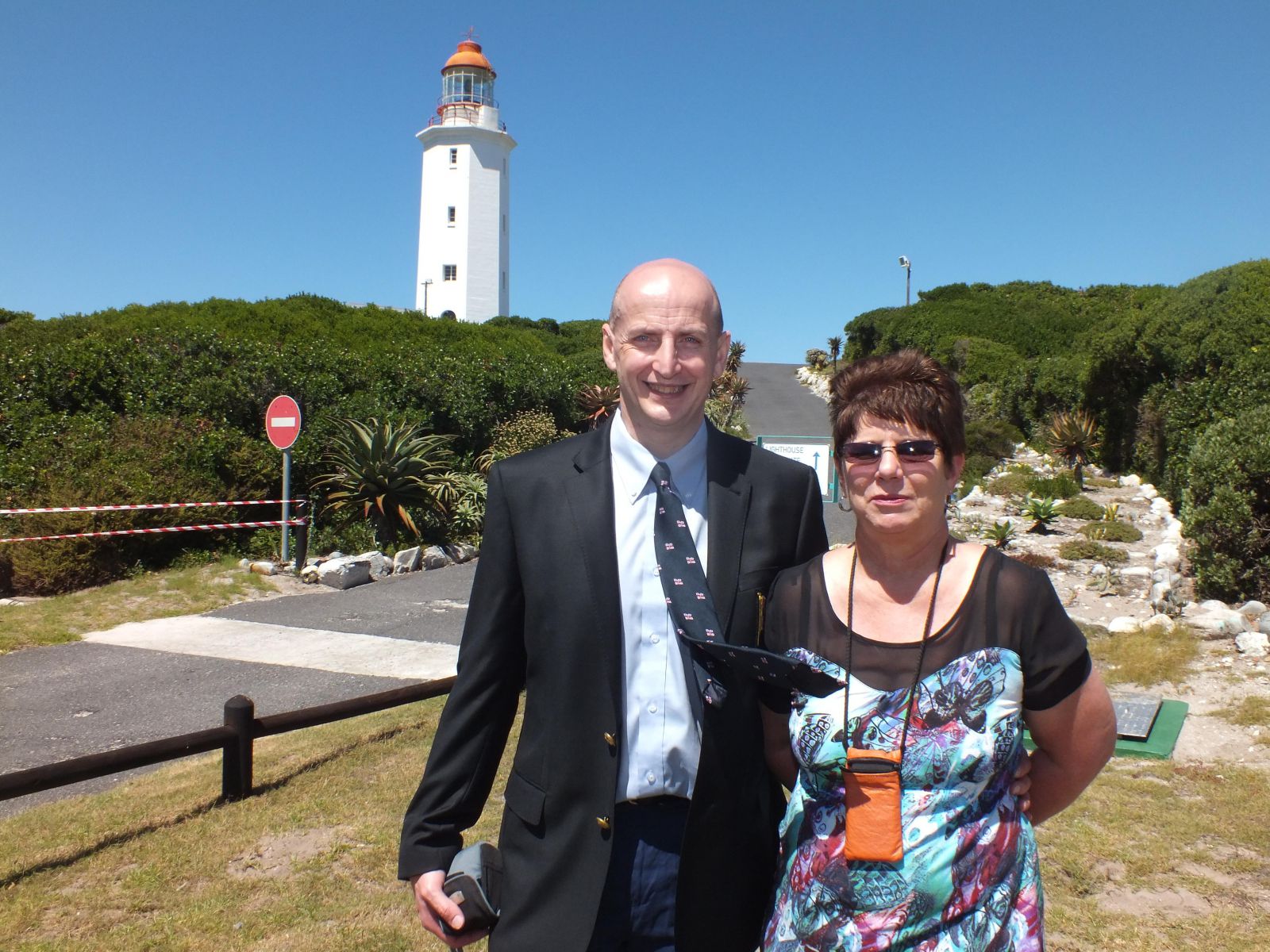 Andy Liston saam met Glenda Kitley tydens Gansbaai se herdenkings-seremonies van die HMS Birkenhead-tragedie
Bande is onlangs tussen die gemeenskappe van Gansbaai en Birkenhead, Engeland gesmee. Seesand, klippies en skulpies van Standford's Cove is met behulp van Glenda Kitley, Bestuurder: Gansbaai Toerisme op versoek na Birkenhead gestuur. Die inisiatief kom vanaf 'n boorling van Birkenhead, Andy Liston. Hy was een van die oorsese gaste tydens Gansbaai se 162ste Herdenkingsdiens van die HMS Birkenhead se tragiese sinking op 25 Februarie 1852 naby Danger Point.

Die boot is in Birkenhead gebou, 'n dorp binne die Metropolitan Borough of Wirral in Merseyside, Engeland en geleë op die Wirral Peninsula langs die westelike oewer van die River Mersey, oorkant die stad Liverpool. Birkenhead staan as die mees bekende dorp vir die bou van skepe en verwante industrieë bekend. 'n Glansryke onthulling vir die Gedenkplaat van die HMS Birkenhead is aangebied. Die onthulling is deur die burgemeester van Wirral, raadslid Dave Mitchell en die Lord-Luitenant, Dame Lorna Muirhead, waargeneem.

Die volledige geskiedenis, soos wat jaarliks ook in Gansbaai die geval is, is aan die sowat 100 toehoordes oorgedra. Die voetstuk van die Gedenkplaat is omring deur Stanford's Cove se sand, klippies en skulpies - "om die band tussen die gemeenskappe van Gansbaai en Birkenhead te beklemtoon" - Andy Liston. Die gedenkplaat is na afloop van 'n kompetisie deur 'n 18-jarige student, Jemma Twigg van die Birkenhead Sixth Form College, ontwerp. Andy Liston het die kompetisie geloods en ook £250 geskenk, wat saam met nog 'n borg, John Syvret, se £250 aan Jemma oorhandig is.

Tydens die onthulling het John gesê: "It is very fitting the ship's tragic story and the origins of 'women and children' first, should be remembered in the form of such a striking memorial on Merseyside for future generations." Ná 'n besoek aan Suid-Afrika enkele jare gelede vir 'n familietroue, was die prominente erkenning van die tragedie in sy geboorte dorp vir Andy Liston 'n lewensdroom. "To connect this memorial with the good people of South Africa, I would like to try and bring the two communities together and incorporate in the base of the memorial a lasting link," het Andy vir Glenda Kitley laat weet - en sy lewensdroom het gerealiseer.
Belangstellendes in die volledige gebeure tydens die onthulling van die HMS Birkenhead Gedenkplaat kan gerus die volgende twee webtuistes besoek:
www.liverpoolecho.co.uk/news/memorial-unveiled-sinking-cammell-laird-6775580 en
www.wirralglobe.co.uk/news/11049590.Wirral_mayor_unveils_tribute_to_HMS_
Birkenhead. (Bronne: Mediaberigte in die Liverpool Echo en Wirral Globe, Engeland)
Hardus Botha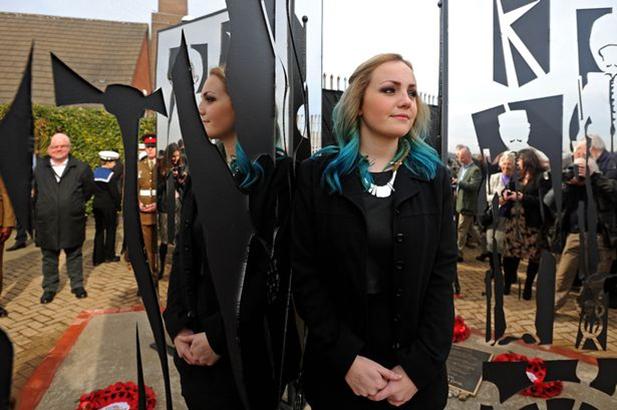 Die ontwerper van die HMS Birkenhead-tragedie se beeldhouwerk en gedenkplaat, Jemma Twigg, tydens die onthulling daarvan by die Woodside Promenade, Birkenhead, Engeland (Foto: Gareth Jones)