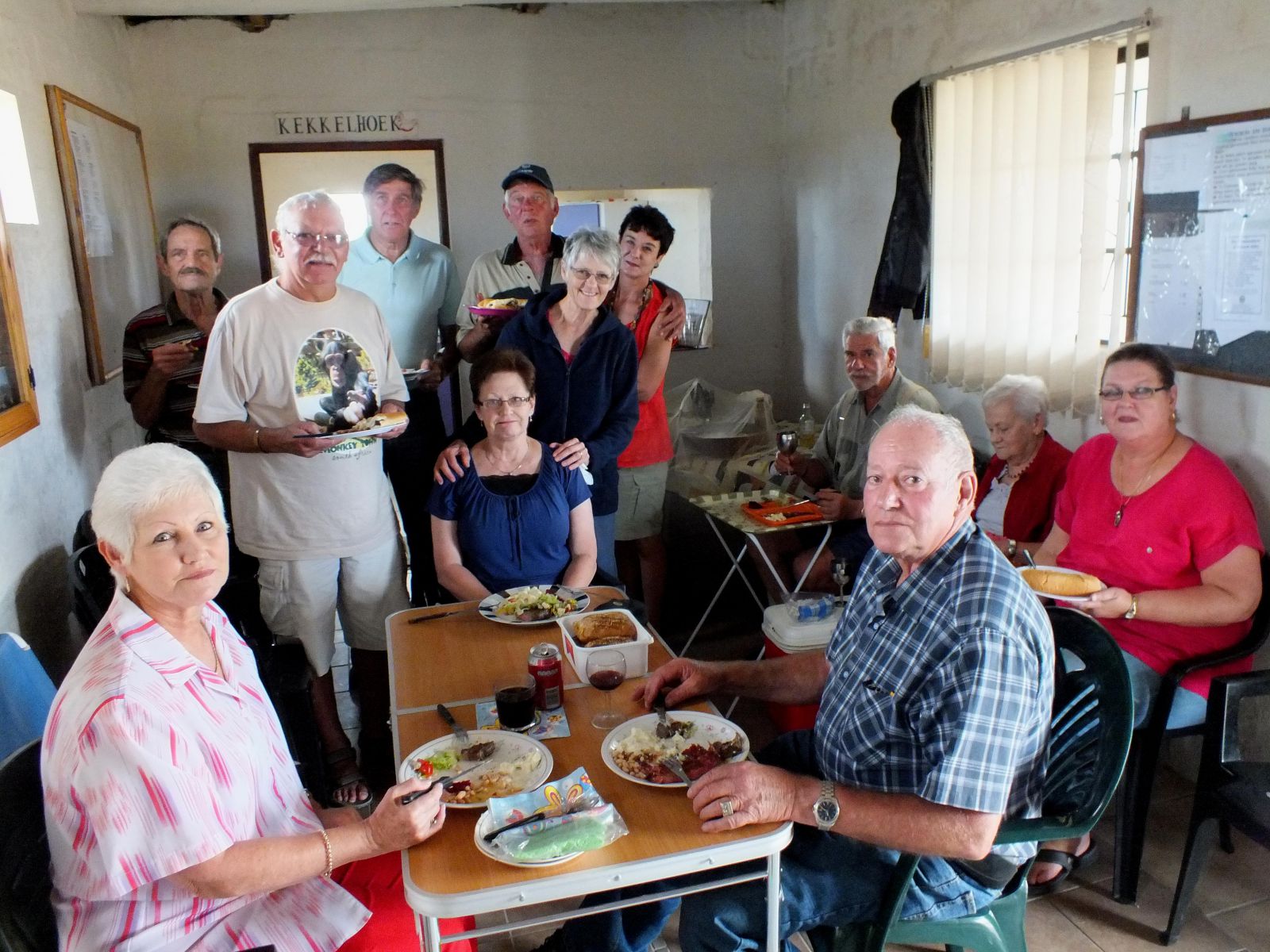 Die vrolike groep pistoolskieters met smaaklike borde kos tydens 'n sosiale byeenkoms in hulle klubhuis, met voorsitter Alec Kitley wat links heelagter probeer wegkruip
"Vandag se Bring & Braai het op onderlinge sosialisering gefokus - ons wou sommer net 'n bietjie saam kuier," vertel Alec Kitley, voorsitter van Gansbaai Pistoolklub. Dit is vanjaar die klub se 20ste verjaardag, nadat dit op 10 Februarie 1994 gestig is. Sake verloop, ná al die jare, steeds vlot en al skietende binne klubgeledere.

Op Saterdag, 15 Maart 2014 is 12 van die klublede met smaaklike borde, gevul met braaivleis en slaaie, by die klubhuis opgespoor - vir 'n slag sonder vuurwapens in die hande. Belangstellendes in die op-en-wakker pistoolklub van Gansbaai kan inskrywingsvorms en relevante inligting by Gansbaai Toerisme gaan afhaal. Die klub se oefentye onder die wakende oog van hulle ervare voorsitter, is elke Saterdagoggend vanaf 08:00 tot ongeveer 10:30 en kinders met windbukse is eweneens welkom.

Enige navrae kan aan ondervoorsitter Andy Hammond by 028-384-2062 gerig word, of skakel voorsitter Alec Kitley by 028-384-0335 of 083-379-2275.
Hardus Botha