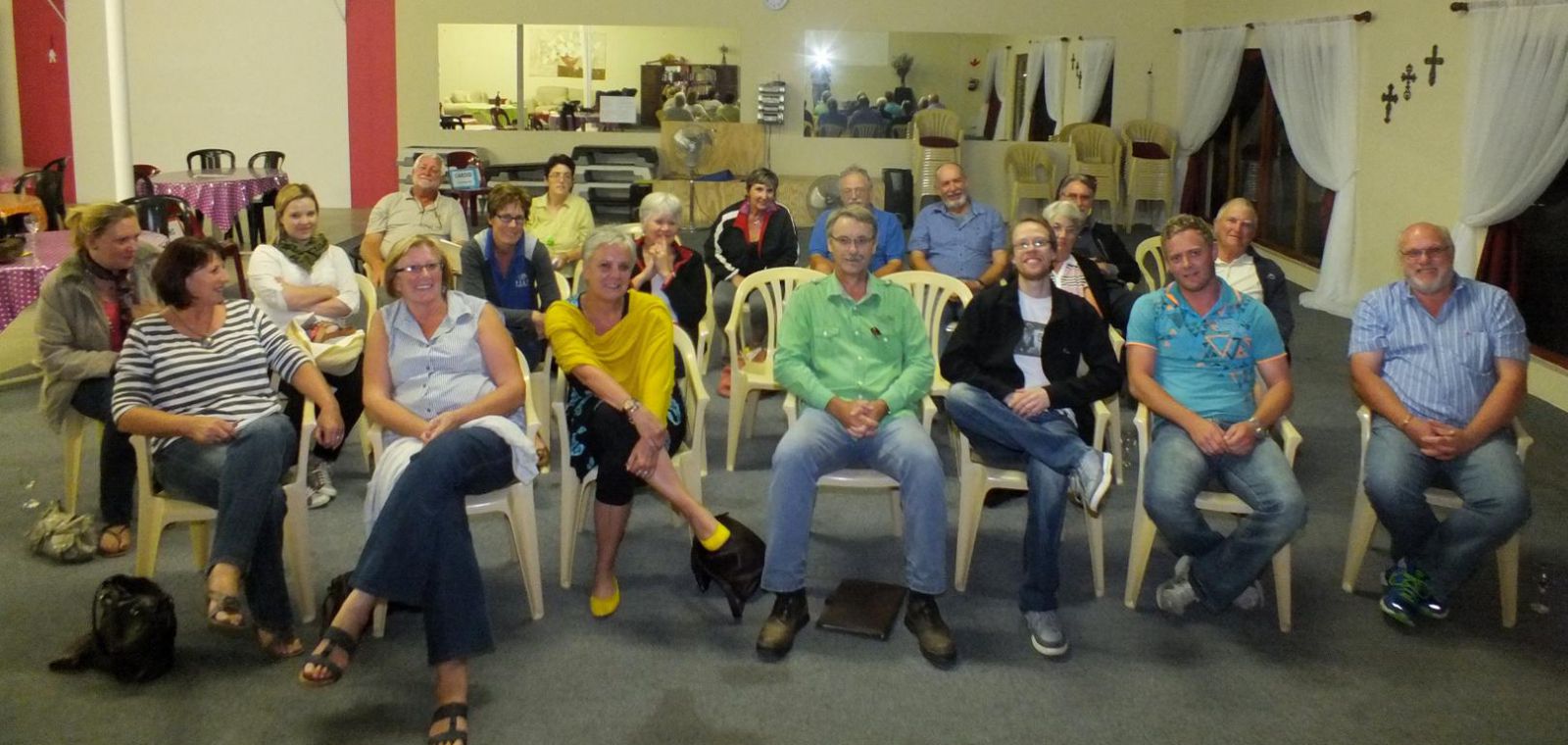 Die groep Gansbaai Fotografieklub-lede, met voorsitter Christo Wessels (4de v links), en die aanbieder oor kameralense, Fritz van Zyl langs hom
Fritz van Zyl van ORMS Pro Photo Warehouse in Belville, was Gansbaai Fotopgrafieklub se gasspreker tydens die vorige byeenkoms. "Wees versigtig oor watter filters jy op jou lense sit, dit affekteer baie vinnig die skerpte en kontras van jou foto's op 'n negatiewe wyse," het Fritz oor filters gesê.

"Die beste manier om te weet watter lens om te koop, is om te kyk wat pas jou doel die beste, wat is die regte hoek van veld vir onderwerpe en die regte bou-gehalte vir die omgewing en skerpte/detail wat jy benodig om 'n spesifieke eindresultaat te behaal," het Fritz gesê. "Indien jy nog nie 'n spesifieke doel het nie, koop goedkoper of 2de hands om eers vas te stel wat jou werklike behoeftes is." Hy het gesê duurder lense is nie noodwendig net duurder omdat hulle skerper of meer detail het nie, maar ook vir ander redes, soos om langer te hou; harder hanteer te word; deeglik afgeseël is sodat vogtigheid en stof nie maklik in die lens kan kom nie; vinniger fokus op byvoorbeeld motors; beter stabiliseerders en ander redes.

"Laastens, baie van die meer professionele lense het ook 'n groter iris-opening regdeur die zoomreeks wat dan meer lig deurbring en skyn ook 'n groter area op die kamera sodat die groter 'full-frame sensors' heeltemal met 'n sirkel van lig sonder donker hoeke gedek word." Hy het verduidelik dat elkeen van hierdie eienskappe die lens duurder kan maak, maar ook heelwat swaarder. "'n Lens moet nie 'in 'n boks' geplaas word nie. So is 'n 70-200 f2.8 byvoorbeeld 'n populêre sport- en troulens, terwyl dit net so goed as 'n landskaplens aangewend kan word." Fritz het 'n duursame fotografieklub-rugsak, ná 'n gelukstrekking, aan 'n gelukkige klublid oorhandig. Christo het met die volgende klubnuus afgesluit: Die klub se ID-kaarte is byna gereed; 'n klubuitstappie na Bredasdorp op 22 Maart; 'n Fotoboek werkswinkel deur Linda Kloppers op 24 Maart.

Vir navrae kan Christo Wessels by 082-920-9738 of Linda Kloppers by 082-550-7313 geskakel word.
Hardus Botha