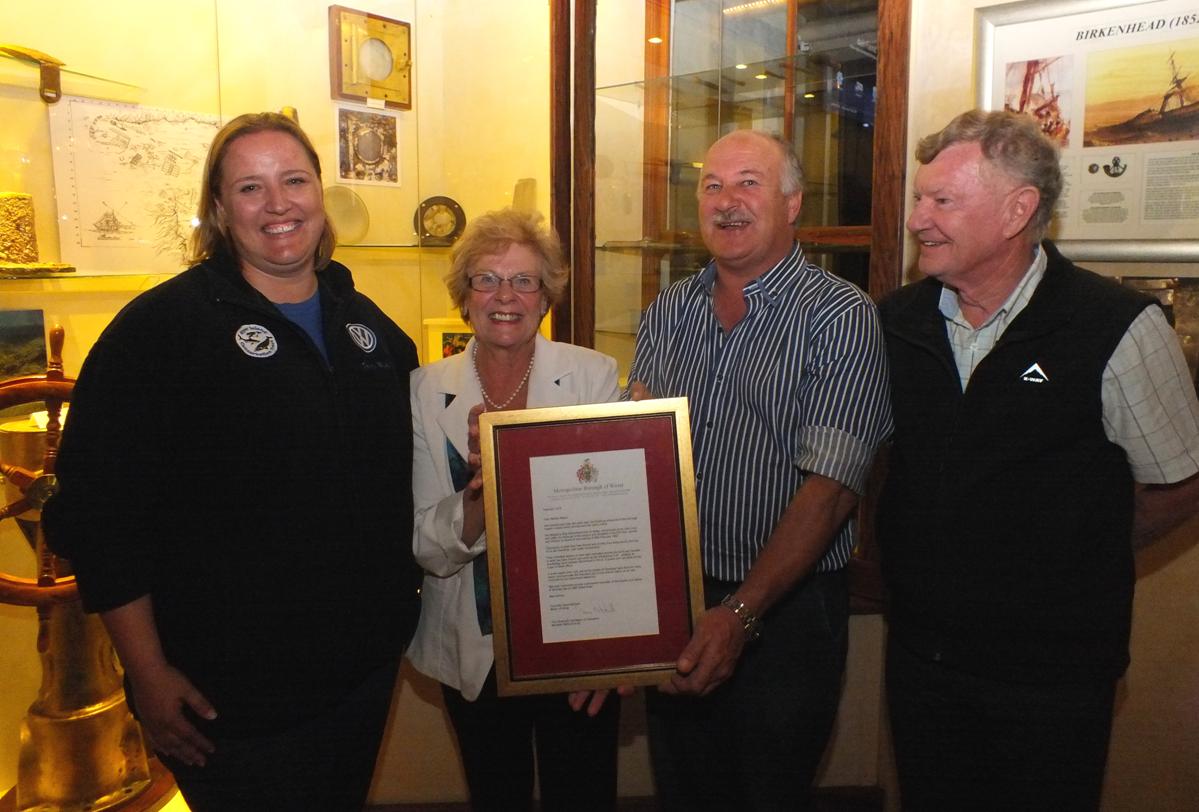 Vlnr is Alouise Lynch, rdl Nicolette Botha-Guthrie, Wilfred Chivell en rdh Pieter Scholtz tydens die oorhandiging van 'n burgemeestersbrief vanuit Engeland aan Wilfred
Tydens die jaarlikse Gedenkdiens van die HMS Birkenhead Troepeskip in Februarie vanjaar, het Andy Liston 'n persoonlike skrywe deur die burgemeester van die Metropolitan Borough of Wirral in Engeland, rdl Dave Mitchell, aan rdl Nicolette Botha-Guthrie, Overstrandse Uitvoerende Burgemeester oorhandig. Die dorp, Birkenhead, waar die Troepeskip gebou is, is in die Wirral munisipaliteit geleë.

'n Deel van die skrywe word hiermee aangehaal: "Dear Madam Mayor, One hundred and sixty years ago, the illustrioys shipyards of this borough forged a vessel which proudly bore the town's name. Her Majesty's Ship Birkenhead lives on today, not because of her role in any sea battle, but because of the bravery and discipline of the 638 men, women and children on board on the evening of 26th February 1852…..In a few weeks time I will, just as the people of Gansbaai have done for many years, commemorate this important part of our shared history at our own memorial on the Birkenhead waterfront. May both memorials provide a permanent reminder of the bravery and dignity of all those lost on HMS Birkenhead. Best wishes. Councillor Dave Michell, Mayor of Wirral."

Die Gedenkplaat is inderdaad intussen in die dorp Birkenhead onthul (Gansbaai Courant, Donderdag, 20 Maart 2014: "Gansbaai (SA) en Birkenhead (VK) smee bande"). Rdl Botha-Guthrie het die skrywe netjies laat raam, maar het besluit om dit nie in die gange van die Overstrand Munisipaliteit te laat hang nie.
Tydens 'n onlangse Mariene-aand deur Dyer Island Conservation Trust (DICT) het sy die geraamde skrywe amptelik aan Wilfred Chivell oorhandig. "Ek is dankbaar en opgewonde oor hierdie skenking en dit sal 'n ereplek in die bestaande uitstalling in die Great White House kry," het Wilfred gesê. Tydens dieselfde funksie het Wilfred bekendgemaak dat Deon Pitzer van Villet en Pitzer Rekenmeesters as Trusteelid van DICT se Trustee-span aangesluit het. Vir meer inligting rakende die aktiwiteite en projekte van DICT, kan hulle webtuiste by www.dict.org.za besoek word.
Hardus Botha