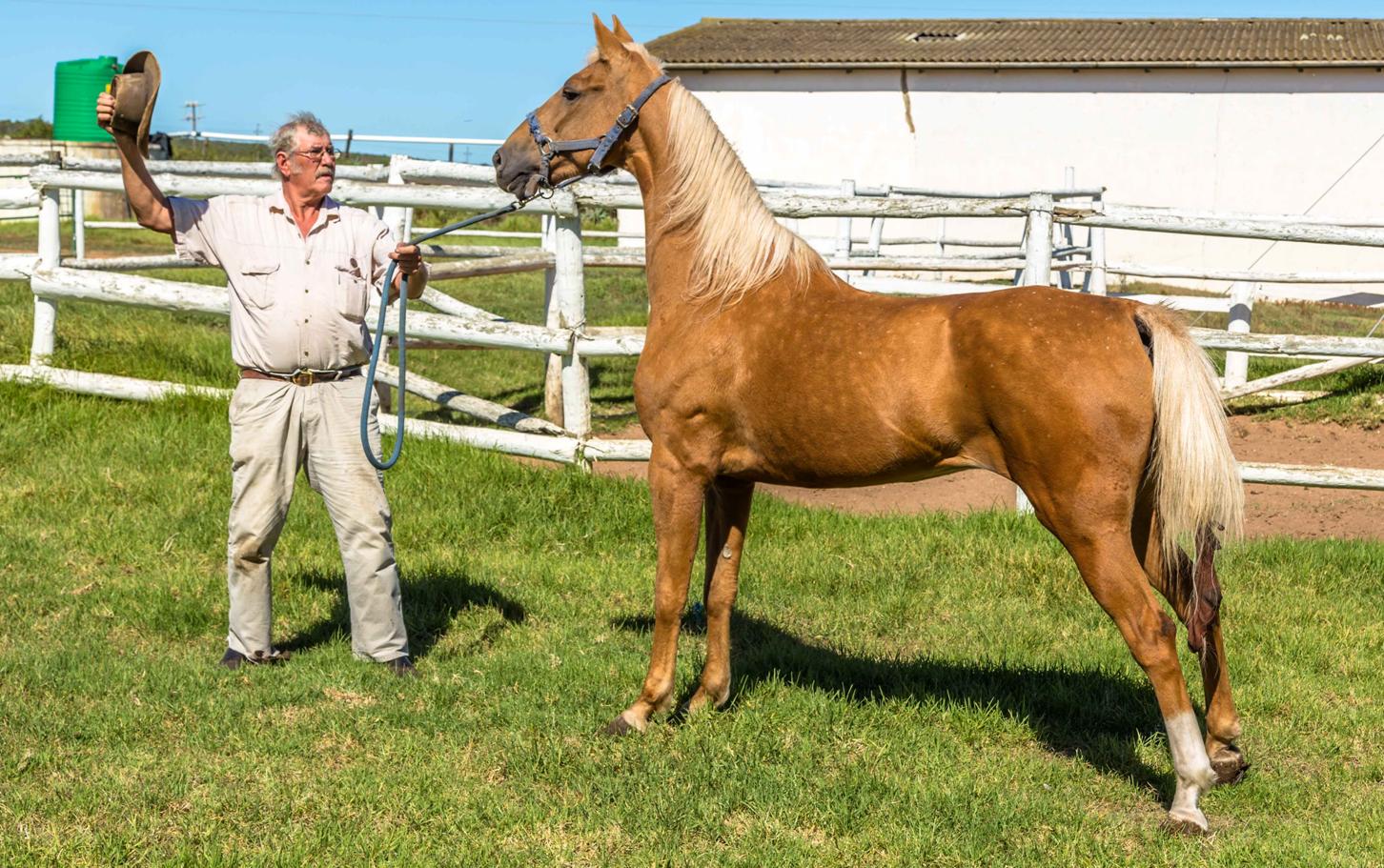 Ernst Conradie, eienaar van die plaas Mierkraal, met een van sy spog Amerikaanse skouperde (Foto: Riaan Jacobs)
'n Deel van Gansbaai Fotografieklub se jaarprogram is om interessante uitstappies te reël. "Dit dra nie net by tot 'n samehorigheidsgevoel nie, maar dit bied ook geleenthede vir klublede, en veral beginners, om praktiese ervaring op te doen," sê Christo Wessels, voorsitter van Gansbaai Fotografieklub.

"Ons klub se Bredasdorp-uitstappie op 22 Maart na die plaas, Mierkraal van Ernst Conradie het uiters suksesvol verloop en is terdeë deur almal geniet, met pragtige foto's wat geneem is." Christo sê dit is 'n pragtige saai- en beesplaas in die Bredasdorp-omgewing en dit was vroeg-opstaan vir die lede wat reeds om 05:00 vanaf Gansbaai vertrek het. Hy sê met hulle aankomslag op die plaas het sommige lede summier hul kameras en driepote gegryp en begin foto's neem, terwyl ander eers 'n lekker slukkie koffie agter die blad wou kry. Die lede het toegang tot die hele plaas gehad en het dit behoorlik benut om die landgoed van hoek tot kant te verken - met kamera's wat maar nie kon ophou met klik-klik nie.

"Van die fokuspunte wat veral baie aandag getrek het, was onder andere die plaashuise, 'n ou skaapkraal, damme, voëls, murasies en landerye," vertel Christo. "Een van die absolute hoogtepunte was die lede se besoek aan die skouperde." Ernst het 'n aantal top Amerikaanse skouperde en het hulle spesiaal aan die lede vertoon om rustig foto's te kon neem. Die klublede was dit eens dat die besoek aan die pragtige plaas daarmee op 'n hoë noot afgesluit is. Lede word daaraan herinner dat daar nie op 21 April 'n byeenkoms sal wees nie, maar wel op Maandag, 28 April, waartydens almal se plaasfoto's dan besigtig sal word. Lede word ook aan die interne kompetisie met die tema "reflections" herinner. A4 foto's moet voor of op 19 Mei 2014 ingedien word.

Vir klubnavrae kan Christo Wessels by 082-920-9738 geskakel word, of skakel vir Linda Kloppers by 082-550-7313.
Hardus Botha