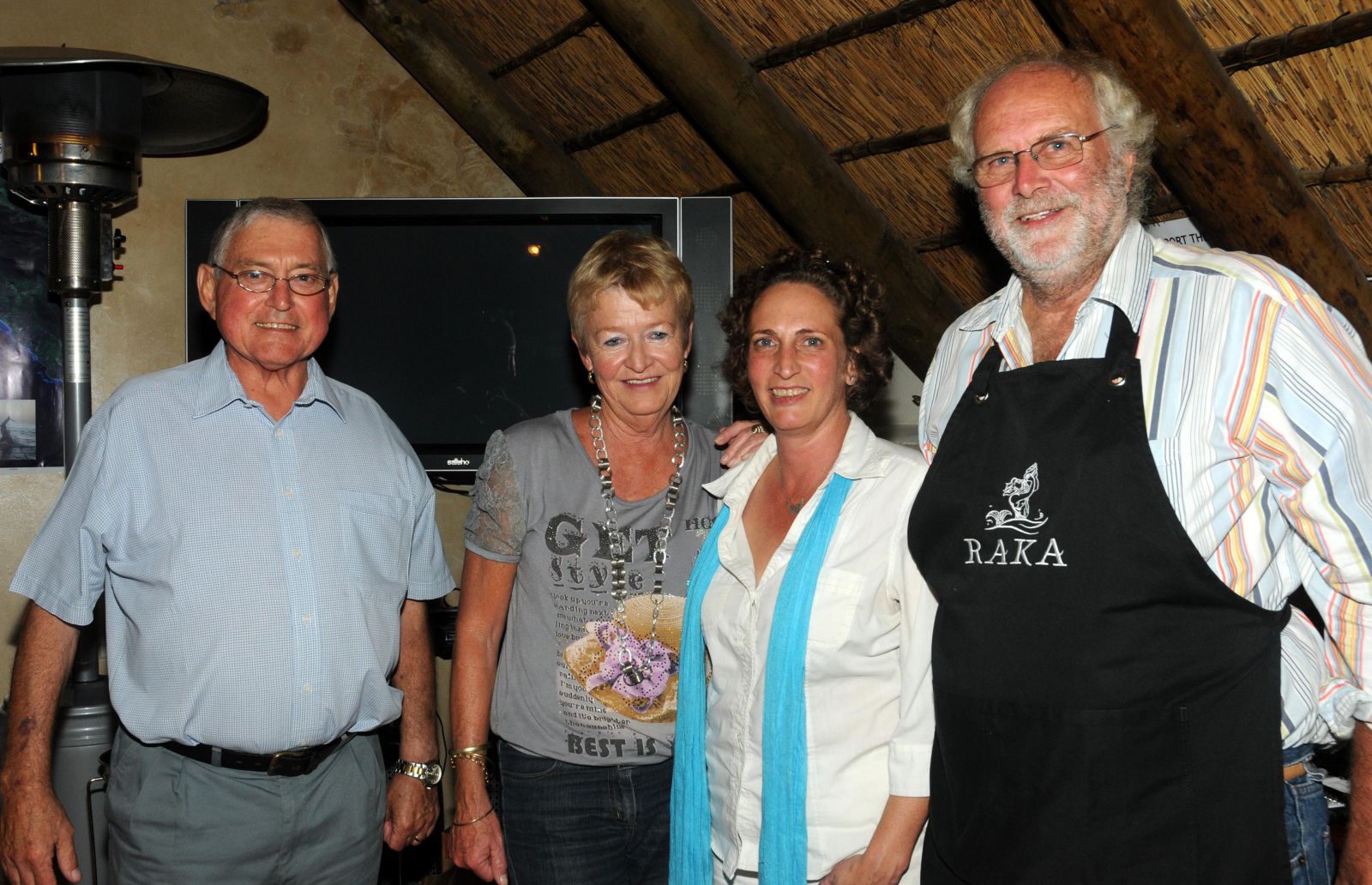 Vlnr is Helmie de Vries, Sunette Heyns, Melanie Lourens en Piet Dreyer tydens die oorhandiging van 'n blyk van waardering
Gansbaai Wynproegilde het vir hul Maart-byeenkoms die voorreg gehad om 7 van Raka Wyne se knap wyne te proe en te geniet. Die voorsitter, Helmie de Vries het die eienaar van Raka Wyne, Piet Dreyer aan die gaste in die Great White House voorgestel en hom daarna aan die woord gestel. Piet het homself goed van sy taak gekwyt, met vele kwinkslae wat terdeë geniet is. Die reeks wat hy te proe aangebied het, was Raka se Sauvignon Blanc 2013, Chenin Blanc 2013, Spliced 2010 (was eers Raka red wat "vleg" in vissermanstaal beteken), Figurehead 2009 (boegbeeld op ou skepe), Petit Verdot 2009, Quinary Magnum 2010 en die Biography Shiraz (met etikette waarop Piet se lewensverhaal vertel word).

Die lede en gaste het 4 van die wyne met 'n "goud" bekroon en die res met 'n "sterk silwer". "My liefde vir visvang het by my pa begin met die aankoop van sy vissersboot, Mariana by oom Hennie Ritter," het hy gesê. Ná sy huwelik met Elna, het hy die plaas gekoop waar hy later wingerde aangeplant het, maar steeds visgevang het. Om meer aandag aan die wynboerdery te kan gee, het hy die visvang-stuur aan sy seun, Gerhard oorgegee.

Die naam "RAKA" is afkomstig van sy destydse pikswart geverfde vissersboot met dié naam, wat weer afkomstig is van NP van Wyk Louw se gedig, "Raka". Piet en Elna spog met 'n ware "familie-besigheid met sy seuns, Josef (wynmaker), Pieter (toekomstige wingerdbouer) en sy dogter Jorika (wynproekamer-bestuurder).
Die Great White House het weer eens 'n smaaklike ete met bypassende kosse aangebied. Gebruiklike oorhandigings van blyke van waardering is deur Sunette Heyns aan Piet en Melanie Lourens van Raka Wyne oorhandig, en deur Steve Donnelly en Steve Serbon aan aan Tamilyn Aploon en Prince Ntsume van die Great White House gedoen.
Gansbaai Wynproegilde se volgende byeenkoms sal op Vrydag, 2 Mei 2014 plaasvind.
Vir navrae kan Helmie de Vries by 028-388-0708 of 082-577-6920 gekontak word, of stuur 'n e-pos aan hom by info@franskraalbandb.co.za.
Hardus Botha