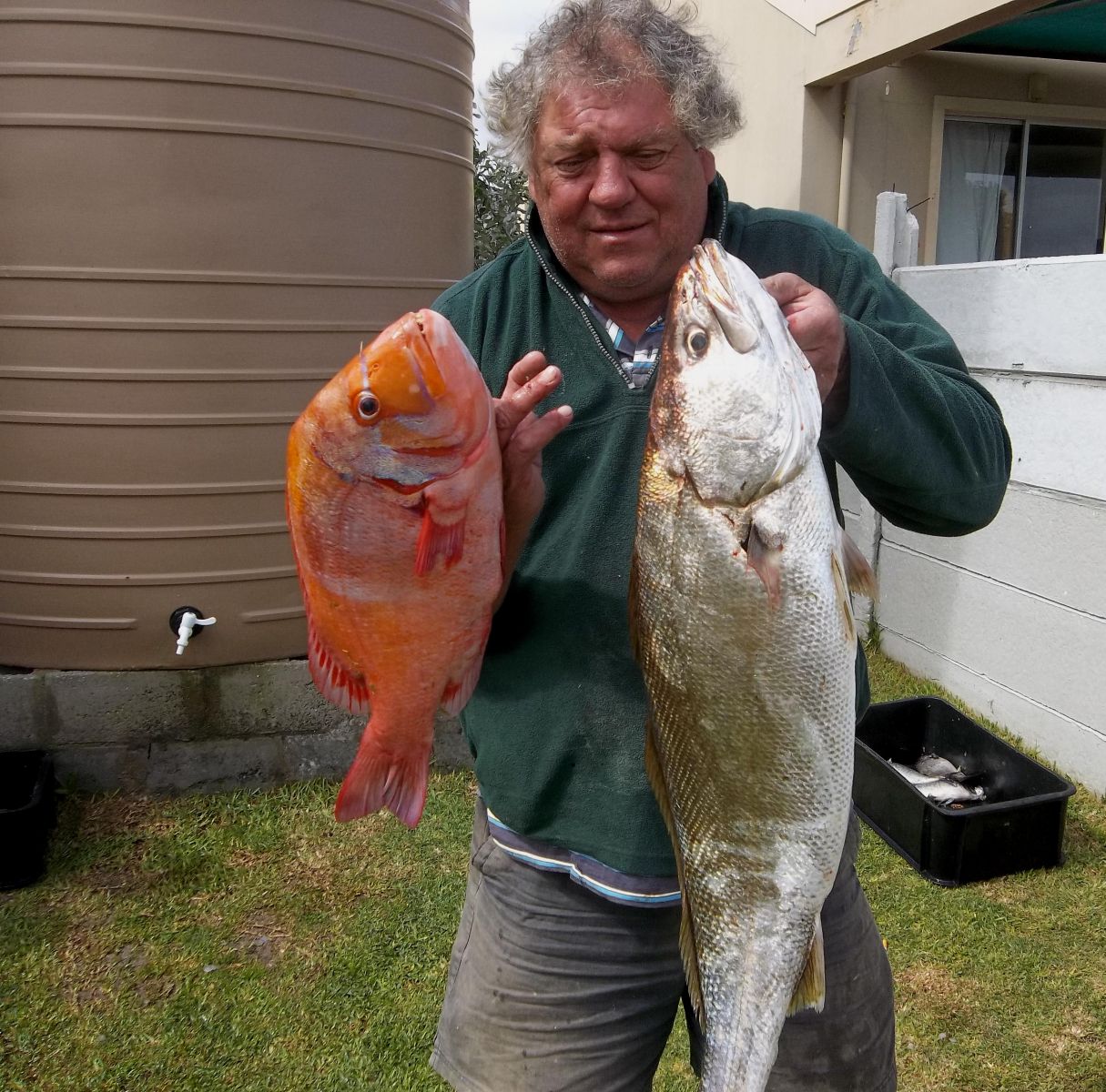 Boetie Bosman het hierdie mooi geelbek van 5 kg naby Teegat gevang. Soos gewoonlik (maar hulle tel mos nie!) het die heel grotes egter weggekom. Die roman, sê hy, is nie te versmaai nie.
Die goeie nuus is dat die geelbek uiteindelik hulle opwagting gemaak het. Daar is wel van die visse in die laaste tyd gevang maar kom ons sê maar dat jy een van die gelukkiges moes wees. As voorbeeld waarom dit nou baie beter gaan -- verlede Donderdag het daar minstens tien bote naby Teegat gelê en neem kennis daarvan dat heelwat geelbek daar gevang is. En dis mooi visse. Die seewind wat die laaste paar dae gewaai het het soos verwag, die opwinding veroorsaak. Wat ook baie welkom is is die makriel wat tussenin aangekeer is. Dat daar baie kleintjies was behoort jou nie af te sit nie. Selfs 'n paar elwe is gevang. Of toestande so gaan bly is natuurlik 'n ander saak, en indien die vooruitspelling korrek is, behoort die weer hierdie week baie kalm te wees. (Dis nou Saterdag en bietjie vroeg om so ver vooruit te voorspel).
Daar is net een manier om in die vangs van die geelbek te deel en dis om daar te wees! Dis ook 'n ope vraag of die vis steeds naby Teegat gaan bly, en of die vis gaan padgee Punt se kant toe, en dan natuurlik behoort Die Eiland en Geelbekgat hulle kans te kry. Daar is wel in hierdie areas reeds gevang.
Die wind wat waai behoort ook jou keuse van plekke te beinvloed. Veral as die suidwestewind sy ding doen kan die water maar onbeskof word en sal jy moet seker maak jou vangplek is veilig. Kom die wind van die land se kant is die area normaalweg nie so woes nie. Veral wanneer jou plan is om vroeg see toe te gaan sal dit wys wees om van die windrigting seker te maak, asook die sterkte daarvan. Dis welbekend dat in teenstelling met kabeljou, geelbek van lewendiger water hou, so wanneer jy see toe gaan en geelbek in jou visier het, kwaaier water deel van die planne behoort te wees. Versigtig net!
NS. Dinsdag: Die mooiweer wat voorspel was is korrek. Dis lekker op die see -- maar die verandering in die windrigting is op die oomblik nie juis ten gunste van geelbek nie. Maar dis amper volbloed winter en die "regte" wind vir hierdie doel sal binnekort oorneem en dan praat ons weer. Groete,
Seemeeu