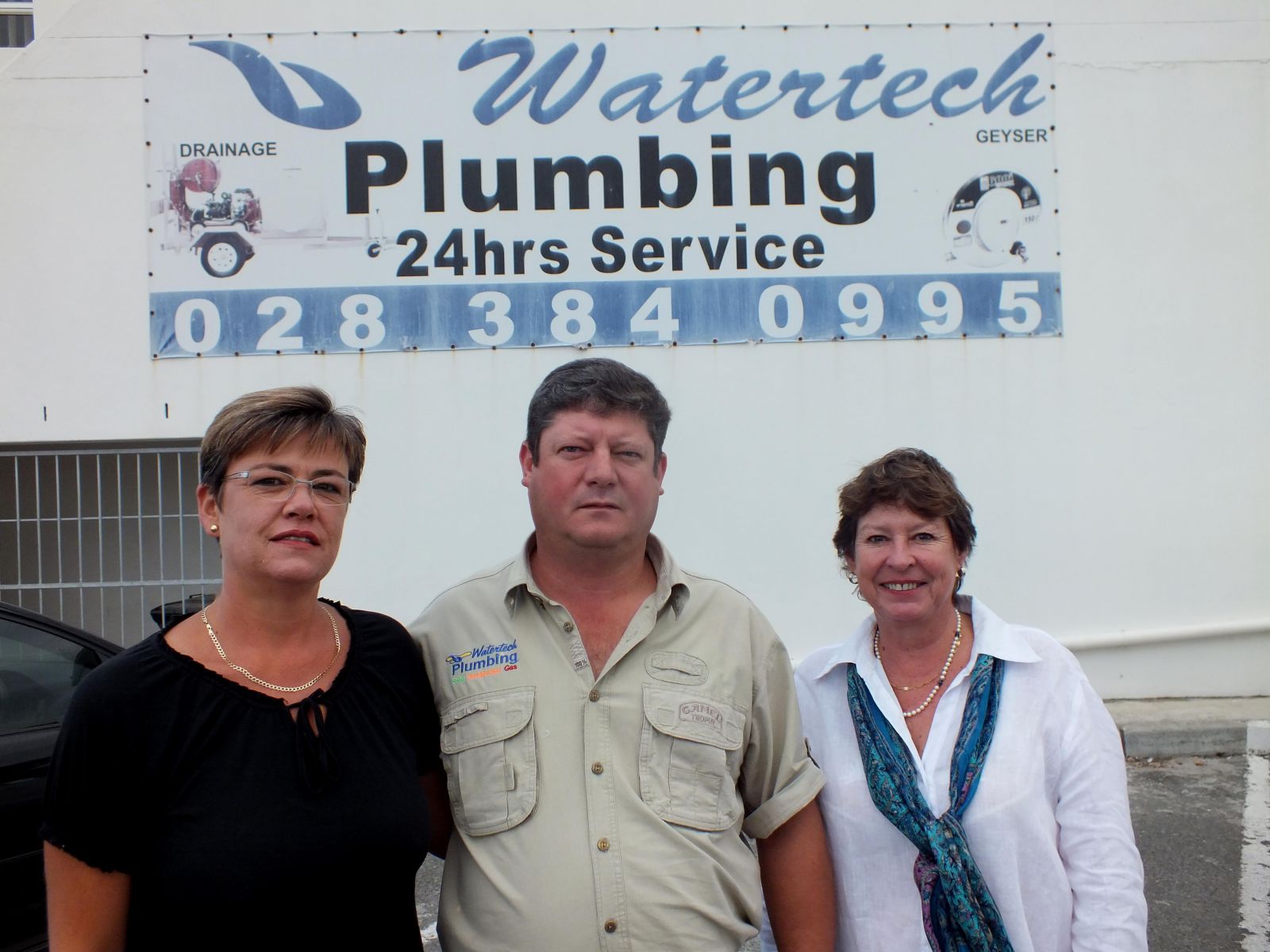 Vlnr is Venessa en Martin Knoetze saam met die nuwe eienaar van Watertech Plumbing, Joan Lancefield
Watertech Plumbing van Martin Knoetze, 'n bekende naam in Gansbaai sedert 1997, het op 14 April 2014 van eienaar verwissel.
Die nuwe eienaar is Joan Lancefield van Grabouw. Martin en sy eggenote, Venessa, asook hul dogtertjie, Mekayla (7) beplan om teen die einde van die jaar na Windhoek, Namibië te verhuis.
"My eggenote, Venessa is oorspronklik van Namibië en ek gaan daar voortgaan met dieselfde besigheid as wat ek in Gansbaai vir die afgelope 18 jaar bedryf het," sê Martin. Hy sê sy 21-jarige dogter, Enge, het nog nie finaal besluit of sy wil saamgaan nie. "Ek wil graag baie dankie sê aan al ons getroue en lojale ondersteuners oor vele jare heen, asook aan al my lojale personeellede vir hulle toegewydheid en harde werk," sê hy.
Watertech Plumbing se personeel sal aanbly en Martin self sal steeds vir die volgende twee maande die nodige ondersteuning bied om seker te maak dat die oor-skakeling vlot sal verloop.
"Daarna sal ek steeds tot aan die einde van die jaar vir advies en ondersteuning beskikbaar wees, soos en wanneer benodig." Dus groet Martin en Venessa nog nie finaal nie en vriende en kliënte sal hulle steeds kan kontak. Joan is baie opgewonde oor haar toetrede tot Gansbaai se besigheidslui en is ook jare lank reeds bekend met die Overstrand en omgewing. "Ek sien daarna uit om ons kliënte en die res van die Gansbaaiers te ontmoet en van naderby te leer ken," sê sy.
Martin het beklemtoon dat Joan 'n gesoute besigheidsvrou is en dat sy oor vele besigheidservaring en -vaardighede beskik. Sy bly tydelik in Grabouw aan, maar beplan om eersdaags permanent na Gansbaai te verhuis.
Net soos die personeel, bly alle kontakbesonderhede onveranderd. Watertech Plumbing, -Solar, -Heat pumps en -Gasinstallasies kan dus steeds by 028-384-0995 gekontak word, of stuur 'n e-pos aan watertech@telkomsa.net.