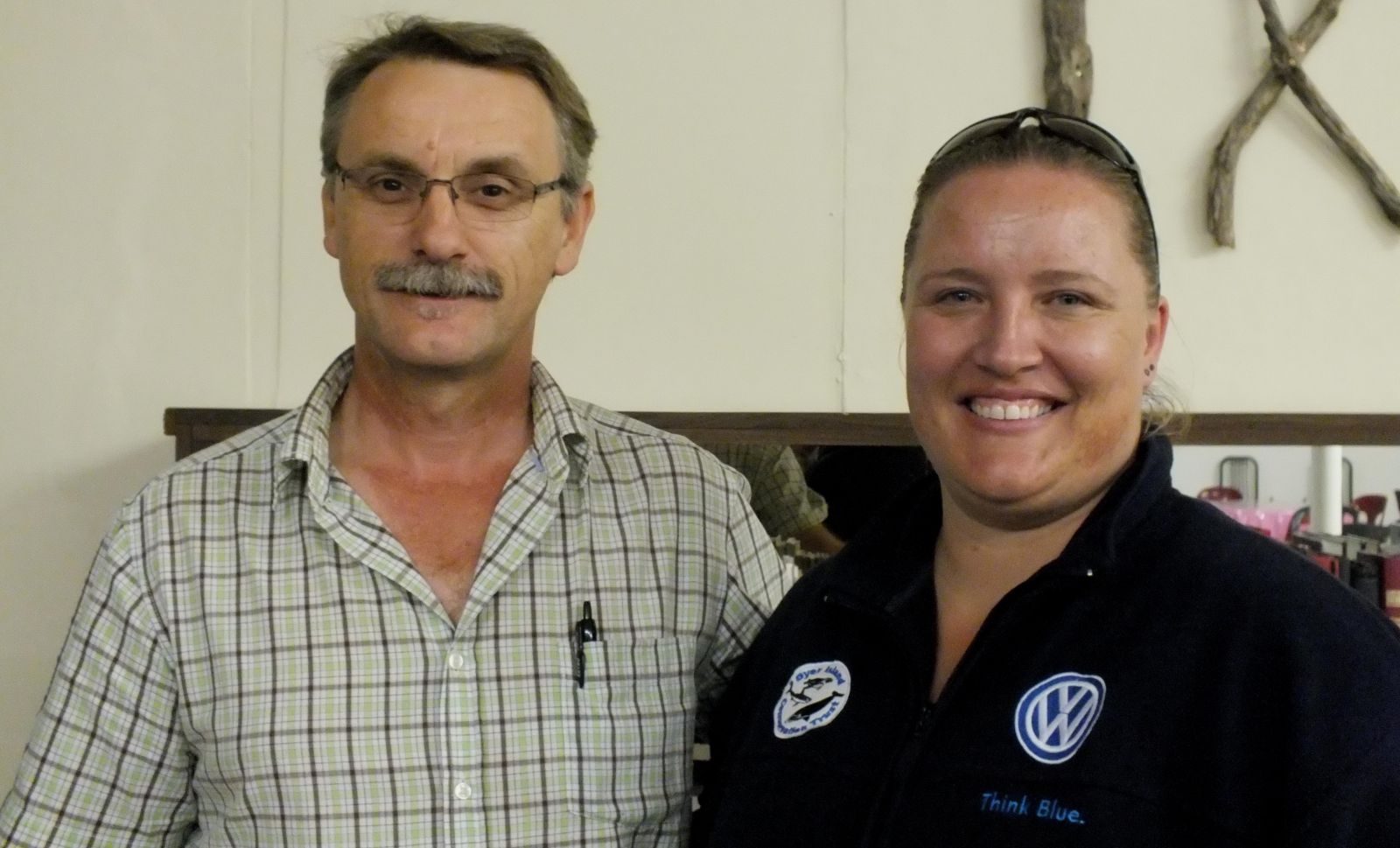 Christo Wessels saam met die aanbieder van "Fotografie vir Bewaring", Alouise Lynch van Dyer Island Conservation Trust
Gansbaai Fotografieklub se lede is tydens die vorige byeenkoms deur Alouise Lynch, Operasionele Bestuurder: Dyer Island Conservation Trust (DICT) oor "Fotografie vir Bewaring" toegespreek. Uit haar aanbieding was dit duidelik dat Alouise beslis 'n bewaringsfanatikus is. Sy beskik oor sowat 13 jaar se ervaring as 'n voetgids in verskillende Natuurreservate.

"Ek was altyd saam met my ouers in die natuur gewees en het altyd geweet ek gaan in die natuur eindig, maar het net nie geweet waar en as wat nie," het sy gesê. Met haar intense ervaring van die veld, ingesluit 'n spoorsnyerskursus, kon sy vele natuurgevulde- en bewaringsstaaltjies met die klublede deel. Die foto's wat sy vertoon het, het boekdele oor bewaring gespreek. "Ek het my fotografie-lewe met 'n gewone 'mik-en-druk' kamera begin, maar het reeds toe al besef dat my passie in fotografie vir bewaringsdoeleindes geleë is," het sy gesê.

Vir navrae kan Alouise by 082-907-5607 gekontak word, of stuur 'n e-pos aan haar by office@dict.org.za.

"Alouise se aanbieding het my laat besef dat die fotografieklub beslis by DICT se projekte betrokke kan raak en ons sal die nodige opvolgwerk daaromtrent doen," het Christo Wessels, voorsitter: Gansbaai Fotografieklub tydens sy bedankingsrede gesê. Christo het die lede ook aan die interne fotokompetisie met die tema "reflections", se indiening van fotos voor of op 19 Mei 2014 herinner (Foto's - A4). Die volgende byeenkoms is op Maandag, 5 Mei 2014, wat 'n praktiese aanbieding sal wees. Die vorige praktiese aanbieding het groot byval onder lede gevind en hierdie een beloof om eweneens waardevol en insiggewend te wees.

Vir navrae rakende Gansbaai Fotografieklub kan Christo Wessels by 082-920-9738 of Linda Kloppers by 082-550-7313 geskakel word.
Hardus Botha