'n Grootwithaai is sowat 'n week gelede deur lede van die Dyer Island Conservation Trust (DICT) met bondels vislyn om sy nek opgemerk.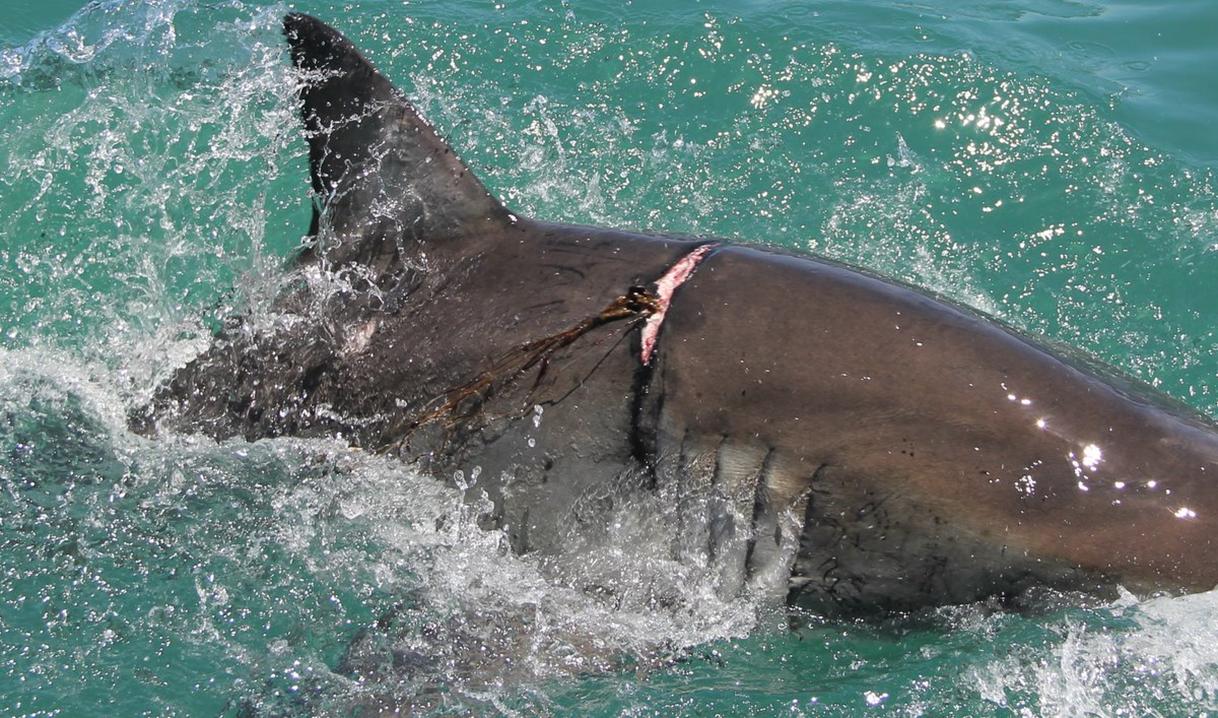 Die beseerde grootwithaai wat klaarblyklik in vislyn verstrengel geraak het
Michelle Wcisel, 'n navorser van die Trust, het gesê hulle was nie seker hoeveel vislyn om sy lyf gedraai is nie, maar hulle kon wel sien dat dit 'n diep sny veroorsaak het. Die DICT-span is bekommerd oor die haai se kanse op oorlewing en sê die vislyn werk soos 'n kaassnyer wat al dieper en dieper in sy vleis insny.
'n Deel van die vislyn sleep agter hom aan en kan moontlik aan 'n rif vashaak wat sy dood sal beteken. DICT se Mariene Bioloog, Oliver Jewell, het die volgende inligting aan Gansbaai Courant verskaf: "With regards to the injured shark with the fishing line, its about 2.8 - 3m in length and juvenile. We think its a female but you can easily mistake them at that age as sometimes the claspers (male sex organs) haven't developed. We first saw the shark in early January and began discussion with the government through email about what to do. Last year we had a similar entanglement to a different shark but it left before we had a chance to do anything about it. Together we decided the only way to help this shark was to hook it, bring it close and cut the line from it's body. We put a team together with Oceans & Coasts, Department of Environmental Affairs and the 2 Oceans Aquarium. By this time all the cage dive operators had seen the shark and were all more than happy to help. As a collective unit of shark cage diving operators and with the disentanglement team on our research vessel Lwazi, we began our search on Thursday. Several boats saw the shark and as we approached the area, the shark was sighted from Slashfin. We moved in close and began trying to hook it but it was very shy and pulled away at the last moment. We spent the rest of the day waiting for the shark to come close and try again but to no avail. The next morning the shark was spotted by the Shark Team but by this time it had become too chopy. We will try again when the weather is good but the conditions haven't been what we need them to be.

Thanks to all of the cage dive operators for their support and to Oceans and Coasts and the 2 Oceans Aquarium for their efforts. Hopefully we will have more luck when the weather improves."
Gansbaai Courant sal die resultate van hierdie daadwerklike poging om die grootwithaai te red publiseer sodra dit beskikbaar is.
Hardus Botha