The Gansbaai Spaces for Sports site won the Sports facilities and public spaces Grant at the 15th International Olympic Committee Conference on Sport for All held in Lima, Peru, from 24 – 27 April 2013. The Conference is important for connecting sports bodies and federations around the world, sharing best practise and partnerships in sport for development, and provides a platform for the Olympic movement to promote sport as a tool for social change. Leán Terblanche from the Football Foundation of South Africa was invited to accept this prestigious IOC award and participate in a panel discussion about sport and education for the social benefit of communities.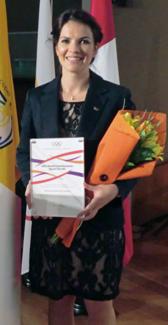 Leán Terblanche het die Internasionale Olimpiese Komitee (IOC) se toekenning aan Spaces for Sports tydens 'n internasionale konferensie in Lima, Peru ontvang.
The Gansbaai Sports Centre was built in 2007 in partnership with Barclays/Absa, the Overstrand Municipality, the Premier League, Grootbos Foundation and the Department of Cultural Affairs and Sport. These partnerships have been key to the success of the site and serves as a great working model for similar development projects around the world. Specific credit goes to the Overstrand Municipality for the impeccable maintenance and sound management of the Centre under direction of Centre Manager Carol Devitt and Area Manager Kat Myburgh.
Gansbaai is traditionally a fisherman's village where poverty and unemployment is rife, schools are under-resourced and racial segregation is prevalent. Because of this, many of the children are socially excluded within poor communities without adequate access to further higher education and employment. What is unique about this site is that it is situated in the middle of three culturally diverse communities, with a pathway from each community leading directly to the sports field – making it equally accessible to all people as a "neutral" space not belonging to any specific community, and serving as the perfect catalyst for social and racial integration.

The Football Foundation uses football, netball, hockey and athletics programmes at the site to address the various social issues. With partner organizations, the Foundation delivers accredited and non-accredited youth and adult education programmes that address environmental awareness, HIV/AIDS, health, computer literacy, life skills training, career and entrepreneurial development. The Foundation makes use of trai-ning sessions, tournaments, excursions, activities and curriculums to run programmes for 500 girls and boys in the Overstrand area, six days per week.

The centre caters for eight different sports codes to accommodate different sporting needs and has a mobile gym, clubhouse, showers and changing room facilities. This is an ideal example of a sports facility going beyond its basic role, and creating opportunities for more young people not just to play sports, but to interact and build bridges with others.