The Football Foundation of South Africa (FFSA) initiated their 'Food for Sport' training and education programme on Friday 14 March at the Gansbaai Sports Centre.
As part of a collaborated effort within the Grootbos Foundation, the new initiative aims at nourishing the health and food security levels of the local community by providing informed knowledge and practical activities that promote social, academic, and business skills for young children and their families.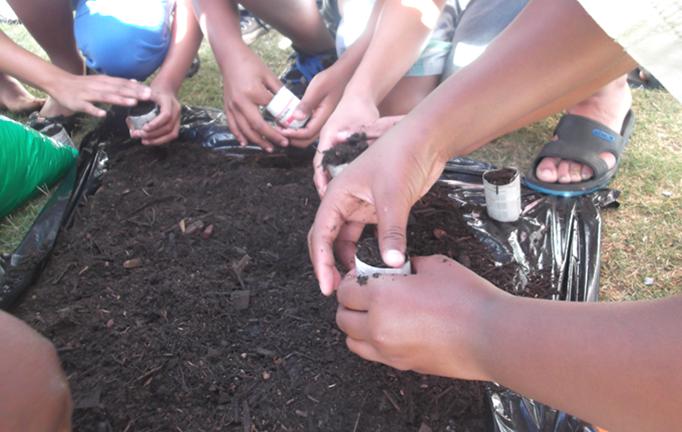 Children spending their Friday afternoon planting various vegetable seeds at the field
During a span of twelve weeks from March – May 2014, a total of twenty-one students from Blompark Primary will participate in theoretical and practical sessions at the Gansbaai Sports Centre every Fridays from 14:00 – 16:00 where they will learn useful tools in leading healthier lifestyles through organic food production and sport.
In the recent months, the Grootbos Foundation conducted a major survey and needs analysis assessment that indicated severe food insecurity levels in the community – such as poor dietary intake – and has been active in providing sustainable solutions in household food production and related income generation.
FFSA has decided to support this initiative further by linking food with sports as a new formula to improving the current situation in Gansbaai – the global trend of self-produced food in urban areas will be innovatively implemented to the rural community that has previously lacked such access.
Children will have the opportunity to plant seeds and maintain food gardens in 'Green Boxes', or wicking beds, which is a groundbreaking vegetable growing system designed to work well in areas that lack soil quality – recycled apple crates donated by Solberge Farm, Grabouw have been put in place for students to learn various lessons in team building, gender mainstreaming, and entrepreneurship as well as provide incentive for the students to take home their produce for family consumption, plant new vegetables through the seeds provided, and sell their food for additional income.
The first session of the afternoon comprised of a general overview of the programme led by Programme Facilitator Anchelle Damon and was later led to a round of short introductions from each of the participants as well as an interactive game and subsequent survey regarding basic knowledge on health, nutrition, and the environment.
The students were able to enjoy the rest of the day planting and watering their own mini gardens with the provided compost and seed mixture from the Grootbos Foundation - programme participants and staff anticipate huge success for the "Food For Sport" initiative in the coming months.