NEWS: Braai and BARC
The long weekend was filled with the sound of chattering crowds and the lobtailing of beautiful Southern Right Whales. And the fun isn't over yet.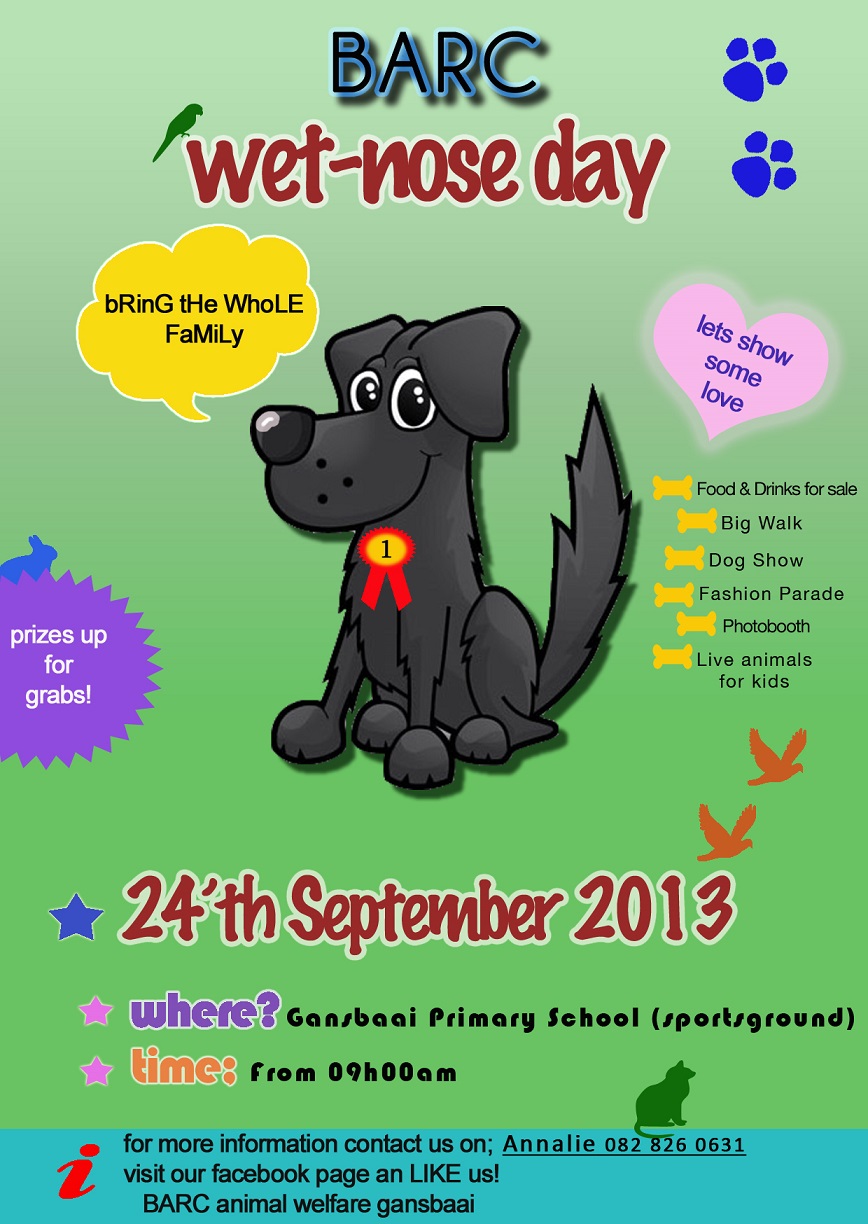 For most the long weekend is extended til today, but for most today is just a nice little break in an otherwise hectic working week. The official public holiday is National Heritage Day, but us (as South Africans) being a jolly lot, this day has become better known as National Braai Day.
In Gansbaai, we're celebrating the true South African style of 'Sharing is Caring' and showing our support to our local BARC. A vibrant show of animals and goodies galore, we won't miss it for the world. Let us all show our support for all God's creatures great and small!
SPECIALS:
Farm 215
Winter Weekend Special
Expires: October 01, 2013
Special: Farm 215 is having a winter weekend special for R1000 per person sharing per night for a Fynbos Suite and R800 per person sharing per night for a Homestead Room including...
Grootbos Private Nature Reserve
Last Minute Special - From R 1650 p/p sharing
Expires: October 31, 2013
Special: Do you need a break from your hectic day to day life? Looking for last minute luxury accommodation in Paradise? Then take advantage of our Last Minute Accommodation Special
Saxon Lodge
Shark & Stay
Expires: November 30, 2013
Special: I night's accommodation PLUS 1 shark cage dive for R 1600.00 per person sharing OR I night's accommodation PLUS 1 shark dive cage for R 1760.00 per single person...
Gansbaai Lodge & Backpackers
Free accommodation if we book your shark dive activity @ R1000
Expires: November 30, 2013
Special: This special also includes a breakfast & lunch!
White Shark Adventures
Winter Shark Cage Diving Special
Expires: November 30, 2013
Special: Winter Special with White Shark Adventures. Only R1050pp!
Whalesong Lodge
In Company of Whales
Expires: December 20, 2013
Special: Encounter the magnificent SOUTHERN RIGHT WHALE...
Sea Rose Self Catering
Book a Shark Dive and get FREE Accommodation
Expires: December 31, 2013
Special: Book your Shark Cage Diving Experience with Sea Rose Self-Catering for R1450 and stay for Free. You save R250!
Saxon Lodge
"Bums In Beds"
Expires: December 31, 2013
Special: Discounted rates (up to 40% off standard rates) apply for walk-in guests after 14H00 daily.
Sea Rose Self Catering
Last Minute Accommodation from R200 per person
Expires: December 31, 2013
Special: Book your accommodation at Sea Rose 24 hours in advance and get our last minute rate of R200 per person.
de kelders PRIVATE house
Special Offer
Expires: June 13, 2014
Special: Book through Gansbaai Explore and get the best deal!
Perlemoenbaai Self Catering Villa
Last Minute Accommodation Special
Expires: September 23, 2015
Special: Book the Perlemoenbaai Self Catering Villa 2 days in advance and qualify for our last minute rate from R700 per night.
EVENTS:
BARC Wet Nose Day
Date: 24 Sept 2013
Event: A fun family day with plenty to see, buy and eat. All sorts of adorable curios will be on sale and during the day different categories of the Animal Show will play out. There is also a lucky draw for those attending.
Skaapkop Ete
Date: 26 Sept 2013
Event: The yearly culinary get together of B'bos is finally here!
Contact: Alette Groenewald at 082 499 0230
INSPIRATIONAL QUOTE OF THE WEEK:
"You only live once, but if you do it right once is enough!" - Unknown