Daily Blog: 22 November 2022 | Shark Cage Diving in South Africa
Guest Comments:
"Great experience, awesome crew. Would recommend!" - Charlane
"Fantastic trip with a knowledgeable crew will recommend!" - Joe
Location: Gansbaai, South Africa
Site: Joubertsdam
Water temp: Moderate
Visibility: Moderate
Sightings: Bronze Whaler Sharks
Trip 1:
We got a sunny, warm start to the morning with no wind and a calm sea! Our guests visiting from all over the world were so excited and couldn't wait to see some sharks!
On anchor, we only had to wait a few short minutes before the first Bronze whaler shark appeared in front of the cage! We also got so very lucky to see a few breaches from a female Bronze whaler shark!
What a great trip and happy divers!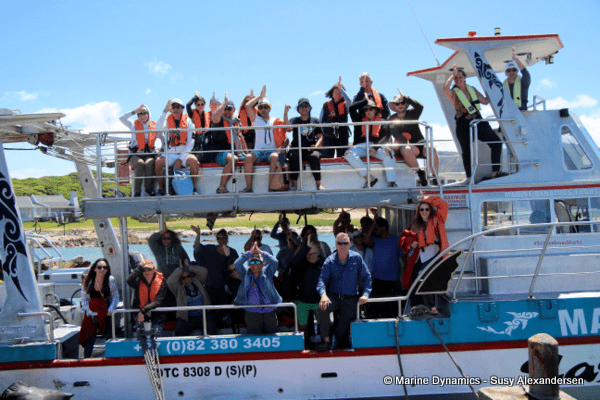 That's all from the early birds today! Thanks for joining us!
Trip 2:
For the second trip the wind picked up a little, but it was rather pleasant as the day started to become a bit too hot! The Bronze Whalers didn't make us wait for too long, and we were ready to dive in! The activity was good and consistent throughout the whole trip. All the sharks that came to us were females and we were also lucky to see a few breaches in front of the cage.