Eastcliff › Hermanus › Western Cape › South Africa
Eastcliff - One of the older, yet most sought-after suburbs of Hermanus.
Eastcliff is situated between the eastern edge of the town centre and the Hermanus Golf Course. The suburb seems to have its own micro-climate and its lush gardens and cool, tree-lined streets are proof that this suburb does not suffer the same, lashing winds that the rest of Hermanus endures seasonally. Eastcliff is within walking distance of the ocean, town centre, mountain hiking trails and Hermanus High School.
Eastcliff was established in the early 1900s, about the same time as Westcliff, and certainly attracted the attention of wealthy holidaymakers who probably first made the town's acquaintance through a stay at the fashionable Marine or Bay View Hotels. Today, Eastcliff is home to young and old permanent residents and the Bay View Hotel has been converted into apartments. The Marine Hotel was later given the five-star treatment, first by David Rawdon and later by Liz McGrath. It is one of the "grand old dames" of the town although it has been luxuriously refurbished and modernised to meet the demanding standards of the time.
Hoy's Koppie stands sentinel over the suburb provides a pleasant climb to the top where Sir William and Lady Gertrude Hoy are buried. Boardwalks and paths give different access points to the koppie and the views from the top make the climb well worthwhile.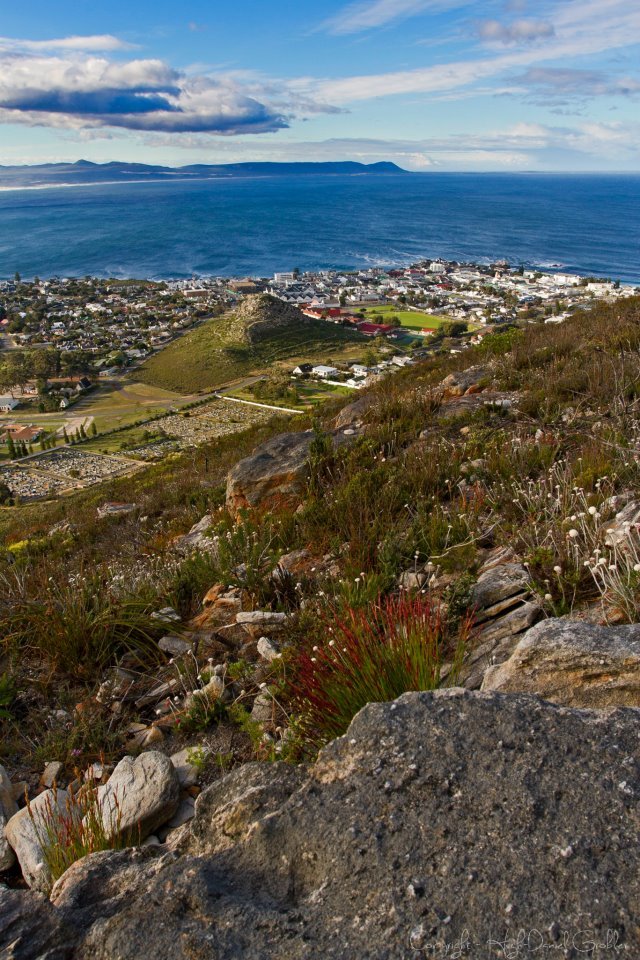 Distant view of Hoy's Koppie with the sea as the backdrop.