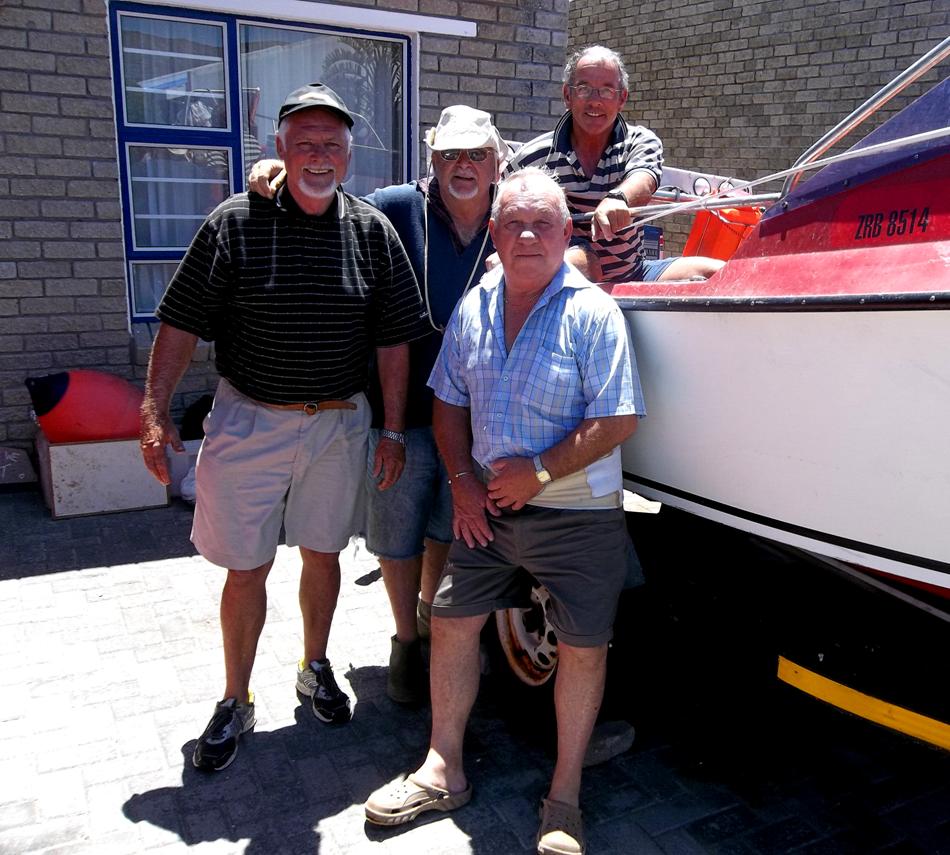 Vlnr: Steve Donnelly, Johan Henn (eienaar), Fred Wolmarans (skipper) en Steve Selbourn, van die boot, Cath-Lean. Manne wat die dag op see geniet.
Om van al die woelinge weg te kom wil ek bietjie gesels oor toestande en die lekkergeit op 'n boot. Al vereiste om te voldoen aan die lekkerkry is 'n bemanning waarmee jy goed oor die weg mee kom en natuurlik, die "punch" kan vat.
So kom 'n maat van my die anderdag en vra hoe ek van sy bootstok hou. Ek self is 'n voorstander daarvan dat 'n bootstokkie aan die ligte kant moet wees -- en syne was allesbehalwe! My "eerlike" mening gee ek hom toe. "Nee", sê ek , "as ek jy was het ek hierdie stok aan die munisipaliteit verkoop -- hulle soek hierdie stokke om die dreingate mee oop te steek". (Dis nie rerig waar nie, hoor) Die gevolg was dat hy vir hom 'n ligter een aangeskaf het. Maar hy vang nog steeds met die oue, want hy beweer daardie een werk beter! Nou ja, mens kan mos nie altyd reg wees nie.
Nog iets wat blykbaar regtig gebeur het, en dis 'n mooi dominee-storie. Op die water raak die dominee so half kriewelrig en vra die skipper wat kan mens doen as jy in 'n ongemaklike situasie is. Of die skipper se raad toe gevolg is weet ek nie maar die dominee is ingelig "Ons sit sommer agter die derde brandertjie".
Die spottery word alles in 'n goeie gees gedoen en bewaar jou siel as jy seesiek word! Hieroor sal ek liewer nie uitbrei nie, want enigeen wat geneig is om siek te word, is ek seker, sal geen voordeel hieruit trek nie. Die volgende raad is egter ou nuus -- iets wat werklik help vir seesiek is fyn appelkooskonfyt. Om eerlik te wees, dit help nie rêrig nie, maar dit smaak darem baie beter!
So gesels-gesels en met die draakstekery gaan die dag sommer gou verby. Somtyds gebeur selfs iets vrugbaars. Ek het opgelet dat een van die bemanning sy vis slegs aan die een kant meet. Die vis word naamlik so op die maatstok neergesit dat die een kant daarvan, sê by die vereiste 35cm-merk lê terwyl die ander kant behoorlik kortskiet. Die vis is dan, volgens hom, "size". Dit het nogal oorreding gekos om hom van hierdie gewoonte te laat afsien!
Om terug te keer tot visvang -- Jy sien daar word langs die pad geadverteer dat geelbek, geelstert, kabeljou en hotties te koop is en jy wonder, is hier dan so baie vis? Baie van hierdie vis kom van Struisbaai, maar hier by ons word daar wel sukses behaal -- net nie so oorweldigend soos by Struisbaai nie. Ons het verlede Woensdagaand op die boot deurgebring met een geelbekkie as beloning. Intussen het 'n maat 'n uur of twee by Haaiklip gaan lê en 'n paar kabeljou gevang. Die regte tyd op die regte plek is die antwoord!
Groete, Seemeeu