Booteienaars-Borgdag t.b.v. Silwerjare Dienssentrum – Teresa ontvang bydrae van Johan.
Verjaarsdae: Bernard Olivier 14, Jan Fouche 16, JGF Groenewald 16, JKA Botha 21, Andre Roos 21, Pierre Lombard 23. Veels geluk – mag dit 'n geseënde lewensjaar wees.
Woensdag se Sloegterskompetisie is gewen deur Rene Myburgh met 39 punte (borg: Hermanus Liquor Store), gevolg deur Dawie Viljoen 35, Johan Coetzee 34, Bev Swart 33, Piet du Toit 33, Solly Wessels 32, Daan Victor 32, Johan Swart 30, Stella Swart 28, Frikkie v Eeden 28. Naaste aan die penne was Johan Coetzee op no 2&11, Solly Wessels op no. 8&17. Spog Twee's is aangeteken deur Solly Wessels 17, Daan Victor 2 en Koos Myburgh 2. HJ Fourie teken 'n Arend aan op putjie no 16. Die komitee en lede bedank Christo Spanellis van Hermanus Liquor Store wat die eerste prys van R100 elke maand borg. Thanks, Christo – it is appreciated!
Vrydag se 9-putjie kompetisie wat geborg word deur OK Foods, is gewen deur Jan le Roux met 21 punte, gevolg deur Frikkie van Niekerk 19, Frederick van Eeden 18, Solly Wessels 18 en Marlene Davin 16. Marlene teken ook 'n Spog Twee aan op putjie no 2. Die ledetrekking was nie gewen nie, en word oorgedra na volgende week.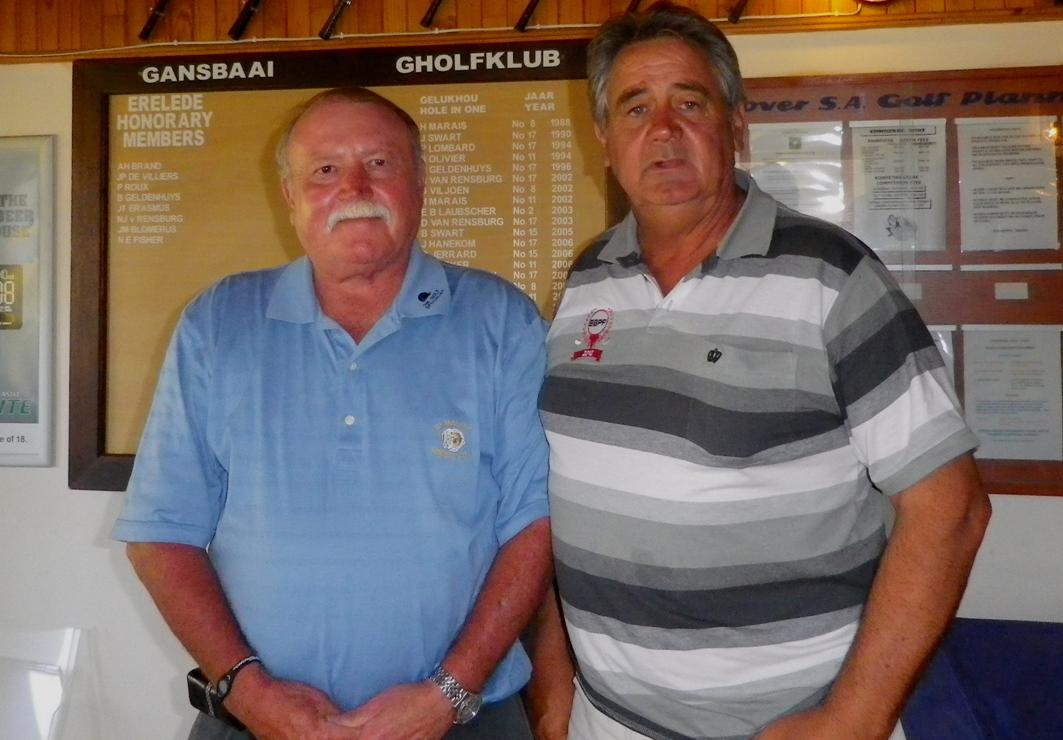 Bakgatbrandewynparadysfontein-Borgdag: Wenner: Bobby Brandt en Borg: Koos Myburgh
Saterdag se kompetisie was die Bakgatbrandwynparadysfon-tein gholfdag wat geborg was deur Koos Myburgh. Dankie, Koos en René vir hierdie jaarlikse borgdag wat baie vir die klub beteken – ons waardeer dit. Die kompetisie was 'n Enkel Stableford en die wenner was Bobby Brandt met 41 punte, gevolg deur Jan le Roux 38, Rene Myburgh 38, Stella Swart 37, George Hunt 36, Laurie Sauter 35, Jannie Brandt 35, Toni Putzi 35, Bernard Olivier 35, en Solly Wessels 34. Naaste aan die penne was Jannie Brandt op no 2&11, and Toni Putzi on no 8 and 17.
Volgende Saterdag/Next Saturday: = 4BBB Stableford.

Klub/Club: 028 384 1441 – Leon Hattingh en Andre Roos
Navrae/Enquiries: 082 878 0534 Johan Coetzee