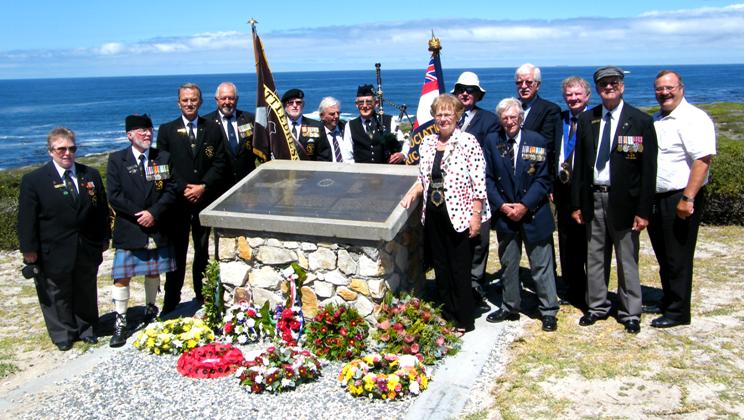 'n Oomblik tydens 'n vorige kranslegging by die Dangerpoint Lighuis, met rdl Nicolette Botha-Guthrie, Overstrandse Uitvoerende Burgemeester, direk langs die Birkenhead Gedenksteen. (Gansbaai Courant argieffoto)
"Die jaarlikse herdenking van die HMS Birkenhead Troepeskip se stranding by Dangerpoint op 26 Februarie 1852, vanjaar 161 jaar gelede, is weer op hande," vertel Glenda Kitley, Bestuurder: Gansbaai Toerisme.
Glenda sê daar is besluit om hierdie geleentheid na 'n jaarlikse spesiale geleentheid uit te brei. Vanjaar sal diè tragedie vanaf Sondag, 24 Februarie tot Dinsdag, 26 Februarie herdenk word. "Ons wil graag die algemene kennis rondom hierdie gebeurtenis verbreed." Sy sê die bedoeling is ook om die herdenking buite Gansbaai te bemark, waarby afstammeling van drenkelinge in Engeland ingesluit is.
Die program vir die 3 dae bestaan uit die volgende: Sondag, 24 Februarie - 'n piekniek te Stanford's Cove om 16:00; Maandag, 25 Februarie - 'n aanbieding en sosiale aand in die Great White House, met Charlie Shapiro as gasspreker en die Gansbaai Academia Skoolkoor wat gaan optree; Dinsdag, 26 Februarie - Ontmoet by die Great White House om 07:30 vir 'n bootrit om 08:00 na die Birkenhead rots vir 'n kranslegging ter see, met die Herdenkingsdiens en kranslegging daarna om 11:00 by die Dangerpoint Lighuis. As gevolg van beperkte plekke en die tref van reëlings, is dit van uiterste belang om vóór of op 20 Februarie 2013 te bespreek.
Om 'n plek te verseker, kontak vir Glenda by 072-291-5564 of stuur 'n e-pos aan haar by gansbaaimanager@telkomsa.net. Onthou die datums: 24 - 26 Februarie 2013.
Hardus Botha