"Weet julle van die geweldige plaag van die boorinsek in die Kaap wat besig is om vyebome uit te roei?" lui die bekommerde vraag van Rosemary van Thyme at Rosemary Coffee Shoppe & Tea Garden. Haar kommer gaan oor die Phryneta spinator (Fig tree borer) of te wel die vyeboom boorinsek, waarvan sy twee volwasse insekte aan Gansbaai Courant gewys het. Hierdie kewer (beetle) word sowat 35mm lank en het in 'n ernstige plaag in Kaapstad ontaard. "Dit is belangrik dat almal moet saamwerk, aangesien die Strand se vyebome reeds bykans tot niet is en dieselfde kan hier oor 2 jaar gebeur," sê Rosemary. Die ondergenoemde webtuiste het onder andere van D Gunn van die Departement van Landbou, se boek, The fig and willow borer (1919), as bron gebruik gemaak.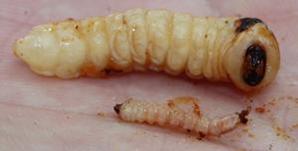 Die larwa van die Phryneta spinator (Fig tree borer) of te wel die vyeboom boorinsek (regs)
Die larwe boor letterlik in die stam in en in ernstige gevalle kan dit selfs die vyeboom laat vrek, veral wanneer die boom ouerig is met 'n gebrek aan groeikrag.

Die kewer word maklik uitgeken aan sy lengte, lang voelhorings, gestreepte voorkoms en die prominente doringagtige uitsteeksels weerskante van die borskas. Sy lewenssiklus is langer as 3 jaar. Eiers word in die somer in 'n T-vormige spleet wat die wyfie in die boomstam maak, gelê en die broeitydperk is tussen 10 en 18 dae. Die uitgebroeide larwas voed op die bas van die boom, maar "kou" later hul weg oop deur die stam, wat letterlik "tonnels" tot gevolg het. Die larwa ontwikkel in 'n papie wat in 'n "kamer" bestaande uit kalsium karbonaat en 'n gom-mengsel bestaan, waarna die volwasse insek sy verskyning maak. Gunn verwys daarna dat daar geen opgetekende rekords van natuurlike vyande vir hierdie kewer bestaan nie.
Hy meld ook dat die beheer van hierdie plaag baie moeilik is. Onder andere moet die larwes letterlik uitgesny word en 'n draad kan fisies in die tonnels ingesteek word, waarna gifstowwe ingespuit kan word.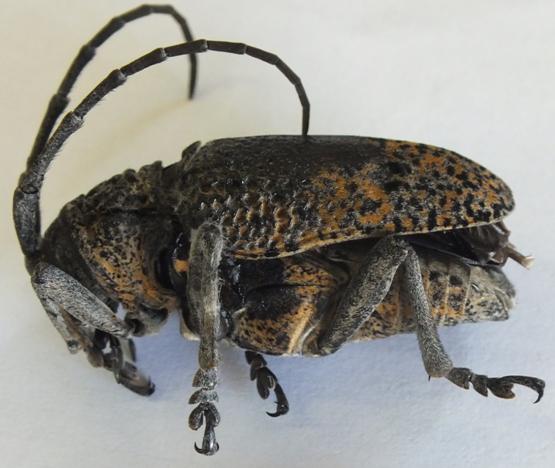 'n Volwasse Phryneta spinator (Fig tree borer)
'n Aanbeveling sou wees om Overberg Agri in Stanford te besoek indien die kewer opgemerk word. Twee van die insektedoders wat deur Overberg Agri by Rosemary aanbeveel is, is Efecto Insect Granules 500g en Efecto Steriseal 100ml. Rosemary, wat reeds met hierdie probleem te kampe het, nooi belangstellendes uit om haar by 072-884-4936 vir navrae te skakel. Vir volledige inligting en foto's, kan die direkte webtuiste, www.biodiversityexplorer.org/beetles/cerambycidae/phryneta_spinator.htm besoek word.
Hardus Botha