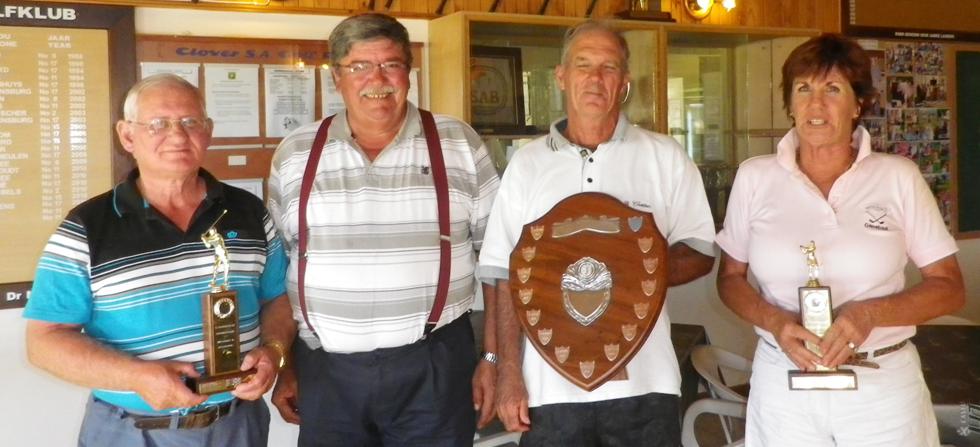 2013 Kampioene: Solly Wessels B Afd; Joe Cesare C Afd; Charlie Bent 2013 Kampioen; Marlene Davin, Dames Kampioen
Veels geluk aan Andre Coetzee met jou verjaardag op die 11de – ons wens jou 'n mooi jaar toe.

Woensdag se Sloegters-kompetisie is gewen deur Bev Swart met 43 punte, gevolg deur Solly Wessels 39, Paul Dippenaar 38, Charlie Bent 37, George Hunt 37, Johannes vd Walt 35, Laurie Sauter 35, Sextus Neethling 34, Andre Roos 34, Jakkie Beukes 34.

Naaste aan die penne was Paul Dippenaar op 2&11, Johan Pieterse no 8&17 en Paul Dippenaar op no 15.

Spog Twee's is aangeteken deur Solly Wessels (17), Toni Sauter (2) en Bev Swart teken 'n arend aan op putjie no 1. Veels geluk!

Vrydag se 9-putjie Hoenderkompetisie (borg: OK Foods) is gewen deur Daniel vd Merwe met 21 punte. Die ledetrekking is nie gewen nie en word oorgedra na volgende week.
Saterdag het die 2013 Klubkam-pioenskappe plaasgevind.

Die Klubkampioen vir 2013 is Charlie Bent met 143 punte.

Die B-Afdeling Klubkampioen is Solly Wessels met 176, gevolg deur Bobby Brandt met 178.

Die C-afdeling en die Dames Afdeling het Enkel Stableford gespeel, en die C-Afdeling Kampioen is Joe Cesare met 79, gevolg deur Dawie Viljoen met 71.

Die Dameskampioen vir 2013 is Marlene Davin met 73, and runner-up was June Rahn with 71 points. Welgedaan en hartlike gelukwense aan ons Kampioene!
Volgende Saterdag se kompetisie is 'n Enkel Stableford.
Liga: Die Ligaspan speel Saterdag teen Caledon.

Die span is: Johan Coetzee, Charlie Bent, Daniel vd Merwe, Bev Swart, Daan Victor, Christo Spanellis, Sextus Neethling, Andre Roos.

Klub/Club: 028 384 1441 Leon Hattingh & Andre Roos
Navrae/Enquiries: 082 878 0534 Johan Coetzee