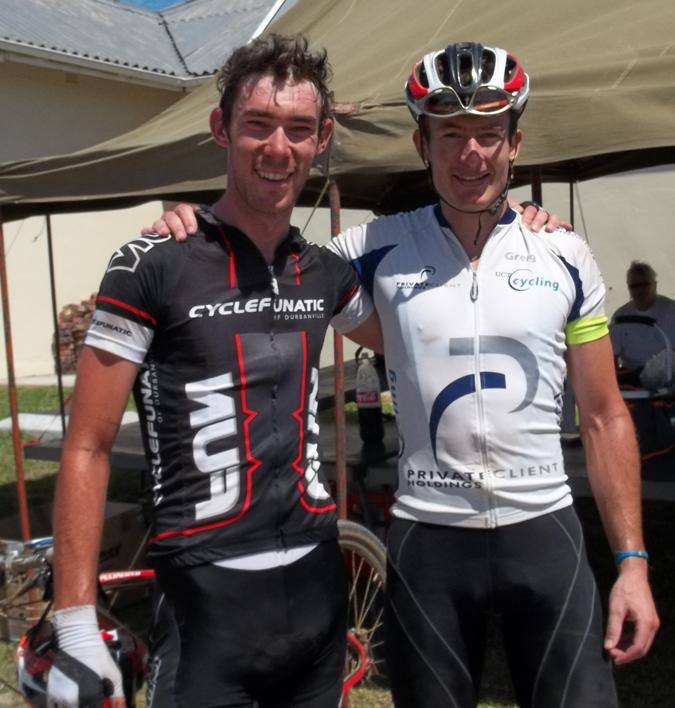 Die Ope-mans (2 dae) se 1ste 2 wenners vlnr is Craig Boyes - 1ste (07:25:49) en 2de Greig Knox (07:30;26)
"Die jaarlikse Lighuis na Lighuis en terug se 2-daagse fietsmarathon soos deur die Gansbaai Lionsklub op 16 en 17 Februarie vanjaar gereël, was weer eens 'n groot sukses," sê 'n tevrede Gert Louw, President van Gansbaai Lions.

'n Totaal van 215 fietsryers het vir hierdie gewilde fietsmarathon ingeskryf, waarvan sowat 150+ die wedren voltooi het. Gert sê die jaarlikse fietsmarathon vanaf Danger Point Lighuis na Agulhas Lighuis en terug (die volgende dag) word as een van Gansbaai Lions se fondsinsamelings-projekte aangebied. Hierdie spesifieke Lions-projek se fondse word in die gemeen-skap vir verskeie projekte teruggeploeg: voorsienning van skoolbroodjies aan be-hoeftige skoolkinders, aan-koop van skooltruie waar daar 'n nood bestaan, ondersteuning van Tehuise vir Bejaardes, kospakkies aan behoeftige gesinne en brille aan behoeftige skoolkinders en bejaardes, om net enkeles te noem. Hy sê 'n projek soos hierdie is nie moontlik sonder die getroue ondersteuning van borge en ander bydraers vanuit die gemeenskap nie. Die volgende bedankings word graag deur Gansbaai Lionsklub voorgehou: Gansbaai Superspar (Hoofborg), Build It Gansbaai (Gebruik van vragmotor), Coke Hermanus (Gratis coke), Birkenhead Brouery (Gebottelde water), Dyer Eiland Vissery (Ys), mnr Britz van J & A Steenwerke (Leen van Sleepwa), Secma International Security (Beveiliging van die perseel te Danger Point Vuurtoring), plaaslike verkeersmanne (Hulle opoffering om na die veiligheid van die ryers op die pad om te sien) en Alec Kitley en sy skietspan (Bemanning van die Water en Coke punte). "Dankie ook aan enige ander persone of instansies wat nie hier vermeld word nie, maar wat bydraes gelewer het, asook die lede van Gansbaai Lionsklub en hul vriende," sê Gert. "Dit is 'n veer in die hoed vir nog 'n suksesvolle fondsinsamelingsprojek aan die manne en vroue wat sonder voorbehoud baie tyd en kostes opoffer en daardeur poog om 'n beter lewensstandaard te stel waar daar die ergste nood is. Wees getrou aan ons leuse: ONS DIEN!" In die 1ste 3 plekke in die Ope-mans (2 dae) is Craig Boyes (07:25:49), Greig Knox (07:30;26) en John Gale (07:57:46).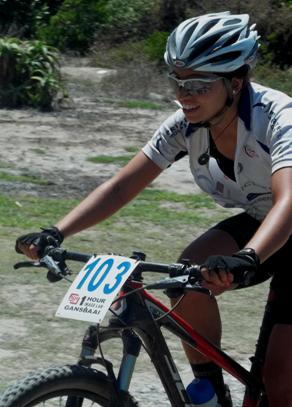 Die Ope-dames (2 dae) wenner, Nina Sender (10:11:58)
Die 1ste 3 plekke in die Ope-dames (2 dae) is deur Nina Sender (10:11:58), Anel Mostert (10:17:48) en Caroline Schuermans (11.18:34) verower. (Tye aangedui is Saterdag en Sondag gekombineerd) Wenners in die 1 dag deelname (Saterdag), is: Mans - Mark Rule (05:28:04) en Dames - Lorraine Uys (06:24:11). Vir die volledige uitslae kan die webtuiste http://www.theoverberg.com/gansbaai.html besoek word. Navrae rakende die op-en-wakker Gansbaai Lions kan aan Gert by 072-475-7256 geskakel word, of stuur 'n e-pos aan hom by leo1052@telkomsa.net.
Hardus Botha