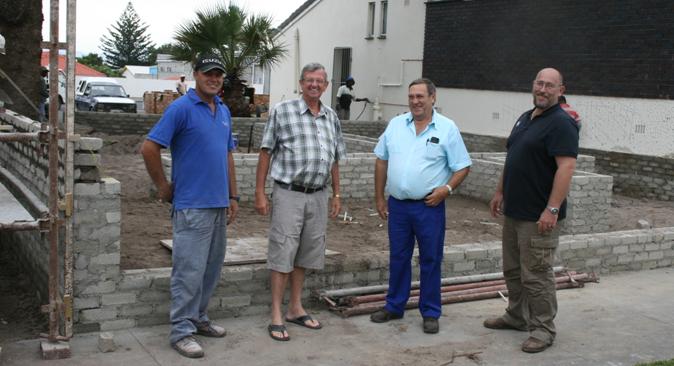 Vlnr: Sarel Fourie (voorman), Jannie Botha (koördineerder), Flip en Michel Geldenhuys (boukontrakteurs)
Na vele vergaderings kon ons uiteindelik begin met die oprigting van die gedenkmuur tussen die kerk en die kerksaal.
Dit bestaan uit 'n ringmuur met 'n hek om dit veilig te maak vir enige besoeker. In die middel neem dit die vorm van 'n kruis aan wat simbolies die Christendom uitbeeld. Elke nis sal twee persone se as kan akkommodeer.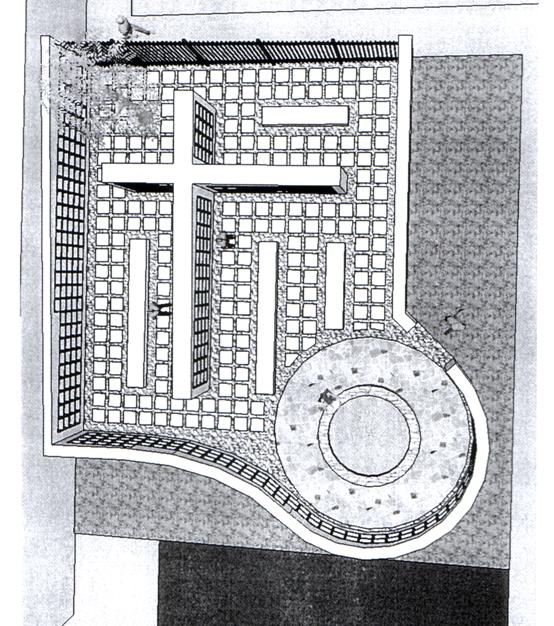 Daar word ook beoog om 'n tuin rondom die muur te ontwikkel. Die binnekant en die ingang is so ontwerp dat dit rolstoel vriendelik sal wees. 'n Sleutel sal aan elke persoon wat 'n nis bespreek verskaf word. Daar sal ook 'n sleutel by die kerkkantoor beskikbaar wees vir 'n verbygaande besoeker wat graag daar besoek wil aflê.
Die volle ontwikkeling sal in 3 fases geskied en sal voltooi word soos die belangstelling daar is. Die belangstelling is op die oomblik geweldig en ons moedig lidmate wat belangstel om by die kerkkantoor navrae te doen om 'n nis te bekom.
Alle steentjies sal uit swart marmer bestaan met silwer letters en syfers daarop. Elke nis kos R1600 (R800 per persoon). Ongelukkig sal geen ander kleur stene of koperplate toegelaat word nie. Die rede is om eenvormigheid te kry en ook om die diefstal van die koper of brassplate te voorkom.
Volgens Jannie Botha het die idee ontstaan na verskeie besoeke aan begrafplase wat verwaarloos is.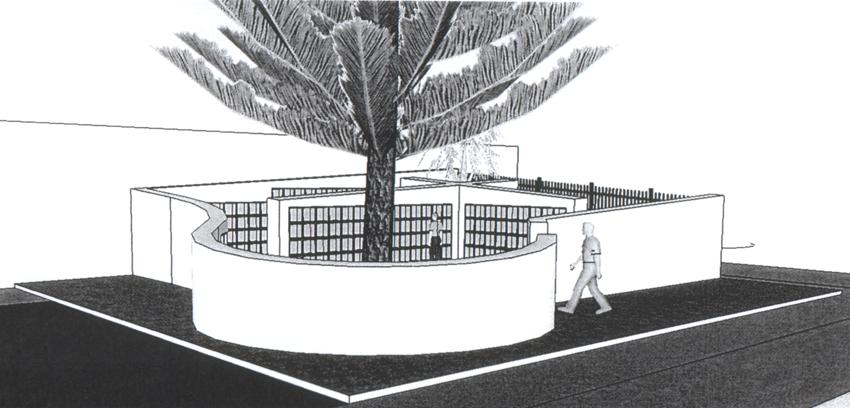 Grafstene is afgebreek en selfs die lood wat vroeër vir die inskripsies gebruik is, is afgesteel. Marmerpotte is gebreek en grafstene is stukkend geslaan. Onkruid word nooit afgehaal of doodgespuit nie en op plekke groei bome op die grafte. Ons dank God vir Sy genade dat ons nou 'n rustige en veilige rusplek vir geliefdes kan oprig.