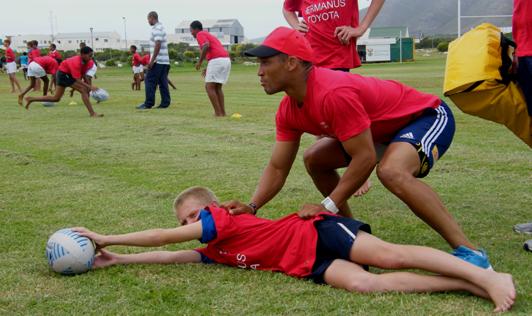 Gio Aplon in aksie bokant 'n laerskoolleerder tydens sy en Hermanus Toyota se afrigtingskliniek in Gansbaai vir o/13 rugbyspanne
"Sal jy vir Bryan Habana kan weghardloop?", was een van die laerskoolleerders se vraag aan Gio Aplon. "As hy 'n vuurwapen op my rig sal ek beslis vir hom kan weghardloop!" was Gio se spitsvondige antwoord. Hermanus Toyota en Gio Aplon, bekende vleuel en heelagter van Westelike Provinsie, Stormers en ook die Springbokke, het verlede week 'n afrigtingskliniek op Gansbaai Gemeenskaplike Sportgronde aangebied.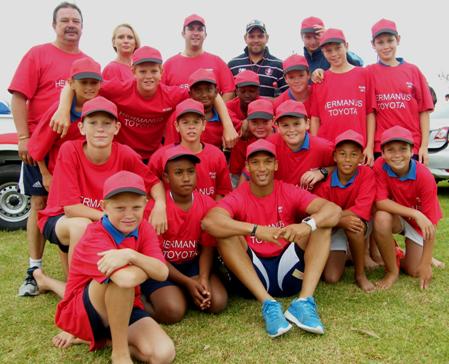 Laerskool Gansbaai se o/13's
Die o/13 spanne vanuit Laerskool Gansbaai, Gansbaai Primêr (Blompark), Laerskool De Bron (Stanford) en Laerskool St Pauls (Stanford) was teenwoordig. "Verskeie afrigtingsklinieke sal gedurende die volgende drie maande vir laerskole in die Overberg aangebied word. Ons doel daarmee is om die balvaardighede van die 0/13-spelers nog verder te verbeter," het Johan van Zyl, Handelaarshoof van Hermanus Toyota, gesê. Johan het voorts gesê die meeste van hierdie kinders het nog nooit die voorreg gehad om 'n Curriebeker, Super 15 of Springboktoets te kon bywoon nie. "Juis daarom het Hermanus Toyota besluit om die plaaslike 'rugby-held', Gio Aplon, in te span om met die afrigtingsklinieke behulpsaam te wees." In hierdie verband het Gio gesê: "Die Here het my 'n talent gegee, en om iets hiervan terug te gee is die minste wat ek kan doen." Taktiese bewegings, hanteringsvaardighede en losskrumtegnieke is die fokuspunte tydens die oefensessies.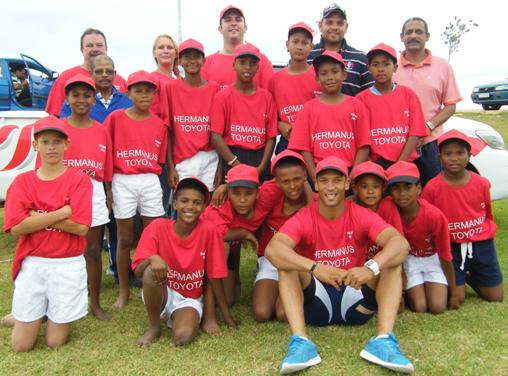 Laerskool De Bron se o/13's

Hierdie sessies word deur Gio met 'n motiveringspraatjie afgesluit. Die leerders, soos in Gansbaai se geval, is met 'n Hermanus Toyota geborgde T-hemp bederf, asook met 'n Toyota-pet geborg deur Gio. Die toerusting is deur Martin Everson van Everson Sports Academy verskaf, terwyl Gio die rugbyballe verskaf het.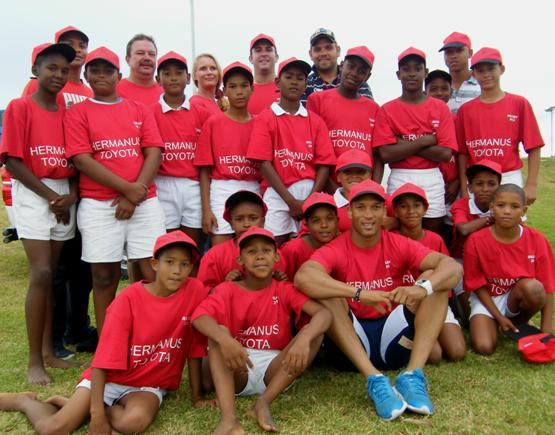 Gansbaai Primêr se o/13's
"Hermanus Toyota is trots daarop om as deel van sy 10de Verjaardagviering hierdie rugbyklinieke te kan borg," het Johan gesê. Gio Aplon is op 6 Oktober 1982 in Hawston gebore. Op skool was hy aanvanklik 'n kranige krieketspeler, maar daarna was dit net rugby al die pad. Tydens die toets op 12 Junie 2010 het hy 2 drieë gedruk, waar hy ook as "Man of the Match" aangewys.
Hardus Botha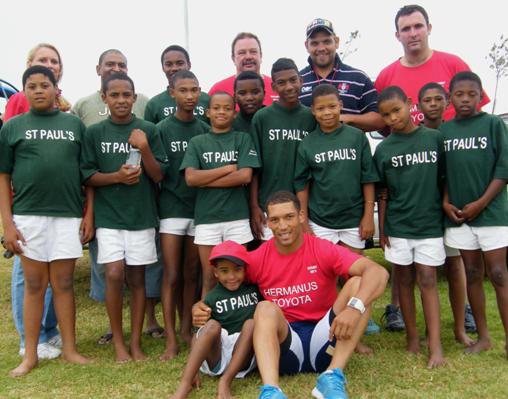 Laerskool St Pauls se o/13's