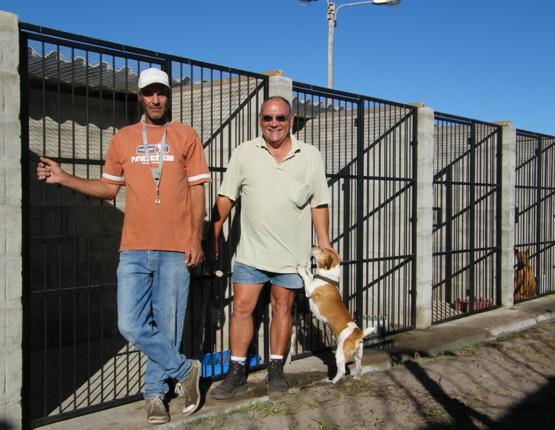 Gavin Hughes (links) en Phillip Schreck staan trots by die nuwe BARC-hokke, met Jacky, die permanente BARC-hondjie, by hulle
"BARC se eerste 3 maande in 2013 het met goeie nuus gepaard gegaan," vertel Annalie Jonker. Die belangrikste nuus waarna sy verwys is natuurlik die voltooiing van die nuwe hokke op die perseel. Vier pragtige nuwe hokke is aangebou, asook 'n kattehuis (cattery), wat 'n eerste in BARC se geskiedenis is.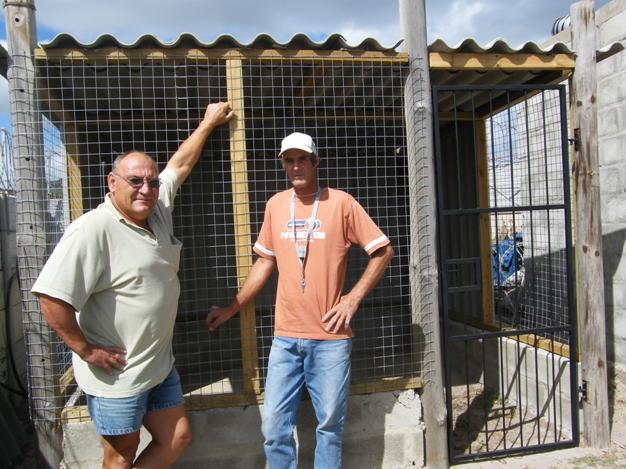 BARC se groot trots, 'n volwaardige kattehuis (cattery), met Phillip Schreck (links) en Gavin Hughes
Gansbaai Courant het in 'n vorige berig gemeld dat BARC suksesvol was in hulle "Grand-in-Aid" aansoek by Overstrand Munisipaliteit en die bedrag van R15,000 ontvang het, wat vir die aanbou van nuwe hokke benut is. Die totale koste het R32,200 beloop en BARC kon daarin slaag om die balans van R17,200 uit eie fondse te dek. "Ons bedank graag die publiek vir hul ondersteuning en donasies, waarsonder dit nie moontlik sou gewees het nie," sê Annalie. Deel van die ondersteuning was BARC se onlangse "Blikkieskud-Dag" voor Gansbaai Superspar en Gansbaai OK Foods waar die pragtige bedrag van R2,020 ingesamel is. Annalie vertel ook met dankbaarheid van 'n anonieme weldoener wat 'n groot "Deepfreeze" in goeie werkende toestand vir gebruik by die hokke om vars kos, vleis en bene vir die diere te berg, geskenk het.
Daar is ook weer drie hondjies (sien foto) wat angstig blaf vir woonhuise, maar daar is ook ander wat ook graag nuwe eienaars sal wil kry. BARC se bedrywige driemanskap is Annalie Jonker (Bestuurder), Phillip Schreck (Veldwagter) en Gavin Hughes (BARC perseel), met hulle skaduwee, Jacky, wat nou al sowat 2 jaar BARC se eie BARC-hondjie is. Terwille van besoekers, BARC staan vir Birkenhead Animal Rescue Centre. "Ons BARC Tweedehandse Winkel is ook 'n groot bron van inkomste en groot dank aan alle ondersteuners vir al die skenkings," vertel Annalie. Ongelukkig wil dit voorkom asof skenkings effens afgeneem het. Annalie sê alles is welkom, ongeag of dit oud of verbleik is.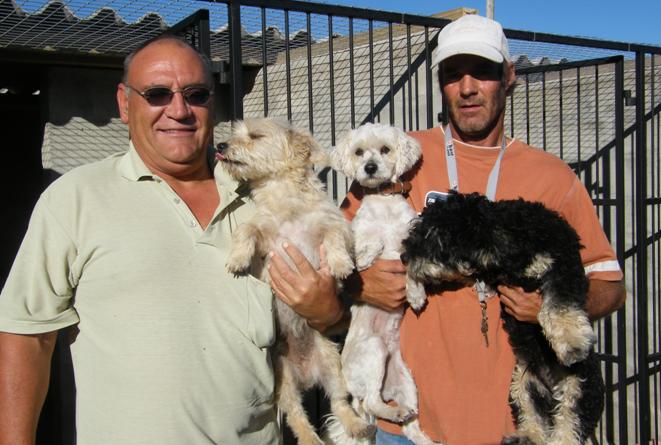 BARC se groot trots, 'n volwaardige kattehuis (cattery), met Phillip Schreck (links) en Gavin Hughes
Daar is veral 'n groot aanvraag vir ou kombuisware, linne, gordyne, handdoeke, ornamentjies en enige snuisterye. BARC se Tweedehandse Winkel, wat 'n groot bron van inkomste is, is op die hoeke van Hoof- en Korporasiestrate geleë. Hulle besigheidsure is Maandae tot Vrydae vanaf 08:30-17:00 en Saterdae vanaf 08:30-13:00. Finansiële bydraes ten bate van BARC kan direk in die volgende bankrekening inbetaal word (meld net die donateur se naam, of "anoniem" indien so verkies): BARC - Nedbank Gansbaai - Takkode 196 005 - Rekeningnommer 149 810 3006 - Spaarrekening. Vir enige navrae en/of skenkings/donasies kan Annalie Jonker by 028-384-1740 of 082-826-0631 geskakel word. Vir diere-probleme en/of die aanneem van diere, kan Phillip Schreck (Veldwerker) by 083-742-3903 geskakel word.
Hardus Botha