Dit is na alle waarskynlikheid die eerste keer wat Overstrandse Uitvoerende Burgemeester, rdl Nicolette Botha-Guthrie, die voorreg geniet het om 'n "tweedoelige lintknip" seremonie te behartig. Die nuwe fasiliteit te Pearly Beach in Short Marketstraat, oorkant die Rooibier Pub & Restaurant, is amptelik op Donderdag, 14 Maart 2013 deur haar geopen.

Die fasiliteit maak voorsiening vir die Pearly Beach Noodhulpkamer, asook die Pearly Beach Herbarium, ingesluit publieke toiletgeriewe. Eie geriewe vir altwee hierdie organisasies is lankal reeds as 'n absolute noodsaaklikheid geïdentifiseer. Mnr Kat Myburgh, Areabestuurder van die Overstrandse Munisipaliteit se Gansbaai Administrasie, het die gaste vóór die openingsseremonie op 'n besigtigingstoer deur Eluxolweni en Pearly Beach geneem. Tydens die seremonie het hy die amptelike verwelkoming behartig, waarna hy rdl Botha-Guthrie aan die woord gestel het. In haar goedvoorbereide toespraak het sy die werksaamhede van die Noodhulpkamer en die Herbarium uiteengesit en die noodsaaklikheid van altwee beklemtoon. "Na my mening is dit enig in sy soort vir 'n dorp van hierdie grootte. Overstrand Munisipaliteit is trots op julle," het sy onder andere gesê. Met verwysing na die Herbarium het rdl Botha-Guthrie gesê: "'n Sweedse botanikus, Catolus Linnaeus, het gesê: A herbarium is better than any illustration; every botanist should make one."

Pearly Beach se Wyksraadslid, Dudley Coetzee, het die nodige agtergrond aan die gaste oorgedra. Hy het onder ander na die begroting vir Wyksprojekte verwys en die Burgermeester bedank dat sy sorg dat fondse vir wyksprojekte steeds beskikbaar gestel word. Hy het ook gemeld dat die kostes van hierdie projek meer as R150,000 beloop het, maar gepaardgaande met 'n enorme fondsinsamelingsprojek wat deur Sandra Prinsloo van stapel gestuur is, kon dit voltooi word. Daarna het rdl Coetzee die volgende bedankings gedoen: "Eerstens baie dankie aan mnr Myburgh, Paul de Villiers en die munisipale personeel wat by hierdie projek betrokke was, asook aan rdh Pieter Scholtz wat voorheen vir hierdie Wyk verantwoordelik was.

Dan my opregte waardering teenoor die volgende individue en besighede (alfabeties) wie items en/of dienste aan die Pearly Beach Herbarium en Noodhulpkamer geborg het: Aldiy Custom Built Windows (alle alimuniumvensters), Ben Parsons (elektriese installasies), Gansbaai OK Foods (verversings), Gerald Henrici (installering van Herbarium fittings), Hakkie Hückstedt (installering van Noodhulpkamer fittings), Jan Carstens (bouplanne), John Swart (ingeboude kaste), Sandra Prinsloo (fondsinsameling) en Secma International Security (gratis installering en onderhoud van alarmstelsel). Pearly Beach se inwoners kan sonder twyfel trots wees op hierdie tweedoelige toevoeging onder een dak."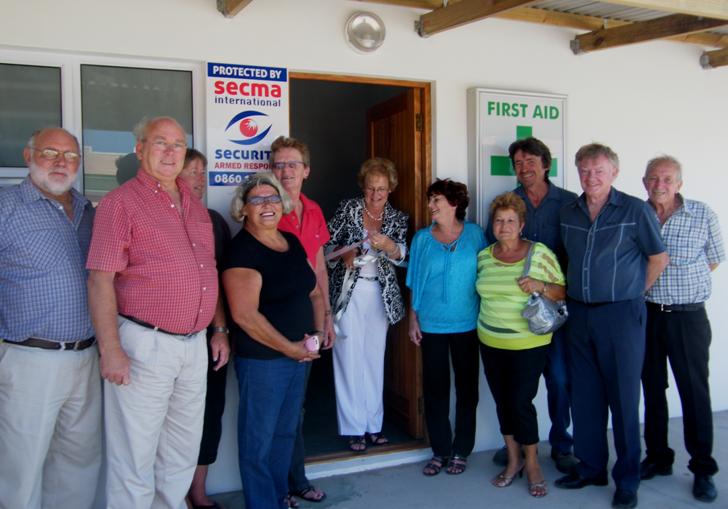 Betrokkenes tydens die amptelike opening van die Pearly Beach Noodhulpkamer, met vlnr Theo Coetzer, rdl Dudley Coetzee, Ilse Keet, Suster Tertia Scholtz, Sandra Prinsloo, rdl Nicolette Botha-Guthrie, Marleen Haddon, Elize van Eeden, Hakkie Hückstedt, rdh Pieter Scholtz en Daan Fouchè.
Noodhulpkamer

Die aanvanklike inisiatief vir 'n Noodhulpkamer te Pearly Beach het reeds gedurende 1994 begin. Die Noodhulpkamer, wat essensiële noodhulpdienste moet verskaf, het egter nog nooit 'n "vertrek" van hul eie gehad nie. Hierdie noodhulpdienste is as van uiterste belang vir Pearly Beach beskou, aangesien die naaste mediesedienste in Gansbaai, sowat 25km weg, gesetel is. Vrywilligers wat hierdie noodhulpdiens aan die gang gekry het, werk baie nou met dokters en paramedici in Gansbaai saam. "Tot op datum het ons al met bykans enigiets te make gehad - vanaf snywonde tot by hartaanvalle," sê Ilse Keet. Statistieke tot op datum toon dat sowat 200 pasiënte jaarliks deur Pearly Beach se nooddienstespan gehelp word. "Ons opregte dank en waardering gaan uit na ons Wyksraadslid, rdl Dudley Coetzee, Overstrandse Uitvoerende Burgemeester, rdl Nicolette Botha-Guthrie, mnr Kat Myburgh, Areabestuurder van die Overstrandse Munisipaliteit se Gansbaai Administrasie, asook alle betrokkes by hierdie heuglike gebeurtenis waar ons nou 'n volwaardige Noodhulpkamer in Pearly Beach kan bedryf," het Ilse gesê. Vir navrae kan Ilse by 083-962-4719 geskakel word, of stuur 'n e-pos aan haar by ilsekeet@gmail.com. Die noodnommer van Pearly Beach Noodhulpkamer is 082-707-1811.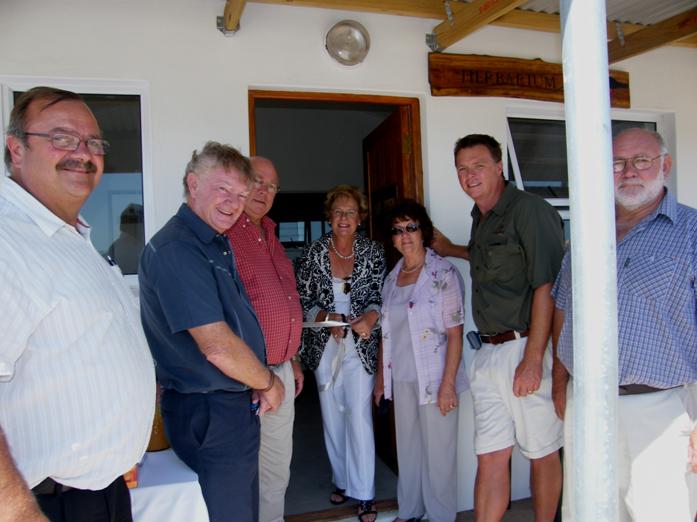 Betrokkenes tydens die amptelike opening van die Pearly Beach Herbarium, met vlnr Kat Myburgh, rdh Pieter Scholtz, rdl Dudley Coetzee, rdl Nicolette Botha-Guthrie, Heilie Mostert, Jason Stonehewer en Theo Coetzer.

Herbarium

Die Pearly Beach Herbarium is een van Pearly Beach Bewarea se projekte en Heilie Mostert is as projekleier reeds sedert 2001 daarmee gemoeid. "Aanvanklik was die Herbarium in die bekende houthuisie in Pearly Beach gesetel en die verskuiwing na hierdie nuwe gebou is 'n groot voorreg wat sonder twyfel effektief benut gaan word," vertel Heilie. Toe dit bekendgemaak word dat publieke toiletgeriewe op die spesifieke grond gebou moet word, is voorgestel dat daar terselfdertyd vir 'n Herbarium en 'n Noodhulpkamer voorsiening gemaak moet word, waarna die projek in 2012 afgeskop het. Vir die wat nie met die begrip "herbarium" bekend is nie, dit kom neer op die versameling van gedroogde plante of gedeeltes daarvan wat dan geïndekseer word en vir wetenskaplike navorsing op lêer geplaas word. Alle plantspesies wat versamel word, word elke Vrydag deur Heilie geïndekseer. Sy moet ook GPS-lesings van die onderskeie plekke waar die spesies gekry is, neem. Daardie inligting word dan gedurende Desember van elke jaar aan CapeNature gestuur sodat satellietfoto's geneem kan word. Heilie ontvang dan hierdie foto's om te kan sien waar daar spesies gepluk is.

Daar bestaan ook noue samewerking en opleidings-geleenthede met ander botaniese instansies. Vir navrae kan Heilie by 028-381-9888 of 082-392-1178 geskakel word, of stuur 'n e-pos aan haar by heilie.mostert@gmail.com.

Pearly Beach Bewarea

"Pearly Beach Bewarea, of te wel Pearly Beach Conservancy, is aanvanklik in Desember 1991 as die Pearly Beach Bewaringsvereniging of Pearly Beach Conservation Society gestig," vertel Elrina Versveld, voormalige voorsitter. "Op 20 Desember 2006 is 'n naamsverandering ondergaan en is die vereniging by CapeNature as die Pearly Beach Bewarea of Conservancy geregistreer." Een van hulle projekte was 'n Herbarium met die primêre doel om 'n register van die omgewing se inheemse plante op te stel, maar ook om die inwoners en besoekers te help om die plante te leer ken. Die projek is volgens Elrina baie suksesvol bedryf en sy sê die nuwe gebou sal baie help om die argief en al die gedroogte spesies onder meer ideale omstandighede te bewaar en te berg. Nog 'n projek wat hiermee gepaard gaan, is die uitroei van indringerspesies, waarvan rooikrans in daardie omgewing die grootste bedreiging is. Die nuwe gebou wat die Herbarium huisves, is ook 'n bewys van hoe verskillende instansies, bewarea, belastingbetalers en noodhulp, saamgewerk het om 'n projek tot stand te bring wat tot voordeel van die hele gemeenskap sal wees. Tans is Pearly Beach Bewarea se voorsitter Jason Stonehewer, met Beatrice Bollmann as sekretaresse.

Vir navrae kan Jason by 072-890-4317 geskakel word, of stuur 'n e-pos aan hom by stonehewerj@gmail.com.

Hardus Botha