Tydens Elzaan van Lill, Mej Fees van die Ganse se onlangse Paasbesoeke aan die drie Tehuise vir Bejaardes, het sy ook 'n draai by die Woekermark in die Pretoriussaal gemaak. Daar het sy by Marina Bruwer en haar 6 vriendinne se stalletjie vir die Waardevol vir Jesus Poppieprojek aangedoen. Sy het dadelik aanklank by die projek gevind, aangesien kinders ook deel van haar fokuspunte vorm. "In totaal het ons groepie nou al sowat 11,216 poppies vir laerskole en sowat 973 hartjies vir hoërskole gebrei," het Marina aan Elzaan verduidelik. Marina se dogter, Madri Bruwer van Straatwerk in die Kaap, was ook tydens Elzaan se besoek teenwoordig. "Kinders wat reeds misbruik is of betrokke is by prostitusie en pornografie word prakties bygestaan. Die handgebreide poppies en handgemaakte hartjies dra 'n spesifieke boodskap aan die kinders oor," het Madri verduidelik. Die Waardevol vir Jesus Poppieprojek is 'n inisiatief van Straatwerk en Marina is reeds sedert die begin daarvan daarby betrokke. "Landswyd het Straatwerk al sowat 110,000 kinders met die Poppie- en Hartjieprojekte bereik," het Madri aan Elzaan verduidelik. Om in hierdie omgewing by die Waardevol vir Jesus Poppieprojek betrokke te raak, kan Marina Bruwer by 028-388-0250 of 072-261-9105 gekontak word.

Staan asseblief 'n sirkel om my!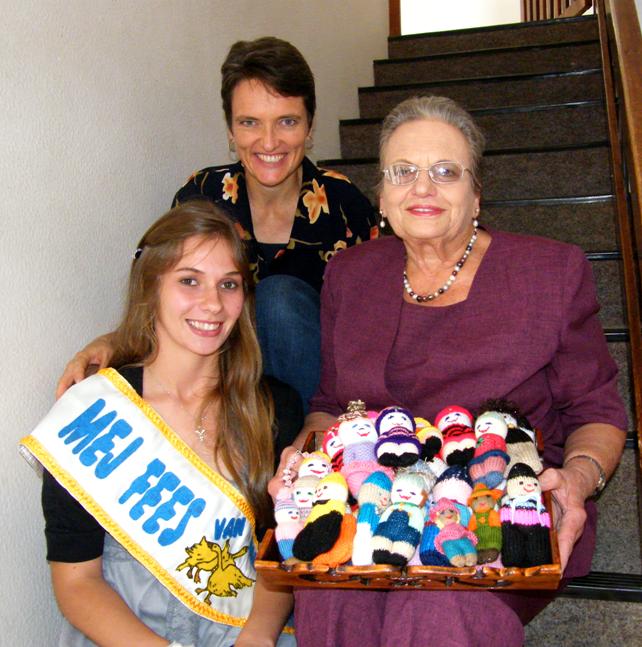 Vlnr is Elzaan van Lill (Mej Fees van die Ganse), Madri Bruwer (Straatwerk) en Marina Bruwer (Waardevol vir Jesus Poppieprojek - Gansbaai)

"Ons kinders het nodig dat ons 'n sirkel om hulle staan. 'n Sirkel waarbinne hulle veilig sal wees en kan floreer. Dis nie dat die sirkel afwesig is nie. Soms is die ruimte daarbinne net so beperk. Soms los ons mekaar se hande, omdat ons sukkel om mekaar te vind. Soms oorweldig ons eie seer ons en gaan staan ons eenkant in ons eie alleenheid. Die sirkel is nie 'n meganisme nie. Dit is 'n organisme nie - dit lewe! En in die sirkel is groei en beweging nie net toelaatbaar nie, maar totaal deel van die karakter. In die sirkel is daar ruimte vir kinders van alle ouderdomme, ook hulle wat in jare lankal volwassenes is. Ons glo dat Christus 'n einde wil bring aan seksuele misbruik, prostitusie en pornografie deur Sy kerk en in sy Naam, deur gefokusde gebed en gedringde aksie. Ons moet die sirkel wees en die kinders van Suid-Afrika is ons kinders. Om in die sirkel te staan moet ons saam hoop en bid, staan teen die euwels wat ons kinders verslind en self die pad van heling loop. Selfs al gaan ons hoop teen alle menslike logika in, moet ons hoop. Ons moet hoop vir ons kinders en vir onsself. Hoop is wel leeg wanneer dit gebou word op ons eie potensiaal en insig. Maar, wanneer ons in Christus hoop en in die krag wat Hom uit die dood opgewek het, is dit die hoopvolste en verstandigste ding wat ons kan doen...vir ons en ons kinders. Mag ons leer hoop en ons lewens daarop bou!"
Straatwerk se webtuiste is www.straatwerk.org.za en hulle kan by admin@straatwerk.org.za of 021-930-8055 gekontak word.
Hardus Botha