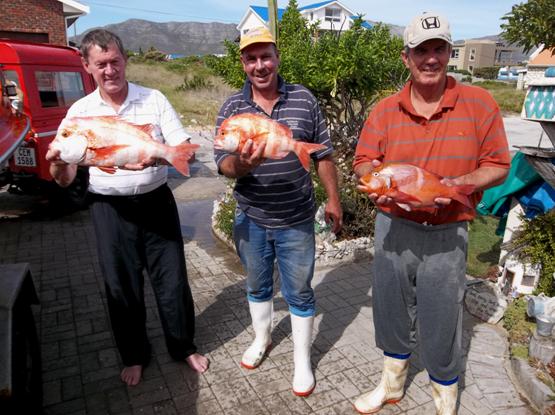 Dirk Hanekom, Len Lawson en Bernie Marchand met 'n paar mooi visse wat hulle vanaf Kwaailappies gevang het.
Daar is sommer baie kabeljou, steenbras en galjoen gevang, en dié wat nie gedeel het in hierdie genot nie, het íéts verkeerd (of nie reg nie) gedoen! Die manne met die lang stokke het dit nag gemaak by die Gruis, Haaiklip en die Plaat. En sommer 'n paar ander plekke ook.

'n Paar manne wat vir 'n dag of twee by ons kom kuier het het baie goed gevaar, maar ek moet byvoeg dat hulle geen moeite ontsien het om so suksesvol te wees nie. Vir eers het hulle seker gemaak dat hulle die regte aas het -- en genoeg daarvan. Ons praat nou van wurms -- maanskyn-, wonder- en sommer 'n paar ander, snaakses ook. Dan het hulle ook gesorg vir visaas. Dis nou sardyn, pike, ens. Verder is daar mossels, sout, gevries en die ander maniere van die witmossel se behandel kan bevraagteken word. Die klankie daaraan was uniek. Wat ek egter nie gesien het nie was rooiaas, maar jy kan seker nie vir ál die ase sorg nie. Was daar nog 'n bietjie spaartyd het hulle vir seker ook krewels gaan pomp. Hierdie ouens is ewe bedrewe met die lang stokke, sowel as boothengel en het gesorg dat hulle goed van die geleentheid gebruik maak. Wanneer hulle terugkom na 'n dag se boothengel soek jy verniet na waar hulle nou is. Gaan loer maar in die vrieskas en jy sal sien dat die wurm nie meer daar is nie, en ja, die kreefsterte ook nie! Dan weet jy hulle is weer op soek na steenbras, na die vorige dag se vangs. Dit verbaas jou ook nie indien hulle later die dag met 'n galjoen of twee opdaag nie.

Wat ek van hierdie manne waardeer is dat hulle nooit 'n ondermaatvis sal hou nie, dié word so ongeskonde moontlik weer teruggeplaas. In die vrieskas was daar onder andere 'n PW van amper vier kilos (dis 'n menéér) en 'n paar baie mooi romanne en silwervis. Al die hotties sou 'n braairooster ordentlik vul. Die steenbras het omtrent net plek gelaat vir al die ander vis. Die ouens het beurtelings vanaf die boot en van die strand af gaan vang en met goeie tydsberekening hulle ding ordentlik gedoen.

Die amperbootjies is menige hengelaar se droom wanneer dit kom by veral die vang van kabeljou, maar dit is weer eens bewys dat jy katvoet moet loop nadat een van hulle deur 'n brander in die vlak water omgekeer is, natuurlik met groot verlies tot gevolg. Versigtig, asb.

Doen moeite, kry die regte aas en kies jou tyd, volhard en jy sal suksesvol wees. Groete, Seemeeu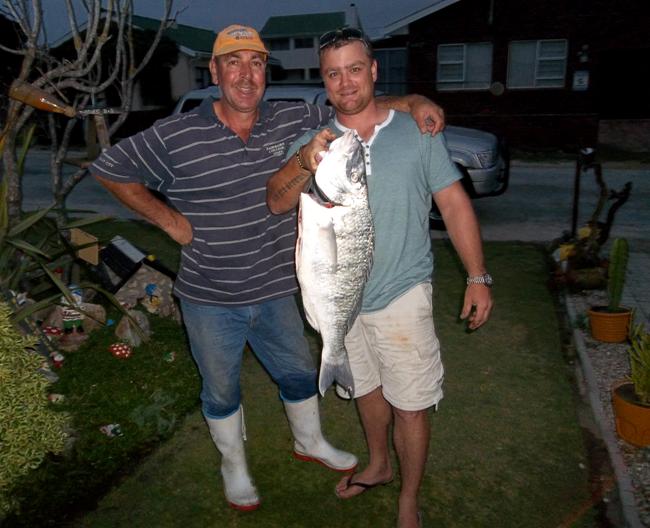 Al weer Len Lawson en sy maat, Paul Murison met 'n steenbras wat op die Plaat aangekeer is. Hierdie keer was dit maanskynwurm wat die ding gedoen het.