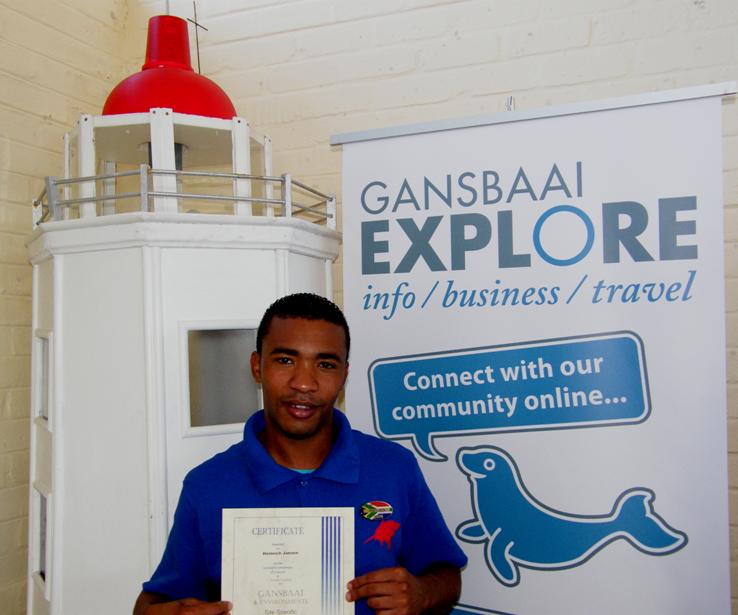 Heinrich Jansen, Inligtingsbeampte van Gansbaai Toerisme, wat onlangs sy eerste vuurdoop as gekwalifiseerde toergids beleef het
Heinrich Jansen, Inligtingsbeampte van Gansbaai Toerisme, het verlede week sy vuurdoop as Toergids beleef. "Die toer met die 60 pensioenarisse vanuit Kaapstad het baie goed afgeloop en hulle was so beïndruk met wat hulle gesien en gehoor het, dat hulle beplan om Gansbaai weer in die toekoms te kom besoek," vertel Heinrich. Hy het die groot groep na Dangerpoint Lighuis, Great White House van Wilfred Chivell, Strandveld Museum van SD en Jan Fourie, Gansbaai en Kleinbaai hawens en enkele ander plekke vergesel.

As gekwalifiseerde toergids vir Gansbaai Toerisme, blyk dit uit gesprekke met die toergangers dat Heinrich homself uitstekend van sy taak gekwyt het. Oral waar die groep afgeklim het, is hulle breedvoerig deur hom ingelig en is vele vrae bevredigend beantwoord. Hy sê die pensioenarisse was veral beïndruk met Strandveld Museum, gepaardgaande met SD Fourie se interessante vertellings, veral van die Birkenheadverhaal. "Hulle was ook baie beïndruk met die ete en vriendelike, flinke diens by die Great White House in Kleinbaai," vertel Heinrich. "Dit was my eerste toerbegeleiding as toergids en dit was 'n ware vuurdoop met so 'n groot groep mense en dit nogal pensioenarisse," sê hy. Die toergroep se organiseerder het met Gansbaai Toerisme kontak gemaak en Glenda Kitley, Bestuurder, het nie gehuiwer om Heinrich as toergids aan te beveel nie. Heinrich is lankal reeds 'n bekende en vriendelike gesig agter Gansbaai Toerisme se toonbank. Op 2 April vanjaar het Andrè de Waal van die Tourism Guide Institute Heinrich se sertifikaat as toergids, asook sy lapelwapen, aan hom oorhandig, nadat hy 'n Omgewingsgidskursus (Site Guide Course) suksesvol deurloop het. Dit is 'n offisiële en erkende kursus en Heinrich is nou by die Departement Toerisme as 'n omgewingsgids geregistreer.
Gansbaai Toerisme se besoektye is Maandae tot Vrydae 09:00-17:00, Saterdae 09:00-16:00 en Sondae 10:00-14:00.
Vir opdatum toerisme gebeure en interessanthede, kan hulle by 028-394-1439 gekontak word, of stuur 'n e-pos aan gansbaaiinfo@telkomsa.net. Webtuistes is: www.gansbaaiinfo.co.za of www.gansbaai.com.

Hardus Botha