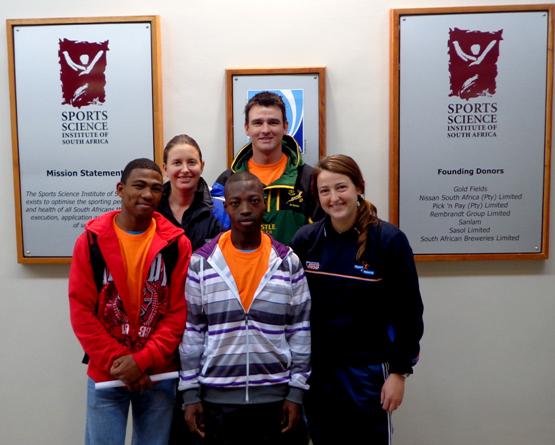 Front ltr: Marko Maarman, Themba Mangali, Erika Mueller.
Back ltr: Shereen van der Merwe, Corrie Avenant.
Football Foundation Coaches Corrie, She-reen and Erika attended an Athletics Workshop with Junior Running Guides Themba and Marko on Saturday.

The workshop was held in Cape Town at the Sport Science Institute in Newlands and invited a broad range of participants from the sports sector. Around 100 individuals including youth and junior athletes, parents and coaches, attended in order to learn and discuss relevant topics in Athletics.

The first discussion focused on Mental Skills and Sport Psychology. The audience was encouraged to make an effort to create an environment with the least amount of distractions and negativity for its participants or athletes and also to emphasize the infinite potential that every individual maintains, especially on the sports field.

The second subject was Nutrition. The talk championed the vitality of a healthy diet and an attention to one's food intake. Moderation, personalized eating plans and supplements were also a part of the discussion.

The third presentation revolved around Sports Science and Performance. At this time, attendees were able to learn more about the roles of the staff and athletes at the Sport Science Institute, the host of the event. Monitoring and evaluation, personal training targets and recovering from injuries were also mentioned.

The Football Foundation staff and athletes enjoyed taking the opportunity to learn more about these subjects and brainstorm new ideas that will improve the environment of its trainings.