Gansbaai Fotografieklub se tema, "Spot of Colour" het vir uitstekende foto's met uiteenlopende idees oor die tema deur die lede gesorg. Etlike foto's is besigtig, bespreek en geëvalueer. Die gedagte om tydens elke tweede byeenkoms foto's met 'n vooraf bepaalde tema te vertoon, vind groot byval, aangesien die evaluering daarvan telkens tot verbeterde fotografie deur alle klublede lei…met almal wat iets daaruit leer.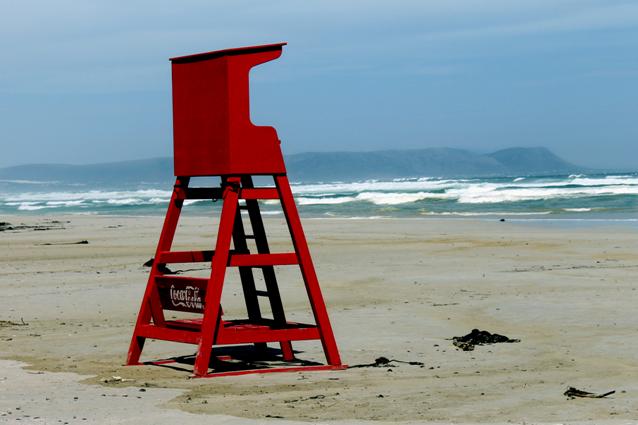 Die gekose foto met die tema "Spot of Colour" vir plasing in Gansbaai Courant, is Veronica du Plessis se foto van 'n rooi-geverfde "lewensredderstoel" op Grotto Beach by Hermanus
Voorsitter Christo Wessels het klublede op die skole-projek (Programdatum: 1 Julie 2013) gewys. Klublede Clive en Jane Bailey het onderneem om kursusmateriaal vir 'n basiese fotografiekursus saam te stel. Gansbaai Academia is besoek ten einde belangstelling daarvoor onder die leerders te bepaal. Die sluitingsdatum is Woensdag, 26 Junie 2013 en die ondervermelde persone kan in hierdie verband gekontak word. Kennis kan net weer geneem word dat Gansbaai Fotografieklub se byeenkomste informeel en sosiaal van aard is en dat daar geen "toelatingsvereistes" ten opsigte van fotografie-kundigheid en/of tipe kamera's is nie. Klublede vergader elke 1ste en 3de Maandag van elke maand om 18:30 te Kerkstraat 30, oorkant Gansbaai Laerskool se agterste hek. Sprekers word gereeld gereël en die tema vir foto's wat op 15 Julie besigtig en bespreek gaan word, is "Wear & Tear". Vir algemene klubnavrae, asook vir inligting rakende die skoolprojek, kan Christo Wessels by 082-920-9738 of Linda Kloppers by 082-550-7313 geskakel word.
Hardus Botha