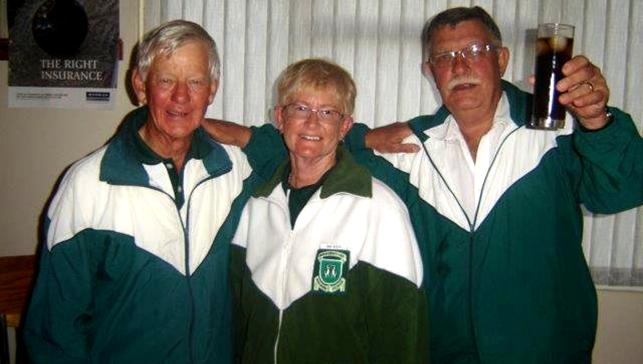 Fltr: Pieter Conradie, Dina Jooste and Fred Rossouw.
This competition, sponsored by Gansbaai Marine, was originally scheduled for Saturday the 8th of June attracting 14 teams which included 2 visiting teams. But it was postponed due to wet weather and was rescheduled for Wednesday the 12th of June with just 12 local and changed teams, all from the Franskraal Bowling Club.
The players were all offered tea or coffee upon arrival with a spread of breads, jams and cheese as President Pieter Conradie welcomed everyone and introduced Vice President Mattie Neethling to lead us in prayer.

President Pieter then introduced Match Secretary Jan Fouché who gave the format for the day's play as follows:-

3 games of 12 ends each, with a skin every 4 ends for 2 points each with a win per game of 4 points for a total of 30 points for the competition per team with 2 trial ends per game and 1 burnt end per team per game.

Jan had already allocated all of the games, the rinks and the teams to play against one another. Play got underway on B Green at 9am sharp. All teams played their first 2 games East – West, with a break for a most welcome cup of tea and sandwiches in between games. Then, after a lovely lunch comprising a chicken dish with a carrot salad and a bread roll followed by bread and butter pudding with custard, Vice President Mattie spun the wheel and Annemarie was the lucky winner. During the lunch break, B Green was turned North – South for the final games of the day. On completion of the day's play, everyone returned to the clubhouse and Jan together with Una Conradie, the Boland Secretary, adjudicated the final score cards. President Pieter thanked the Barman Piet Wessels, as well as the official Umpire for the day and our Vice President Mattie Neethling.

President Pieter also thanked Tommie van Niekerk the Green keeper and Annemarie Botha and her team for their lovely food preparation. Jannetta van Niekerk and Anneline Swart both worked tirelessly in the kitchen making sandwiches and dishing up the food. The 3 hampers were drawn and won by Roelof Eksteen, Ivan Giles and President Pieter Conradie.

President Pieter then went on to award prizes to the day's competition winners as follows:-
3rd place with 22 +13 were Ivan Giles, Madeline Janse van Rensburg and Johan Fick
2nd place with 24 +20 were Tommie van Niekerk, Sonja Chambers and Roelof Eksteen
1st place with 26 +23 were President Pieter Conradie, Dina Jooste and Fred Rossouw

Well done to all the winners and all the participants too, for another brilliant day of bowls!