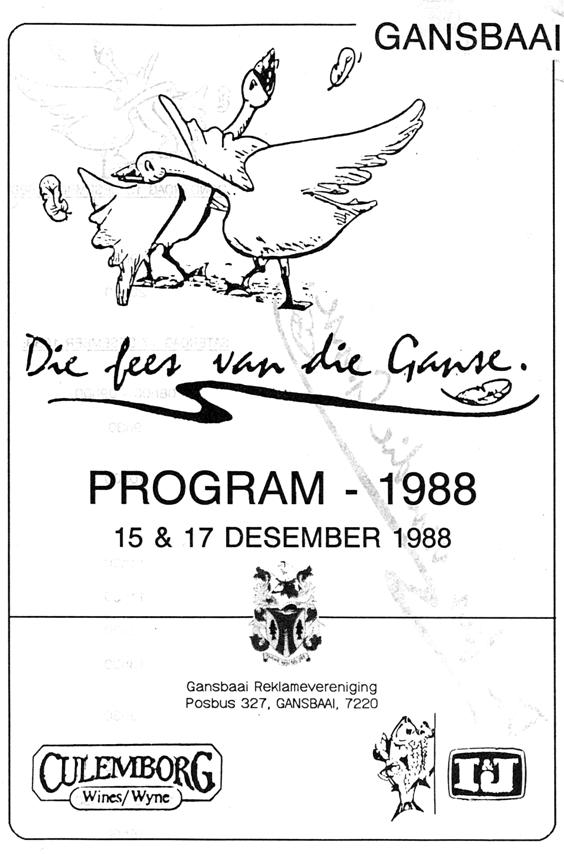 Die programvoorblad van die Fees van Ganse 25 jaar gelede
Met Juliemaand al stewig in die saal, is Gansbaai se Feeste sommer om die draai. Eerste aan die beurt is die Fees van die Ganse se immer gewilde Winter Fynbosskou vanaf 8 tot 11 Augustus. Gansbaai Academia word vanjaar vir die uitstalling benut en, naas die verruklike Fynbosskou, kan inwoners en besoekers ook na 'n spesie-uitstalling, kunstenaars, stalletjies, gepaste musiekvermaak deur plaaslike kunstenaars en veel meer uitsien. Plus 'n "Ete in die Fynbos en 'n Interkerklike Erediens in die Fynbos". Die tweede been van Gansbaai se feestelikheid, Die Fees van die Ganse - Seekos Straatfees / Seafood Street Festival, vind op 21 September vanjaar plaas. Op versoek van die gemeenskap en sakelui, word vanjaar se fees in die midde-dorp aangebied: Vanaf Hoofstraat af tussen Voortrekker- en Markstrate tot by Kerkstraat, met die verhoog en hooffokusarea langs Nedbank in Markstraat. Vele pret en feesgenot, gevul met verassings, wag op feesgangers. Feesitems sluit in kunstenaars, Mnr/Mej Fees van die Ganse, Klein Kaapse Klopse, Lyndansers, Kolgooi, Kindervermaak, Treinritte, Stalletjies, Biertent en veel meer. Met die "verskuiwing" terwille van besighede, word 'n beroep om deelname op sakelui gedoen om van die geleentheid gebruik te maak. Vanjaar is daar ook noue samewerking met die jaarlikse Herberg-aan-See Basaar, asook hulle Suzuki-saamtrek op die skoolgronde. Francia van Dyk dien op die Feesbestuur en sy kan by 082-551-3613 of 028-384-0262 gekontak word.

Dan is daar ook 'n opwindende Feesliedjie-skryf-kompetisie met pryse op die spel.
Een van die hoogtepunte is die opvoering, Groet die Grotman, wat die aand om 20:00 in die Pretoriussaal aangebied word.

Gansbaaiers, wat nie Kaapstad toe wou ry nie, het nou die geleentheid om hierdie gewilde opvoering by te woon.

Kaartjies is reeds by die Toerismekantoor beskikbaar en vroegtydige besprekings word sterk aanbeveel.

Vir enige feesnavrae, besigheidsdeelname, die feesliedjieskryf-kompetisie of kaartjies vir Groet die Grotman, kontak vir Glenda Kitley by 072-291-5564, of stuur 'n e-pos aan haar by baaimanager@telkomsa.net. Onthou die belangrikke datums: Fees van die Ganse se Winter Fynbosskou (8-11 Augustus), asook die Seekos Straatfees (21 September) vir groot feesgenot!
Hardus Botha