Do you find that you're always searching for the perfect flower? One that blooms for so long in a vase that you forget it's not still getting nutrients from the soil? But one that opens up magnificently at the same time, showing off its petals in the most flamboyant way, while also offering many impressive colour options.

Lilium LA hybrids pack in all of this and so much more. Also known as the Asiflorum hybrids, they're a cross between L. longiflorum and Asiatic hybrids and, besides their very extended vase life, they're exquisitely suited to being viewed from above, as they love facing upwards, showing off their blooms to their best ability. What's more, the variety of colours in which these hybrids manifest is enough to make you never need any other bloom in your home or garden, as there's a colour to suit any scheme – from red and orange, to yellow, violet and pink.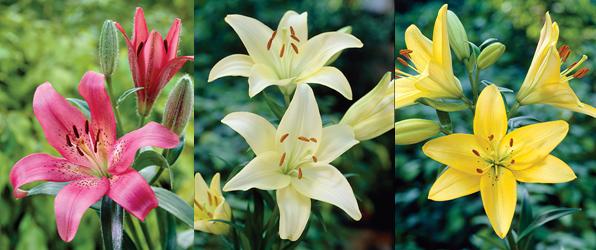 Rather new to the bulb family, these hybrids were only introduced to the world in 1992. Because of the many years spent crossing lilies to get such strong hybrids, they're very resistant to disease and are more tolerant to a range of climate and soil conditions, making them some of the easiest lilies to grow and display. However, some general Lilium rules should still be taken into account, such as the 'head in the sun, feet in the shade' mantra that Lilium growers are prone to chant – in other words, finding a spot that offers a cool soil but still receives enough morning sunlight. Also, because Lilium don't possess a protective outer layer like most other true bulbs, they're quick to dry out and should, therefore, be planted immediately after purchase, with the soil watered straight away and kept moist all year long.

Planting should take place in winter for flowers to appear in spring and summer, and these bulbs can be left in the ground for five years, yielding beautiful results every new flowering season if the correct routine is maintained. This means feeding the soil with a high potash mix in summer when growth is at its peak, and, when flowers die and leaves and stems become yellow, these should be cut off so that all energy is directed where it's most needed: to the bulb. During growth, look out for slugs and snails, and, if Botrytis is spotted (usually in humid conditions), don't be afraid to spray the plants, including the underside of the leaves.

When you notice that growth is no longer as energetic as previous years, remove the bulbs that have probably become overcrowded due to natural division, divide them and replant them immediately after enriching the soil once more with compost and treating it with a fungicide and anti-bacterial agent.

When your Lilium LA hybrids grow, you'll be in awe of how you struck such luck in finding this incredible combination of so many dream-flower factors on one bulb. If this is what hybridisation is able to produce, then we're rooting for it!

Come see our Facebook page, http://www.facebook.com/hadeco.bulbs, follow us on Twitter @HadecoBulbs, come shop with us at our Online Shop www.hadeco.co.za/shop or visit www.hadeco.co.za for more information.