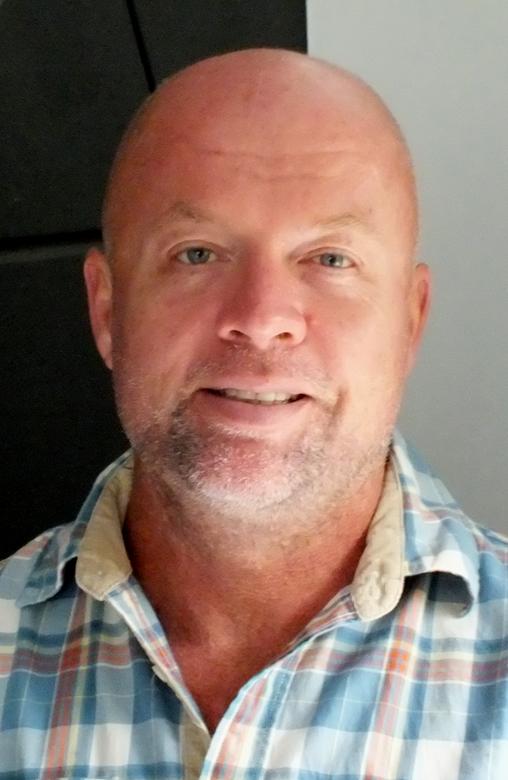 Neil Stemmet (links) is geen onbekende in Gansbaai nie en woon reeds vanaf 2010 in sy gastehuis in De Kelders. Neil is baie lief vir De Kelders en Gansbaai en geniet dit om met sy fiets te gaan inkopies doen in die dorp. Hy hou veral van die intimiteit van klein winkeltjies waar hy sy aankope vir sy gastehuis doen.
Hy is bekend as binneshuisversierder, ontwerper van huise, gastehuise en restaurante. Onder sy kliënte is bekende wynlandgoedere soos Cuvee en dié van Niekerk-proelokaal by Simonsig en Towerbosch se aardskombuis en Knorrhoek. Neil is al beskryf as 'n herwinningsghuru en sy gastehuis in De Kelders getuig daarvan met baie klip- en houtwerk. 'n Reuse boomstam is deel van die binneshuise ontwerp. Neil is 'n baie privaatpersoon en mens besoek hom slegs op uitnodiging. Dis hoekom sy gastehuis nie deurknoppe aan die buitekant het nie. Francois en Deonora de Jongh van die Courant het die onderhoud met hom gevoer en is getrakteer op die heerlikste appeltert en koffie wat sy huishoudster, Samkelo Wapi, aan hulle bedien het.

Neil is baie lief vir kook en noem homself 'n kok, nie 'n sjef nie. Neil is ook 'n skrywer en sy resepteboek "sout en peper erfeniskos" is al in sy derde druk. Dis amper meer 'n storieboek as 'n resepteboek. Hy steur hom nie aan allerhande taalreëls nie en baie van sy sinne begin met klein letters. Sy boek is te koop in OK, Superspar en Prime Cut Meat. Dan skryf hy ook artikels in tydskrifte. Sy agterbladartikels in "Tuis" en "Home" is baie bekend - seker omdat dit so lekker lees. Ons plaas dan ook een van daardie artikels. Sy resepte word geïnspireer deur sy ma, ouma en tantes en hy gebruik net basiese kruie en speserye en smaakmiddels in sy kos nl. sout, peper, asyn, naeltjies, kaneel, neut, anys, koljander, lourierblare en suurlemoensap. Neil definieer erfeniskos as kos wat dateer vanaf Jan van Riebeeck in die Kaap voet aan wal gesit het tot die sewentigs-voor tv-etes aan die orde van die dag geraak het. Neil het dan ook nie televisie nie omdat hy te veel het om hom besig te hou.

Neil het grootgeword in Robertson waar hy skoolgegaan het voordat hy na Hoër Jongenskool in die Paarl is. Volgens Niël het hy nie van skool of onderwysers gehou nie, omdat hy aandagafleibaar was en niemand dit besef het nie. Vroeër jare het onderwysers mos gedink dié kinders is stout. Na skool het Neil begin werk en homself bewys as baie hardwerkend en talentvol. Hy het onder andere 'n kontreirestaurant "Le Must" op Upington oopgemaak, asook 2 "Le Must" gastehuise op die rivieroewer. Albei het oor die jare verskeie toekennings ontvang. Neil het die laaste paar jaar begin om as motiveringspreker op te tree.

Deonora de Jongh

Neil se artikel wat in die "Tuis" tydskrif verskyn het, volg hiernaas.
Die storie van my lewe
… het begin die dag toe ek die eerste woord kon skryf, voor die dag was my woorde net letters wat soos skoenlappers wind vang en voor my vingertjies uitsweef.

Die eerste dag dat ek my naam kom skryf was in 1969. Ek was klein, my oë toe al waterblou, my voorkop had 'n kinkel met nog twee krone agter. My hare was borselkop geskeer. Ek was die sewende geslag van my familie eersgeborene name Jacobus Daniël Stemmet.

My skouers was klein, soveel so dat ek vandag nie kan onthou of hul my Pa se heup kon raakstaan nie. My bene was bak, vandag nog as jy my mooi kyk. My vingers klein, die naels gevorm met halfmane wat daarin wink.

In die skoolklas het die potlood my vriend geraak. Op papier kon ek my naam teken n_ i_ e_ met 'n deelteken oppie e en 'n l_.

Het ek die dag kon dink dat my woorde later boeke sou raak?

Ek was van kindwees af lief vir die biblioteek. Ek kon ure daarin deurbring en as daar plek was het ek altyd 'n stoel gekies waarop ek soos 'n grootmens kon sit en boeke deurblaai. In doei jare kon jy plate luister in die bilblioteek, daar was tydskrifte wat ek kon deurblaai en beroemde kunstenaars se afdrukke het my oë geleen ver weg oor die see Europa toe. Die lekkerste lekker was die reuk van die biblioteek. As ek instap het my neus die lug ingeteug, diep binne my bors vasgehou en stadig bietjie vir bietjie geproe. Jy sal vra hoe proe lug. As jy daai tyd kind was sal jy onthou.

Die vensters was hoog en die stof-feetjies het glyplank gespeel, in kore neergedans van buite tot op die mat, voor my voete, waar die son kom bad het.

Daar was die stilte van 'n biblioteek – onthou jy dit? En ook die klanke van Mozart, Rachmanihoff, Schubert, Maria Callas, Virginia Lee, Evan Rebroff en soveel ander.

Ek stap in die boekgange af, die boeke speel wegkruipertjie met my. My vinger trek 'n streep op die nate van die boek E, F, G tot ek stop, my hand uitsteek en die boek van die rak afneem. Ek maak hom versigtig oop en dan ruik ek hom, ek druk my neus tussen sy blaaie en asem die reuk in met 'n sagte glimlag om my mond.

Grimm se feeverhale kom bly in my kop. In die karakters kry ek maatjies, in kastele bou ek klimrame waarop my gedagtes argeloos laat swaai-speel-vashou aan sprokies van ….lank, lank gelede tot by tot by … vir ewig en ewig – altyd saam.

Ek het alles gelees wat ek my vingers op kon sit en het met afwagtig die jare afgetel wat ek in die grootmensafdeling 'n boek sou kon uitneem. Elke verjaarsdag kon ons kies watter soort verjaarsdagkoek ons wou hê. Ek dink die bakker se naam was Tannie Marie, sy kon enige vorm van koek bak, van treine, tot speelgoed, teddiebere en liewe Hekse huise. Dus kon ek elke jaar my jaarouer-koek kies. Toe ek tien jare oud word vra my Ma: "Watse koek wil jy vir jou verjaarsdagpartytjie hê?". Ek sê : "'n Boek Ma, want ek is nou groot". Ek onthou die koek, hy het meer vir my soos 'n Bybel gelyk met my naam en die syfer 10 daarop geskryf, dit was omtrent 'n anderster koek vir die maatjies en die mammas wat kom tee drink en partytjie hou het. Seker vir my ook. Deur my lewe deur was boeke deel van my. My oupa Koot had 'n studeerkamer vol boeke, by Tante Pikkie was daar boeke en baie tydskrifte en by ons huis ook. Die biblioteek was my internet, my slimfoon my kommunikasie met die wereld buite Robertson. My naam het ek gretig op die waglys van nuwe boeke geplaas om ook die nuwe stories deel van my skatkis, van kennis te maak. Liewe leser het ek toe geweet dat woorde eendag my eie boek sou vorm, dat ek maandeliks die agterblad vir TUIS sou skryf ?. Nee maar wat ek wel weet is dat boeke my vlerke gegee het om werelde ver buite my eie te verken en my eie te maak.

Dus los ek jou met die gedagte, om jou kind en kleinkind te leer om 'n boek vas te hou, dit te ruik en eie te maak, voor al wat kuber is jou kind se kop leegsteel. Gee boeke op verjaarsdae en bou weer biblioteke in jou huis op, want al ontwerp hulle nog beter Kindle's, sal niks maar niks daarby kom om 'n boek in jou hande vas te hou, te ruik en te lees en te vererwe nie.