Gansbaai Spaces for Sports received the Sports facilities and public spaces Grant at the 15th International Olympic Committee Conference on Sport for All. The Conference was held from 24 till 27 April 2013 in Lima, Peru.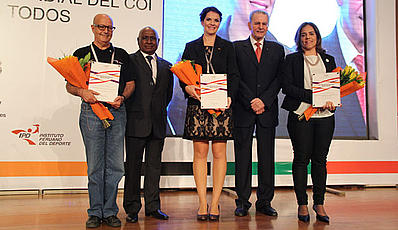 The prestigious award was accepted by Lean Terblanche, on behalf of the Gansbaai Spaces for Sports site and she shared the history and vision of this foundation. The Ganbsaai Sports Centre was built in 2007 in partnership with Barclays/ Absa, the Overstrand Municipality, the Premier League, Grootbos Foundation and the Department of Cultural Affairs and Sport. The multi-purpose facility is situated in the middle of the different cultural communities that make up Gansbaai.

Due to Gansbaai traditionally being a fisherman's village, there is a lot of poverty and unemployment in the area. This results in many children from the different cultural communities not always being able to have access to further education, employment, health care, etc. this is where the Gansbaai Sports Centre comes in. Being ideally situated, the sports field is accessible to everyone as a neutral space to join together and socialize.

The Football Foundation of South Africa along with partner organizations uses the site for various football, netball, hockey and athletics programmes and also to deliver youth and young adult education programmes. These programs address topics such as health, environmental awareness, computer literacy, life skills training, HIV/AIDS, entrepreneurial development and environmental awareness.

The Gansbaai Sports Centre also caters for various sports codes to accommodate different sporting needs and has a mobile gym, clubhouse, showers and changing room facilities. The Gansbaai Sports Centre is praised as a sports facility that goes beyond its basic role and creates opportunities for young people to interact and socialize with others. We applaud you!