Sommer belangrike nuus heel eerste -- tot nou toe was daar baie onduidelikheid oor die vangs al dan nie van rooisteenbras. Vir 'n heel ruk al was daar sprake dat die vangs van hierdie hengelvis verbied is maar nog nie in die staatskoerant verskyn het nie en dus ook nie afdwingbaar was nie.
Johan van Dyk het gemeld dat op 'n lynvisvergadering die afkondiging nou amptelik gedoen is. Die vangs van enige rooisteenbras (enige tyd van die jaar) is nou onwettig en dit is ook as sulks in die staatskoerant aangedui.

Het jy teen hierdie tyd nog nie jou kabeljou gevang nie, doen jy iets verkeerd, of jy is net nie entoesiasties genoeg nie. Baie vis is al aangekeer en Platjieskraal het baie hiervan gelewer. Verder het Haaiklip ook gesorg dat jy nie noodwendig so ver hoef te ry om jou "vissie" te vang nie. Die aksie is natuurlik meestal na skemer se kant toe of ook vroeg soggens. Dis juis hier waar die entoesiasme geld! Die Gruis, by Holbaai is die ander baie gewilde plek en die blinklywe was (of is, dan) ook nie so skaars hier nie. Nou praat ons van hengel van die kant af en ook bootvangste. En dis net hier waar die "amperbootjies" tot hulle reg kom.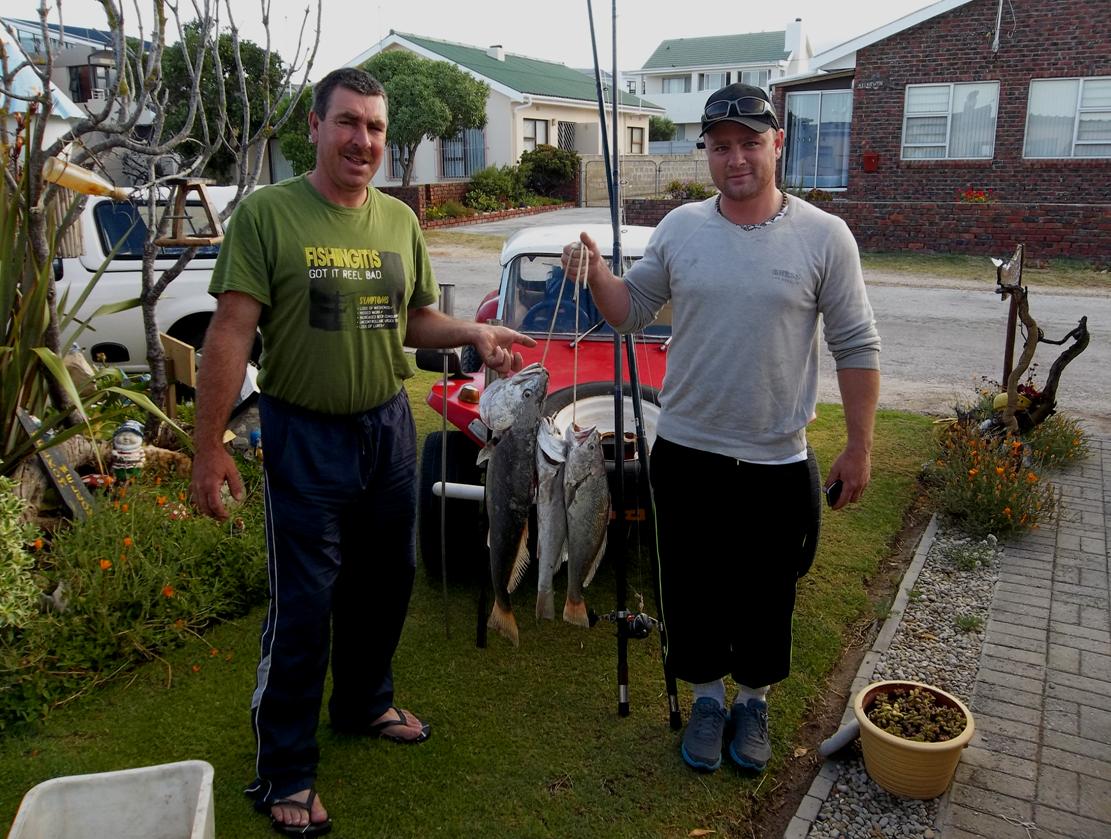 Len Lawson (links), en Paul Murison, wat al vantevore met hulle vangste in die Courant kon spog, met 'n paar kabeljoutjies, vanaf Platjieskraal.
Maar 'n vriendelike waarskuwing -- is jou plan om met een van hierdie bootjies te gaan vang, maak eers seker dat jy weet wat die beperkinge is. Sake kan lelik verkeerd loop indien jy nie seker is van jou aksies nie. 'n Kennis wat ook sy hengel ken en by Platjieskraal was vir die kabeljouvangs het iets te leer gehad. Vol moed en seker van homself het hy sy lyn die vaalwater ingestoot. 'n Paar van die manne wat gereeld hier vang se "nee wat, vergeet eers van vang, oom. Ons gaan bietjie slaap en moreoggend wanneer die windrigting verander, gaan ons ordentlik vang", het hy nie geglo nie. In elk geval nie voordat hulle die volgende oggend woord by die daad gevoeg het nie. Ondervinding, nè! Daar is beslis dié jaar meer kreef! Ek sê meer, maar nie baie meer nie. Die grootte wissel nogal baie, met baie kleintjies wat weer teruggeplaas moet word. Die snaaksigheid is egter dat indien jy 'n paar visse wil vang terwyl die kreefnette gestel is, dit nie so voor die wind gaan nie. Die visvinder dui 'n magdom visse aan, maar hulle byt maar swak. Net so wel, die twee het nog nooit behoorlik saamgewerk nie.

Lekker vang,
Seemeeu