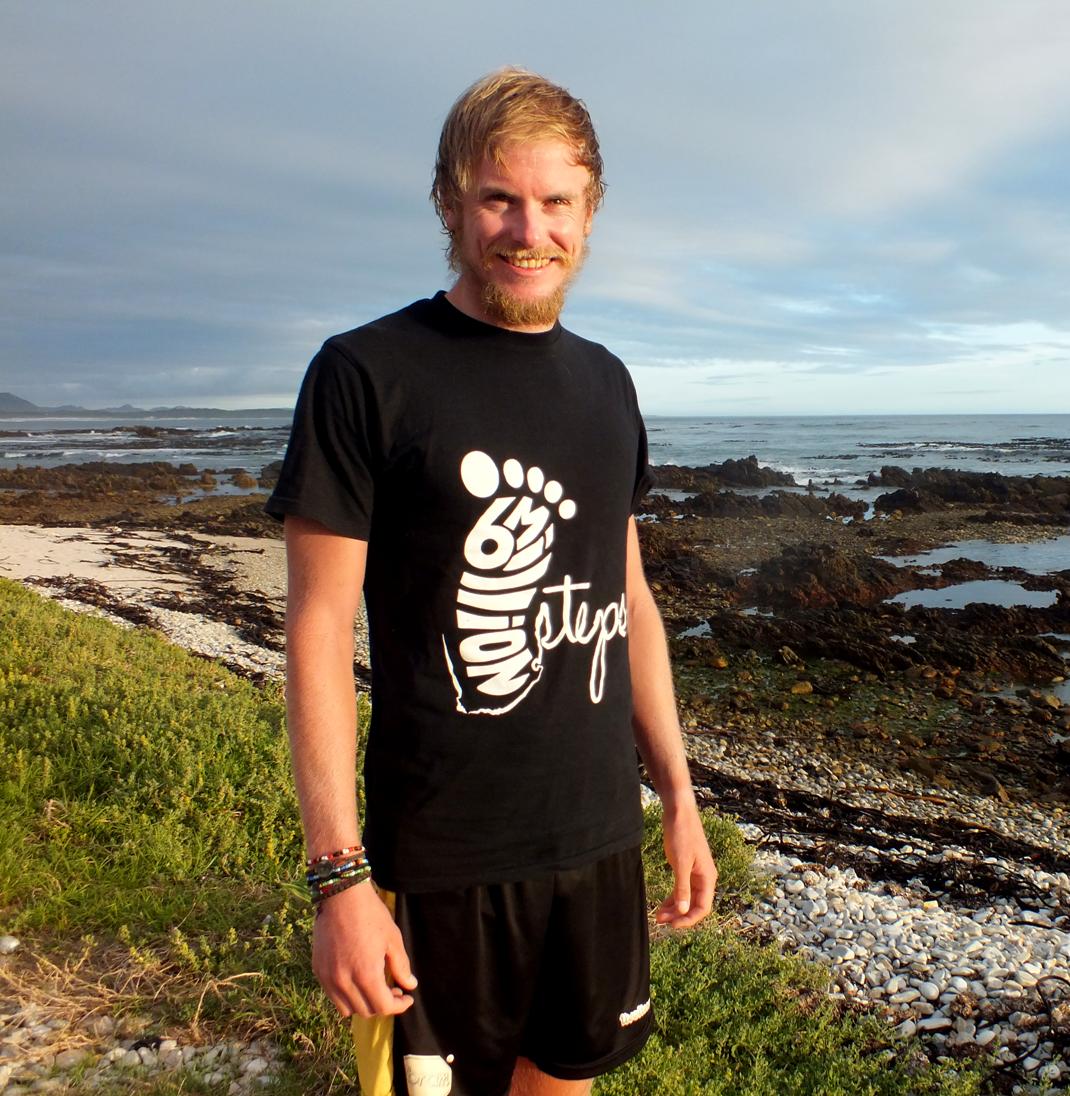 Grant Christie waar hy in Franskraal ontspan, nadat hy by die Oranjeriviermond met sy staptog begin het
'n Jong ingenieur van Piermaritzburg, Grant Christie (27), het op 22 Oktober 2013 besluit om sy droom van sowat 2 jaar te verwesentlik - 'n staptog kuslangs vanaf Alexanderbaai (Oranjeriviermond) tot by Mosambiek se grens by Kosiebaai waar hy "hopelik" teen die einde van Meimaand sal aankom. Hy is hoofsaaklik op homself aangewese. Hy stap telkens tot by sy oornagplek en, indien vriende of familie nie oornaggeriewe en kos vir hom gereël het nie, bring hy die nag rustig op die strand deur.
"Ek het my staptog 'Ses miljoen Treë' gedoop en as 'n natuurliefhebber wil ek Suid-Afrikaners graag meer bewus maak van ons pragtige kusgebiede," het hy in Franskraal gesê.
In Kaapstad het hy sowat 3 weke by sy ouers en familie vertoef, maar het steeds dag-staproetes aangepak. "Dit was 'n spesiale oomblik vir my toe ek goedkeuring ontvang om op Robbeneiland te gaan stap," vertel Grant. Daarna het hy om Kaappunt gestap, kuslangs deur Bettiesbaai tot in De Kelders, waar hy die grotte besoek het. In Franskraal is hy verlede week op 17 Januarie gasvry en gratis by De Waterkant Gastehuis van Dawie en Vera Swart ontvang. Daar bestaan 'n verlangse familieband tussen hom en Vera. Daar het hy 'n dag of wat ontspan, maar ook met dag-staproetes om hom aan die beweeg te hou.
Maandag het hy weer voortgegaan met sy staptog verby Pearly Beach en op pad na Agulhas. Sy grootste teëspoed wat hy tot dusver ondervind het, was ontsteking in sy been ná die eerste drie dae se stap wat waarskynlik té erg was. Hy is in Springbok se hospitaal opgeneem, maar gelukkig vir hom het dit beter gegaan toe hy vir 'n beseerde hakskeensening behandel is.
Grant se staptog kan deur belangstellendes onder sy naam via Facebook gevolg word.
Hardus Botha