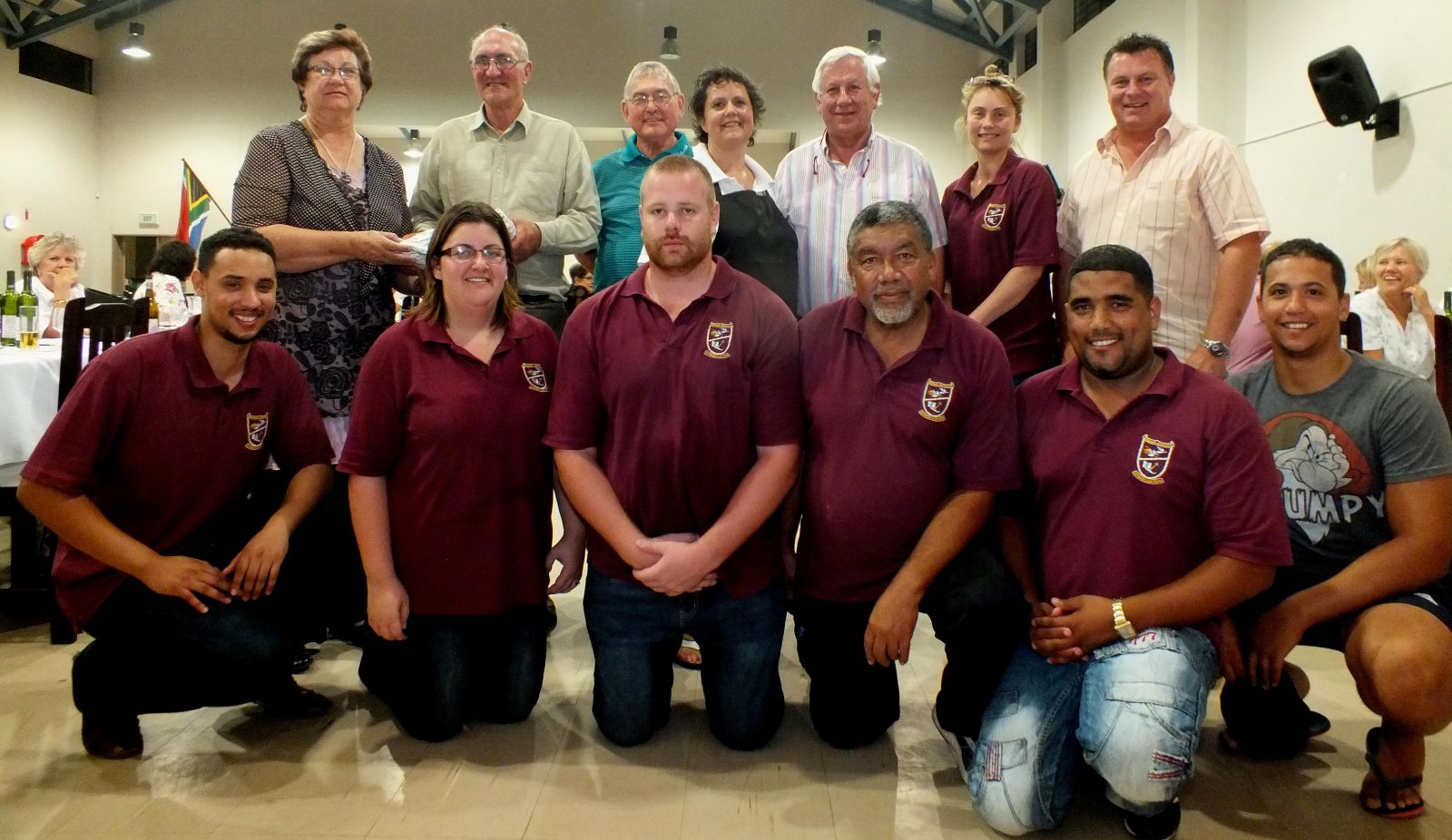 Voor vlnr is Wilton Phillips, Leandri Havenga, Wynand Bezui-denhout, Mervyn Hess, Garren Verhoog en Zayed Heynes. Agter vlnr is Tokkie Oosthuizen, Naas Terreblanche, Helmie de Vries, Anneri Harding-Male, Almero Oosthuizen, Hanette van Deventer en Jan le Roux.
Gansbaai Wynproegilde se eerste wynproe-aand vir 2014 is met 'n kort vergadering afgeskop, terwyl Koelenhof Wynkelder se wyne as 'n "smaaklike bonus" geniet is.
Onder Helmie de Vries (voorsitter) se leiding is die volgende besluite geneem: (1) Die Dagbestuurslede wat aanbly is Helmie de Vries (voorsitter), Daan Oosthuizen (tesourier) en Hardus Botha (media). Steve Serbon was nie weer beskikbaar as addisionele lid nie en Smartryk (Smartie) Genade is as addisionele lid verkies. (2) 'n Donasie ten bedrae van R5,000 aan Gansbaai CAD is goedgekeur. (3) Ledegelde bly onveranderd: R350 (enkel) en R700 (paartjie) per jaar. (4) Die tarief van R80 per ete is na R100 per ete verhoog. (5) Vanjaar se wyntoer in die omgewing van Botrivier op Vrydag, 28 Februarie 2014 is goedgekeur (meer besonderhede later).

Daarna het Helmie vir Naas Terblanche en sy eggenote, Elsabé, bekendgestel. Naas is nie 'n opgeleide wynmaker nie, maar 'n veekundige met 'n M.Sc-graad. Sy liefde vir wyn het die oorhand gekry en in 2005 koop hy 'n "klein" wingerdplaas, Vaalvlei, by Stanford. Die eerste wyn wat geproe is, was dié van Naas se vriend, Willie du Preez se Brunia Sauvignon Blanc 2011. Daarna het Vaalvlei se wyne aan die beurt gekom: Sauvignon Blanc 2013, Shiraz 2011, Shiraz 2012, Shiraz Reserve 2012 en Cape Vintage Shiraz (Port) 2012.

Die gaste het Vaalvlei se wyne deurgaans met 'n sterk silwer bekroon. Gansbaai Academia se flukse leerkragte het gesorg vir 'n puik ete en uitstaande kelnerdiens: Die knap chefs - Anneri Harding-Male, Hanette van Deventer, Helena Segal, Zayed Heynes, Ricardo Damons en Mervyn Hess; Die flinke kelners - Leandri Havenga, Wynand Bezuidenhout, Garren Verhoog en Wilton Phillips. Die spyskaart het bestaan uit Mushroom & Broccoli Rolade (voorgereg), Texan rib en bykomstighede (hoofgereg) en brandewyntert met room (nagereg). Helmie sorg deurgaans dat die wynproegilde se lede deeglike wynkennis opdoen, maar kon nog nooit daarin slaag om hulle die "spoegbakke" te laat gebruik nie. Tydens hierdie byeenkoms het iemand wel sy wyn in die "spoegbak" uitgegooi, met klublid Clive Bailey wat terstonds gesê het: "Een minuut stilte, asseblief!"
Vir navrae rakende Gansbaai Wynproegilde kan Helmie by 028-388-0708 of 082-577-6920 geskakel word, of stuur 'n e-pos aan hom by info@franskraalbandb.co.za.
Hardus Botha